Low Pay Battle Continues as Teachers Strike in West Virginia Protest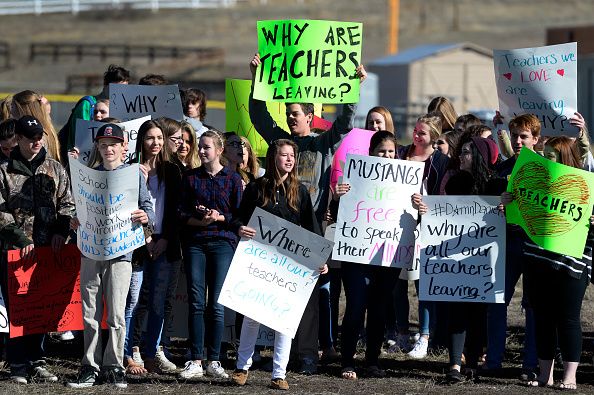 Hundreds of West Virginia educators from at least three counties walked out on class Friday in protest over low pay and the possible elimination of teacher seniority.
In lieu of teaching, many traveled to the state capitol in Charleston, where the state Senate that day approved a one percent teacher pay raise over a four-year period—a bump many deem inadequate. There was a failed amendment attempt on Thursday for a three percent hike.
Educators also decried the Public Employee Insurance Agency's cuts to teacher insurance, and its proposal to drop teacher seniority. The latter move would give schools increased flexibility when faced with layoffs.
Schools in Logan, Mingo and Wyoming counties closed Friday from the teacher shortage. Other teachers in Kanawha and Berkeley counties staged a "walk-in," standing outside their schools in solidarity about an hour before school began.
"There is a will for this, and there has been a movement," Christine Campbell, president of the American Federation of Teachers, West Virginia, told the Charleston Gazette-Mail. "We need to be heard."
There were prior votes among educators approving the walkout. Other counties are holding votes in the near future to authorize similar actions, the Charleston Gazette-Mail reported.
West Virginia currently ranks in the bottom 10 for public school teacher pay, with an average salary of about $45,500, according to Education Week. Average teacher salaries ranged from about $42,000 in Mississippi to nearly $78,000 in Alaska.
A host of teachers in other states have engaged in their own activism to tackle low salaries. Hundreds of protesters and teachers in Sarasota, Florida stood outside the school district's headquarters earlier this month to demand increased pay as the cost-of-living rises. Dozens of D.C. teachers also staged a protest in 2016, calling on the public schools chancellor to negotiate a fair contract with their union.
K-12 education funding as a whole has faced shaky ground in the past year amid efforts from President Donald Trump and Secretary of Education Betsy DeVos to expand school choice, which encourages customized, non-traditional education in private and charter schools.
Trump's initial 2018 budget proposal called for a net $9.2 billion cut to the education department, with some of the savings channeled toward charter school expansion and vouchers for private and religious schools. The Senate Appropriations Committee shut down the proposal in September.