Why Are West Virginia's Teachers Not in School? Statewide Walkouts Explained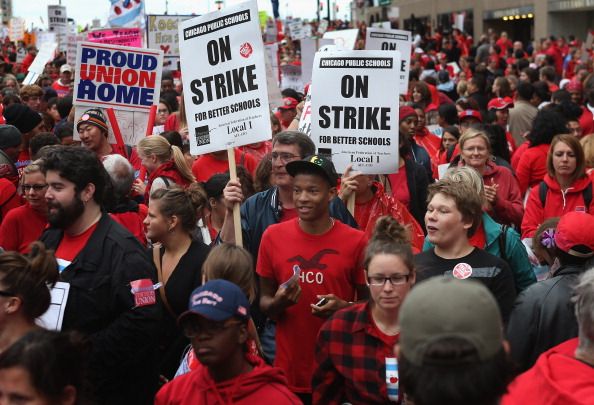 West Virginia educators haven't shown up to school for three days in protest of wages that lag considerably behind the national average.
Since last Thursday, nearly 20,000 teachers across all 55 counties in the state have staged walkouts to protest stagnating salaries amid cost-of-living increases, the possible elimination of teacher seniority and the lack of a permanent health care fix.
The walkouts are affecting an estimated 277,000 students in 680 public schools, and mark the first statewide teacher strike in the state's history.
This particular wave of activism began Thursday, the day after Republican Governor Jim Justice signed into law legislation that gives teachers, school service personnel and state police a two percent pay increase starting in July. There will be further one percent pay hikes as well for teachers in 2020 and 2021.
Teachers, however, say this two percent increase isn't enough. West Virginia educators are some of the lowest paid in the country, making about $45,000 annually — well below the national average. The state ranks 48th for average teacher salary, according to the National Education Association.
A two percent increase to a teacher's base salary equates to about $808 a year. The initial bill called for a five percent increase, Christine Campbell, president of the American Federation of Teachers-West Virginia, told CNN.
Prior to the House of Delegates vote in mid February that approved the two percent hike, the state Senate had approved a one percent raise of $404 every year for five years. The day of the Senate vote, teachers from a handful of counties had similarly conducted a one-day walkout to march on the state capitol in Charleston.
The low wages have left teachers discouraged and frustrated, with many paying out of their own pockets for school supplies and taking on second jobs to make ends meet.
"The pay and the benefits have been problems for years, and there's constantly been the promises of, 'We'll take care of this, we'll take care of this,'" Kym Randolph, West Virginia Education Association director of communication, told The Washington Post. "It's finally gotten to the point where...the promises aren't enough."
The last statewide raise for West Virginia's teachers was in 2014, when then-Governor Earl Ray Tomblin signed into law $1,000 pay raises to public school teachers and 2 percent raises to school service personnel. The state code had also been updated to read: "It is the goal of the Legislature to increase the state minimum salary for teachers with zero years of experience and an A.B. [bachelor's] degree, including the equity supplement, to at least $43,000 by fiscal year 2019."
The state minimum salary for teachers matching those qualifications, though, is at $33,000 for fiscal 2019, the Charleston Gazette-Mail reported.
While these strikes are considered illegal, they have been effective in the past.
In 1990, teachers from 47 of 55 counties in West Virginia staged an 11-day strike spanning eight school days. The strike ended with state lawmakers approving a $5,000 pay raise for teachers over three years; channeling about $27 million toward equalizing teacher salaries across the state; and creating faculty senates in each school, among other changes.
State superintendent of schools Steven Paine said in a statement that a decision will be made Monday "if an agenda item will be added to the State Board of Education meeting scheduled for Tuesday to discuss legal action" in response to the strike, NPR reported.