West Virginians Beg Joe Manchin to Extend Child Tax Credit as Checks End: 'We Need Help'
Senator Joe Manchin is facing pressure from local leaders and parents to take action to extend the child tax credit.
Gathered at the West Virginia State Capitol on Friday, advocates stood holding signs featuring testimonials from parents as well posters reading "Child Checks Keep Families Afloat" and "We Can't Wait for Care."
"We need help that the expanded child tax credit can provide to us, and I'm begging for Washington, D.C., for Senator Manchin to hear us," Kristen Olsen, a mother and educator, said from the lectern on the steps of the Capitol.
"I'm so angry about it," Olsen told Newsweek after the event. "It's like a nasty, wicked trick. How could they even provide this to us for just six months, and then take it away when the prices of everything are going up?"
This week, for the first time since July, the enhanced $250 or $300 checks will not be delivered to eligible families.
President Joe Biden's American Rescue Plan, passed in March 2021, expanded the child tax credit from $2,000 to $3,600 for each child between the ages of 6 and 17, or $3,000 per child under the age of 6. But the increased tax credit expired at the end of last year.
The U.S. House of Representatives passed a 12-month extension of the benefit as part of the $1.75 trillion Build Back Better Act in November. Since then, the legislation has stalled in the Senate as Republicans in the evenly divided chamber and Manchin said they would not vote for the bill.
Manchin was critical of plans to extend the child tax credit during negotiations on the Build Back Better agenda. He's said he won't support the enhanced benefit without the addition of a work requirement for parents, and expressed frustration that higher-income families can qualify for the credit.
"I have always said, 'If I can't go back home and explain it, I can't vote for it,'" Manchin said in a statement last month after announcing he was a "no" on the Build Back Better legislation as written. "Despite my best efforts, I cannot explain the sweeping Build Back Better Act in West Virginia and I cannot vote to move forward on this mammoth piece of legislation."
When contacted for comment on the statements made by West Virginians on Friday, a Manchin spokesperson told Newsweek: "Senator Manchin has always supported the child tax credit and would like to see it targeted to those families who need it most."
But local West Virginia leaders and parents Friday said the enhanced benefit seen over the past six months is more important than ever as they see their everyday bills rise as a result of inflation.
"Families in West Virginia are losing the child tax credit in a time when bills are outrageous," said Joanna Vance, a parent from the recovery community. "Bills cost more, we already know the price of food is higher. It's just a time that we need the child tax credit more than ever."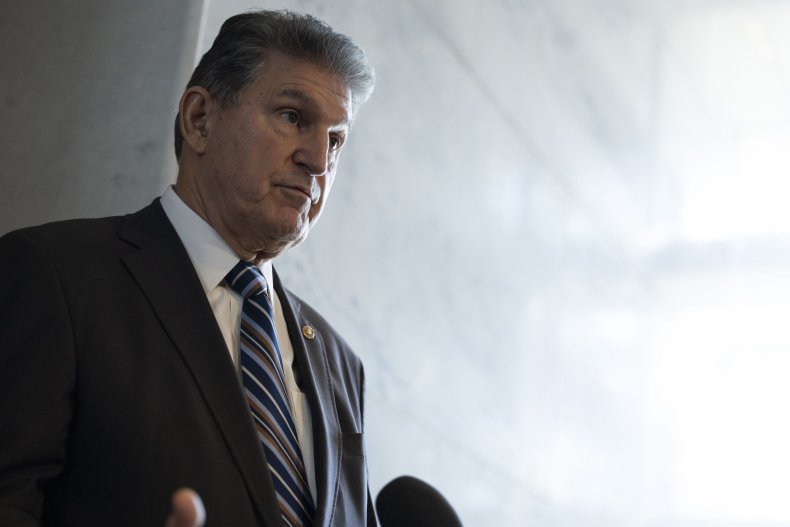 Angelica Willis, another speaker at Friday's event, highlighted that West Virginia has the sixth highest poverty rate in the country and is 3.7 percentage points higher than the national average.
"We need to be given a chance, a chance to continue to fight for the future, West Virginia, our children's future here," Willis said. "This expansion will give us an opportunity to rise above and change these numbers."
One analysis from the West Virginia Center on Budget and Policy recently estimated that the expanded child tax credit payments reached 93 percent of children in the state last year. If the enhanced benefit is reauthorized, the group said, 50,000 of the lowest income children in the state would drop below the poverty line or deeper into poverty.
"No state has been more impacted by the expanded child tax credit than West Virginia," Kelly Allen, the executive director at the West Virginia Center on Budget and Policy, said Friday. "Similarly, no state has more to lose if it's not extended."