What to Expect from HBO Max's 'West Wing' Reunion
HBO Max made headlines around the world for its upcoming Friends reunion, but that is not the only iconic NBC cast the streaming service will be reuniting. The West Wing cast, which includes Martin Sheen, Rob Lowe, Allison Janney, and Dulé Hill, is reuniting for a staged reading of Season 3 episode "Hartsfield's Landing."
The West Wing reunion is set to come to HBO Max this fall. Filming of the special, which will also include cast members Richard Schiff, Bradley Whitford, and Janel Moloney, will take place in early October in the Orpheum Theatre in Los Angeles. The release date for the staged reading is then expected on the streamer prior to the election in November.
West Wing creator Aaron Sorkin has signed on as executive producer and will write additional material for the special, which is being staged in support of Michelle Obama's When We All Vote initiative.
The crew will be restaging The West Wing Season 3, Episode 15, "Hartsfield's Landing," which focused on a fictional New Hampshire town (but based on a real one) that is the first to cast its ballad in the presidential election.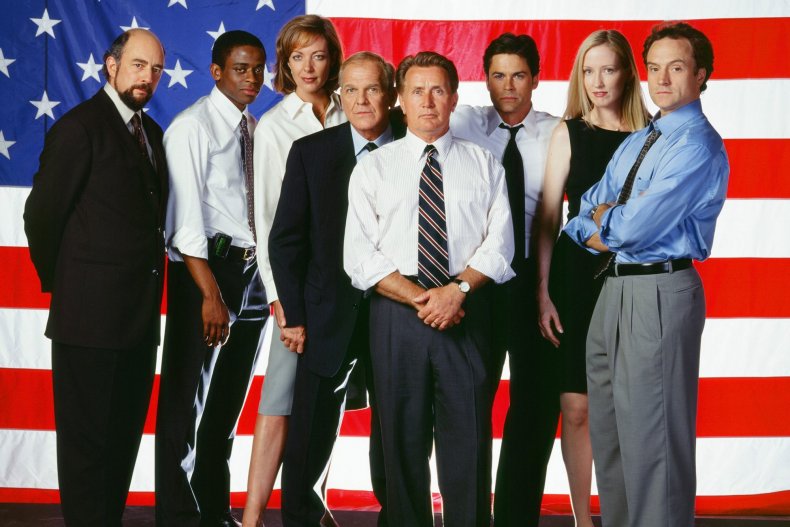 The official synopsis for this episode, which first aired on NBC in 2002, reads: "A fictitious small town in N.H. is the site of the first presidential primary vote, and the results from Hartsfield's Landing, announced at 12:07 a.m., will dominate the news all day until the final tally, so Josh (Bradley Whitford) wants favorable press for the president, prompting him to ask Donna (Janel Maloney) to persuade a local couple she knows to reconsider their vote.
"Elsewhere, Bartlet (Martin Sheen) has just returned from India with a collection of antique chess sets he gives as gifts to the staff. He plays Toby (Richard Schiff) while they discuss their recent blow-up, Bartlet's insomnia and Toby's fervent belief that the president's enormous intellectual gravitas is an asset, not a liability, to the campaign.
"He also plays Sam (Rob Lowe) as they discuss a critical detente standoff between China and Taiwan. And Charlie (Dulé Hill) and C.J. (Allison Janney) stand off in a series of pranks over a missing copy of the president's private schedule."
Speaking to Entertainment Weekly, Sorkin said of the upcoming reunion: "This is the first time we've done this in 20 years. Never before have we gathered the cast onto [the show] logo in front of Snuffy Walden's music and done something as The West Wing.... I don't think anybody would argue that right now, if you have any capital at all, spend it."
Though this reunion has been called by many the first West Wing reunion since the show ended in 2006, this is not quite the case. Though it was without the opening titles, in 2012 Funny or Die created a mini-episode of the show billed on its YouTube page as a "West Wing Reunion." The video includes a classic "walk and talk" that the show became famous for, and includes Janney, Hill, Sheen as well as later cast members Melissa Fitzgerald and Joshua Malina in a PSA about walking.
That same year, cast members also made another "West Wing Reunion," "Walk and Talk the Vote," a campaign ad/voting PSA for Bridget Mary McCormack which featured a snatch of the iconic theme and also included Maloney, Whitford, Schiff, and Lily Tomlin.
The West Wing reunion is coming this fall to HBO Max.