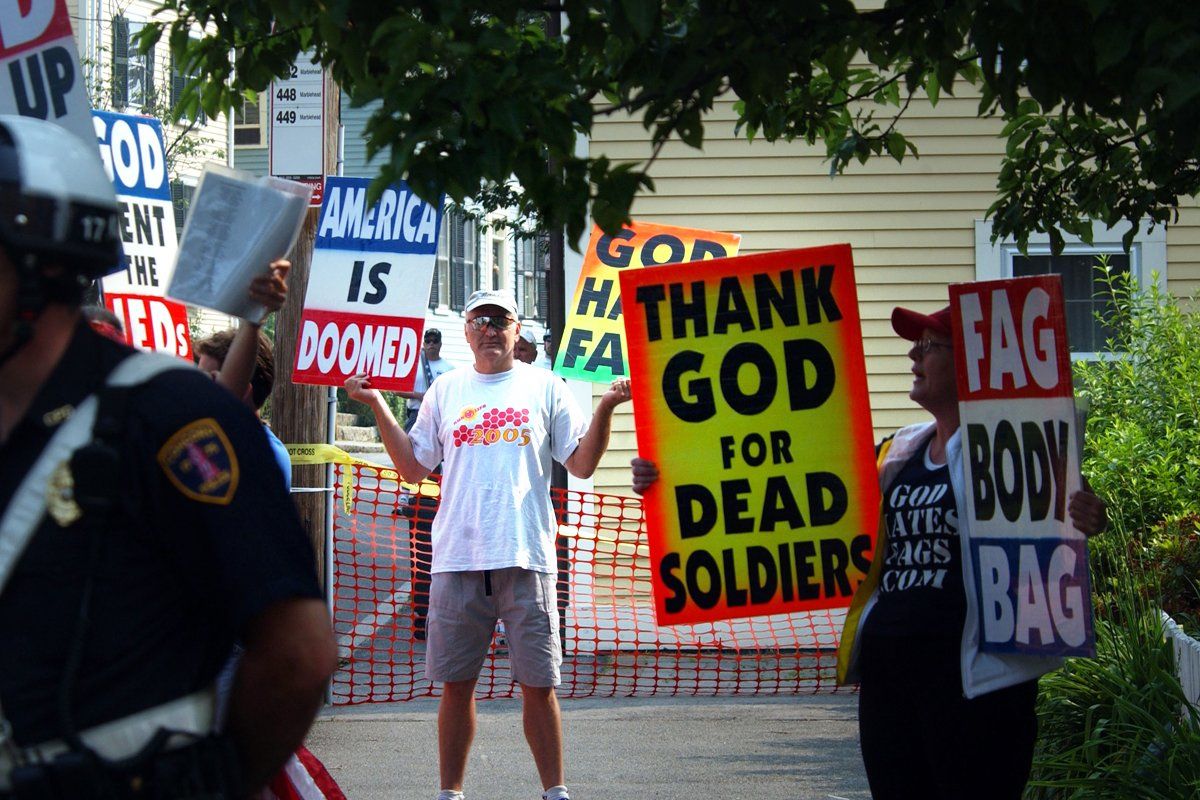 Even the Westboro Baptist Church has had enough of President Donald Trump.
The notorious hate group, which often pickets the funerals of dead soldiers and celebrities, plans to protest outside the White House next month after claiming Trump's history of adultery puts the country in danger.
The Dec. 4 demonstration will be focused on Trump's philandering, although it's unclear if the church is taking issue with Trump's cheating on his first wife Ivana or with the numerous allegations of sexual assault and harassment against him — most of which occurred while he was married to one of his three wives.
"We continue to stay on message, like our forefather, John the Baptist, to wit: It is not lawful for you to have another man's wife. Your proud adultery will cost you your never-dying soul," reads the announcement on the church's website.
It then cites a Bible verse on adultery and launches into a declaration that Trump's cheating is threatening the United States.
"Your actions show that you have no understanding of God's commandments, nor of His solemn warnings of destruction. Additionally, your refusal to repent of your proud sin, and to wax more and more build in your rebellion on every front and on so many levels, put this entire nation in peril."
Above the text is a cartoonized image of an uncomfortable-looking Trump with lips stuck out like a blowfish against an upside down American flag and the Bible verse, "The love of money is the root of all evil."
Trump's team responded to news of the planned protest with a statement saying, "The White House condemns any and all forms of hatred and bigotry."
Since taking office with the help of the Christian right, the president has frequently referenced God and vowed to protect to expand the freedoms of religious groups. He sat down with the Christian Broadcasting Network for one of his first interviews in office.
"I've always felt the need to pray," Trump told the network in January.
Although he claims to turn to religion for help, Trump seemingly doesn't believe in at least one of the 10 Commandments, according to a 1990 New York Post interview.
"I don't think it's a sin but I don't think it should be done," he told the paper.
This won't be the first time the Westboro Baptist Church protests Trump — members demonstrated at his inauguration and said they opposed him for "promoting homosexuality, same-sex marriage and the filthy manner of life and idol-worshiping of the nation." This came despite Trump's tepid and inconsistent support for LGBT rights during the campaign.
The family-run, Kansas-based church is best known for its inflammatory teachings against LGBT people and its pickets of military funerals. It believes military members are killed because God is angry that America champions gay rights. The Southern Poverty Law Center has designated the church, which has less than 100 members, to be a hate group.
The organization's pickets usually consist of members holding crude signs with offensive messages such as "God hates Jews" and "Fuck family values." The church has an inconsistent record with following through on its plans to picket prominent locations and events.
The Westboro Baptist Church did not respond to requests for comment.