Police Deploy Taser on Man as He Holds Crying Infant Son, Authorities Said They Had No Choice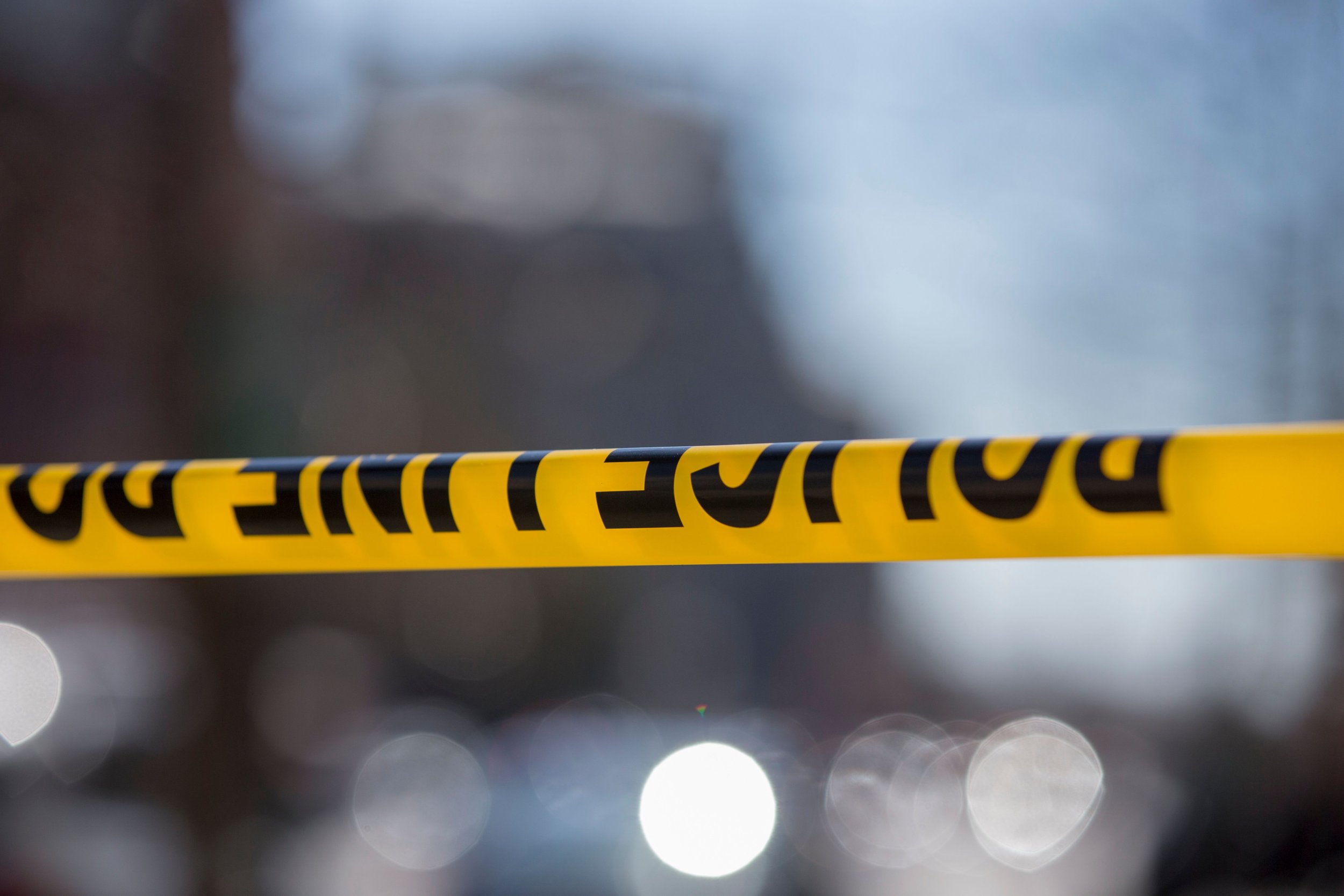 A Friday night backyard barbecue became a melee in the front yard when a Michigan father, already feuding over a Crock-Pot, verbally sparred with police and was then reportedly stunned with a Taser while clutching his infant child.
A neighbor managed to record the entire episode on his cell phone.
Ray Brown, 33, is seen on the four-minute video, squaring off with several uniformed police officers around 9:30 p.m. on Friday in the Detroit suburb of Westland.
The wail of a baby's cry is static throughout.
Initially, one Westland cop informs Brown that they arrived to deal with a complaint of "damage to property."
Brown retorts, "What property? Where's the property that's been damaged?"
His voice grows louder off-camera and he asks the policeman, "What is the crime right now?"
Another police officer then aims his flashlight directly at the neighbor's cell phone lens that impairs his ability to visually capture the discussion between Brown and the police.
"Don't shine a light on me, cuz," the neighbor said. "Y'all got the light on my face."
At one point when prompted to identify himself, the person recording with his phone responds, "I'm a neighbor."
Brown, in a high volume, is heard demanding the police officers produce the "damaged property," which is purported to be a Crock-Pot that Brown's 28-year-old wife Nicole Skidmore borrowed.
When reached by Newsweek, Skidmore deferred to her attorney.
On Monday, Skidmore stated that the entire incident started over an ex-friend and her mother beefing over a borrowed Crock-Pot.
"...[She] pulls up on my grass and says, 'I'm here for a Crock-Pot,'" Skidmore told ABC News.
Brown took umbrage over the demands and they engaged in an argument before "calling police" Skidmore said. In a statement released by Westland Police Department, the couple stand accused of "assaulting a female" and committed damage to her vehicle," before she called 911. It's unclear who the woman is.
"The police came over here trying to tell him that he [Brown] destroyed somebody's property or that he was being disorderly," she added.
Skidmore is next to Brown as he attempts to handle the police response on his front lawn.
After a couple minutes into the volley between Brown and the police, an officer announced, "Listen, listen. You're two seconds away from being arrested!"
Brown continued to protest. "For what," he said.
A woman in the background can be heard trying to convince Brown to "calm down."
But Brown becomes more defensive and seems to be trying to convince the cops that he isn't inebriated.
"Bro, I don't even drink," he said. "Have you done a Breathalyzer on me? Have you done a Breathalyzer on me this evening to see if I'm drunk?
"And you're at my place shining a light on my eyes for no reason."
Three-minutes into the video, a police officer draws near and asks for someone to take the baby away.
Brown does the exact opposite, and again, offscreen can be heard asking to hold his child.
"Give me my child," he said. "This is my son. He ain't got to go nowhere, ni--a. Know that."
Brown then raises his voice again to the police telling them: "You don't have the right to tell me 'shut my mouth.'"
The officer taking the lead in talking Brown down, and warns him that if he continues to yell he would be arrested for disorderly conduct.
"If you keep yelling I'm taking you to jail for —," he said, before Brown interrupts him.
"You could tell me to be quiet for a second," Brown said.
"You're going to jail for disorderly conduct," the policeman is heard saying, and repeating again.
The officers start moving in and Brown is still clutching the crying baby in his right arm against his shoulder.
"Give the baby back," one officer is heard commanding.
Meanwhile, the neighbor recording the drama is forced to step backward by another officer.
That's when officers reportedly use a stun gun to strike Brown. Almost instantly the crying baby is handed off to another person.
"They tased him with the baby in his hands," the neighbor is heard saying. "Oh my god… Ya'll still tasing this ni--a."
Chaos ensues and the cop who shouted for the crowd to move back roared again. "Back up. Get back," he said.
When asked by the neighbor, still videotaping the incident, about why the officers used a taser on the father with the baby in his hands, the officer denied it.
"Not when he got tased he didn't" have the child in his hands, he answered.
Westland Chief Jeff Jedrusik confirmed that an investigation into his officers' use of force has been opened.
He also justified his officers' response and assured that the baby in Brown's hands was never in any danger when they fired their stun guns.
"When the man knew he was going to be arrested, he grabbed the child from another person's arms. The man was told several times by the officers and the baby's mother to give the baby back to her, but he refused," Jedrusik said during a Monday news conference.
In fact, it wasn't officers that posed a threat to the child, but the baby's father.
"The officers indicated in their report that the man was aggressive and was gripping the child so tightly that they feared the man might actually be hurting the child," he added.
In a separate statement posted by Jedrusik online, he suggested that officers had little choice but to deploy a stun gun.
The summoned police officers wrote in their report that there was a call for property damage and they described a male (believed to be Brown) as "as intoxicated and uncooperative," according to the statement.
"At some point the officers on the scene made the decision that the man was going to be arrested, and he was later charged with Disturbing the Peace, Hindering a Police Investigation, Damage to Property, Neglect of a Minor Child, Disorderly Person, Resisting Arrest, Assault and Battery on a Police Officer, and for multiple warrants that he had for his arrest," the statement added.
The statement noted that Brown was described by officers were posed with "limited options": physically wrest Brown to the ground "while holding the baby"; "be forced into a tug-of-war with the baby"; or "use their Taser in order to incapacitate his muscles allowing officers and the mother to remove the baby from his grip."
They came within "inches of the man when they utilized the Taser" and Jedrusik claimed that its deployment "in this manner does not transfer or affect anyone else who is in contact with that person."
"So as a result, neither the baby not the other officers were at risk of the Taser effects," the statement reads, adding that the baby was safely removed afterward.
Westland Fire Department medics also examined the baby at the scene "and confirmed there were no injuries," the report states.
The chief noted that the stun gun tactic was the result of Brown's "non-compliance."
Moments after Brown was grounded by the shock of the police officers' tasers, she confronted one of them and demanded he look at her baby.
But the officer reminded her that they gave Brown many opportunities to avoid arrest.
"He had plenty of warnings to let go," the officer told Skidmore. "He had plenty of chances to calm down… I kept telling him if he keeps yelling he would go to jail."
"This is my baby," she is seen raising her baby up close to his face. "Why would you do that?'
Asked afterward about the police response, Skidmore said it was overkill.
"I think they were way out of line," Skidmore told ABC News. "They could have handled the situation differently because my son was in his arms. They didn't care about my son."