Westminster Dog Show 2019: Time, Channel, How to Live Stream Westminster Kennel Club Dog Competition
For over a century, purebred dogs from across the globe have strutted their stuff in the Westminster Kennel Club Dog Show ring with the hopes of being named Best in Show. While the annual event attracts hundreds of attendees, there's also a number of ways for dog aficionados to enjoy the show from home.
The show is in its 143rd year and will include the judging of almost 3,000 dogs. Created by the Westminster Kennel Club, America's oldest organization dedicated to the sport of purebred dogs, it was established in 1877.
The First Annual New York Bench Show of Dogs in 1877 attracted 1,201 entries and was so popular it was extended from the originally-scheduled three days to four days. Although the show began in 1877, the coveted title of Best in Show wasn't issued until 1907. Ch. Warren Remedy, a Smooth Fox Terrier, won the first three Best in Show titles and is the only dog to ever win three times.
Dogs are first judged based on their breed and then their group, which is broken into seven categories:
Sporting Group
Hound Group
Working Group
Terrier Group
Toy Group
Non-Sporting Group
Herding Group
Breed winners go on to the group competition where first, second, third and fourth place is given to four dogs in each group. However, only the winner of each group moves on to the final round known as Best in Show. Other awards include the Masters Obedience Champion, Masters Agility Champion and the Field Trial Champion.
When Is the Westminster Dog Show? What Time Is It?
The road to Best in Show will begin on Monday, February 11, at 8 a.m. EST. Hound, Toy, Non-Sporting and Herding breeds will be judged on the first day. Group competitions, the junior handler preliminaries and the Masters Obedience Championship will also take place on Monday.
On Tuesday, February 12, the show will begin at 8 a.m. EST. Sporting, Working and Terrier breeds will be judged on the second day, as well as, group competitions and finally judging for the Best in Show competition.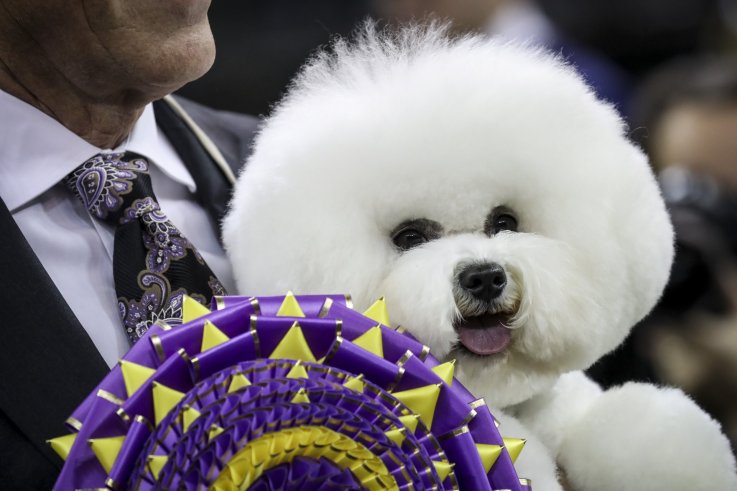 What Channel Is the Westminster Dog Show On?
The Westminster Dog Show will be streamed on television by the Fox Sports 1 network and Nat Geo Wild. The channel number the show is on depends on where the viewer lives.
How to Live Stream the Westminster Dog Show
There are two ways to live stream Monday and Tuesday's competitions. Viewers can either tune in to the Westminster Kennel Club website here or sign in to their account with Fox Sports GO here.
Monday's breed judging is scheduled to take place from 1:00 p.m. EST until 4:00 p.m. EST and group competitions will be from 7:30 p.m. EST until 11:00 p.m. EST. On Tuesday, breed judging will also be between 1:00 p.m. EST until 4:00 p.m. EST and group competitions and the Best in Show competition will be between 7:30 p.m. EST and 11:00 p.m. EST.
The 2019 Westminster Dog Show will take place at Madison Square Garden and Piers 92/94 in New York City.