Who Won the 2020 Westminster Dog Show's Best in Show? Meet the Poodle That Won the Highest Title
A standard poodle won the highest honor at the 2020 Westminster Kennel Club dog show on Tuesday.
Siba, a black poodle with elegantly styled locks, was named overall best in show, beating out more than 2,600 dogs that participated in the three-day competition held at Madison Square Garden in New York City.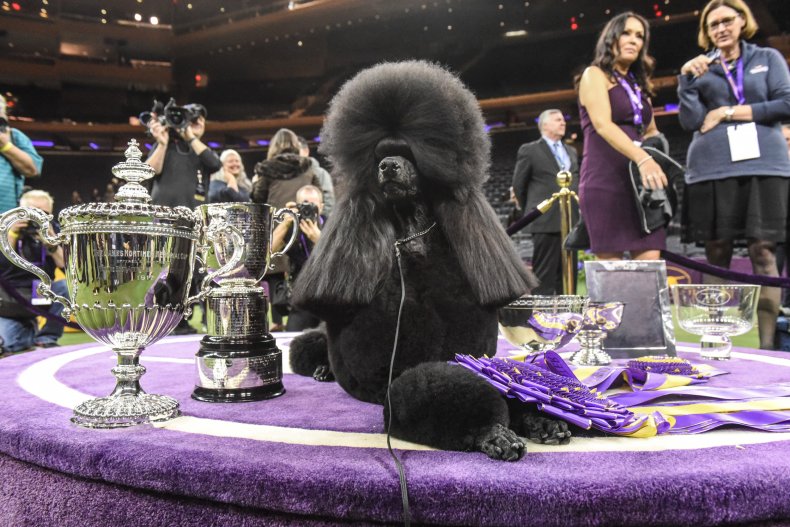 Bourbon the whippet placed second, while dogs including Bono the Havanese, Wilmer the boxer, Vinny the fox terrier and Conrad the Shetland sheepdog made it to the best-in-seven final ring. A golden retriever named Daniel, who was a hit with fans at the stadium, also received honors for his breed.
Best in show is determined by judges who compare each dog against its own breed and group ideal standards. According to the Westminster Kennel Club's website, the standards of each dog pertain to the specific function of each, like hunting, guarding, tracking or companionship. The dogs are then judged based on how they look and if they appear as if they can carry out the function of their breed's job. And 3-year-old Siba, with her black puffs and pompoms, got the job done.
Although many in the crowd were rooting for Daniel to win, Siba's handler Crystal Murray-Clas was pleased the judges recognized her poodle. "She's beautiful and has that something," Murray-Clas told the New York Post.
Of the Westminster Kennel Club's 144 competitions, Siba is the 10th poodle to win best in show title, but she's the fifth standard poodle to win for her specific breed as poodles come in three breeds. The first time a standard poodle took home the highest honors was 1991.
Gail Miller Bisher, Westminster Kennel Club's spokeswoman, raved over Siba while appearing on Good Morning America on Wednesday. "She has effortless gate, and it just shows her power and her beauty and her strength," Bisher said.
She added: "I think the judge just couldn't deny her—she really is a muscular, strong, athletic standard poodle."
It's not surprising the judges were so wowed with Siba's appearance. Her handler, who also appeared on Good Morning America on Wednesday, revealed Siba's beauty routine took between three and four hours. However, Siba only wears her big poufs when she's competing in a show.
"At home, you'd never know she's a show dog," Murray-Clas said. "She runs the field, plays with my 2-year-old. She's just a hooligan."