Virginia Newspaper Apologizes for KKK Recruitment Flyer Published on Front Page
A Virginia newspaper issued an apology for publishing an entire front-page photo of a Ku Klux Klan propaganda flyer that was being distributed in the community.
Westmoreland News, a small paper serving a community of 17,000 people in Westmoreland County, Virginia and Colonial Beach, ran an April 25 article about the Loyal White Knights of the KKK dropping recruitment flyers at area homes. The article itself quotes the police chief speaking out against the KKK organization but residents were angered by the page's design, which looked like a large Klan advertisement.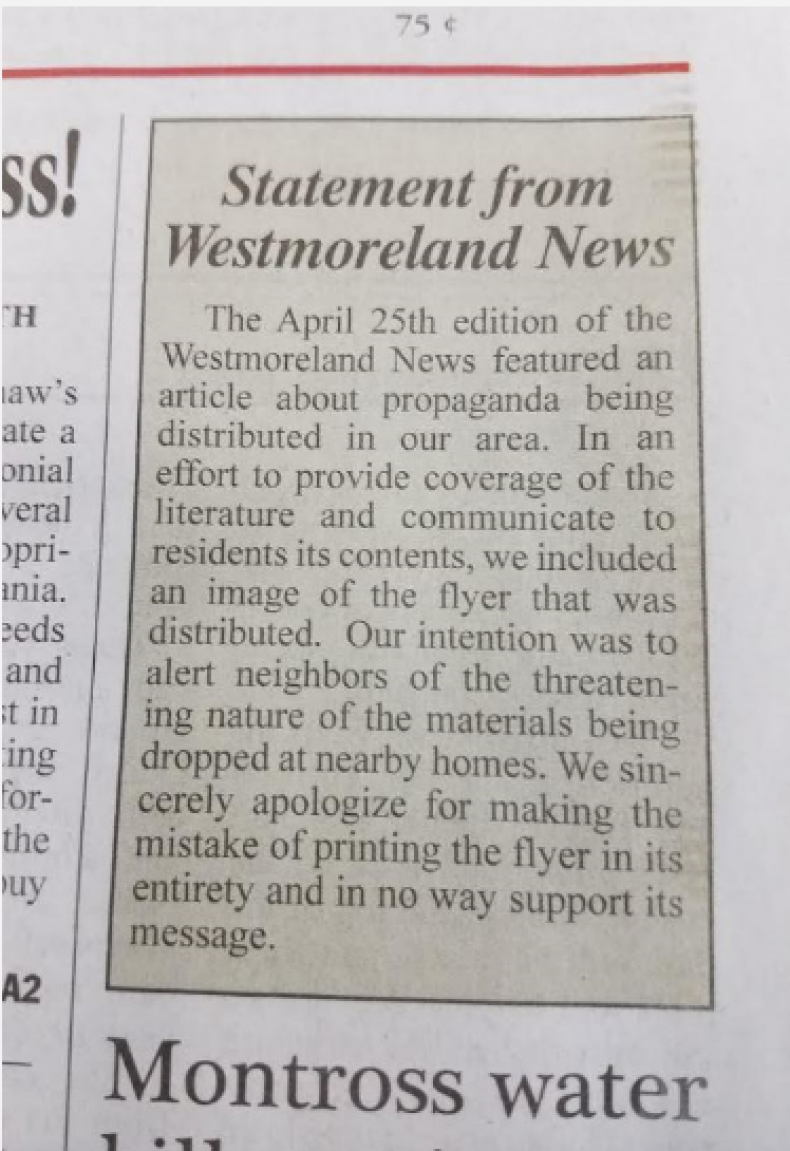 The flyer featured several statistics about black males in prison and violent crimes perpetrated by African-Americans against white people. In addition to several slogans such as "Wake Up White America," the printed flyer also shows the hotline number to call in order to join.
The newspaper's editor attempted to distance the publication from the hate group by running a disclaimer above the article that read, "Westmoreland News in no way condones or supports the content or message of this flyer, nor does it condone or support any branch of the Loyal White Knights, or the KKK."
However, the poor aesthetics prompted so many complaints and national scrutiny that the paper issued an official apology in Wednesday's edition of the weekly printed paper.
"The April 25th edition of the Westmoreland News featured an article about propaganda being distributed in our area. In an effort to provide coverage of the literature and communicate to residents its contents, we included an image of the flyer that was distributed. Our intention was to alert neighbors of the threatening nature of the materials being dropped at nearby homes. We sincerely apologize for making the mistake of printing the flyer in its entirety and in no way support its message," read the paper's printed statement.
Police Chief Danny Plott, who is quoted in the article, said he was "shocked" when he saw the layout and said he sent the flyer to Westmoreland News simply to inform the community that the hateful propaganda was being distributed to dozens of residents.
Hundreds of comments vowing to cancel subscriptions and pull advertising littered the Westmoreland News Facebook page.
Plott told WHNT-TV that the paper's editor responded to his "strongly worded email" demanding an explanation. "She explained that she wanted to put it in to show people that those of us in Colonial Beach who may think there's not racism, there is, and I think she didn't expect for this to blow up the way it did and with this outcome."
Plott said several area residents actually called the police after the paper was delivered saying things such as, "Could you come and get this crap?"
Lakeway Publishers, Inc., a Morristown, Tennessee-based company that owns several small papers in the region including the Westmoreland News, did not immediately respond to Newsweek's requests for comment.