'Westworld' Season 2 Casting Spoilers: Is Anthony Hopkins Returning as Robert Ford?
Westworld creative director Dr. Robert Ford, portrayed by Anthony Hopkins, is killed in the finale of Westworld Season 1, but that doesn't mean he might not appear in Season 2—at least, as far as some fans are concerned.
Warning: There are spoilers below.
It's unlikely Ford will be brought back from the dead, but Season 1 proved that Westworld writers like to play with timeline. Hopkins could return in a flashback scene, or, maybe Ford created an identical robot of himself, just like he made Bernard Lowe (Jeffrey Wright) in Andrew's image.
When Westworld returned to HBO Sunday, Hopkins took to Twitter hours before the show debuted. "This is what happens when you're all work and no play," he captioned his tweet. He attached a video that showed himself banging his head up and down while he listened to music. The clip was viewed more than 6 million times and garnered 189,000 likes, 60,000 shares and more than 6,000 comments from his 226,000.
Hopkins, 80, didn't mention Westworld, or if he would return to the series.
Featured in Season 2's first episode, "Journey Into Night," were favorites like Dolores Abernathy (Evan Rachel Wood), Maeve Millay (Thandie Newton), Bernard Lowe (Jeffrey Wright), Teddy Flood (James Marsden) and the Man in Black (Ed Harris).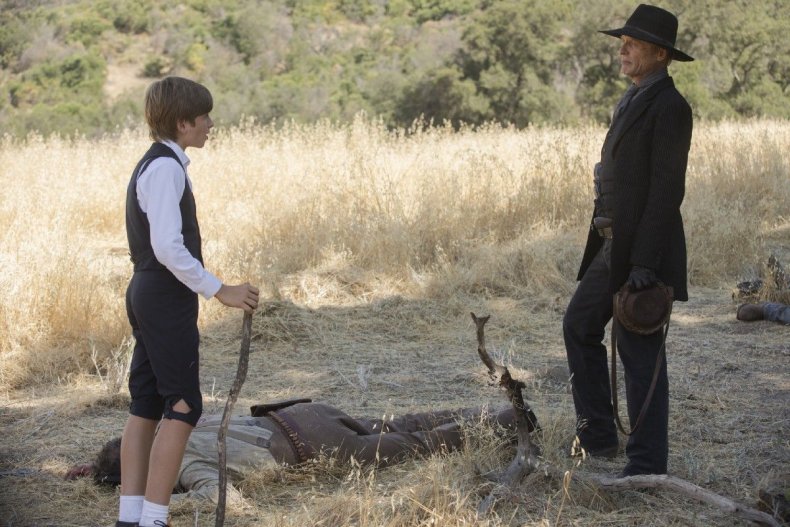 As mentioned earlier, Ford in his human form is gone from the series for good. While survivors walk through the massacre after the carnage is over, one of them kicks over Ford's rotten body that showed his decomposing face was festering with maggots, proving he was human. It debunked a popular fan theory that claimed Dolores didn't kill the real Ford, just a replica. The flesh of dead hosts, however, did not rot.
That doesn't mean Ford won't return as a robot in future episodes though. The Man in Black meets a young version of Robert. If Ford created himself in child form, it's highly possible he also made the machine version of himself as an adult.
Westworld Season 2, episode 2, premiers Sunday on HBO at 9 p.m. ET.