'Westworld': Fans React to Surprise 'Game of Thrones' Drogon Cameo and 'Jurassic Park' Easter Egg
Many Game of Thrones fans have only just got their disappointment at Season 8, only for Westworld's most recent episode to dredge up those memories by featuring the last remaining dragon Drogon from the HBO show as well as GoT showrunners David Benioff and D.B. Weiss in a cameo.
In Westworld Season 3, Episode 2, titled "The Winter Line," we saw Bernard (played by Jeffrey Wright) and Stubbs (Luke Hemsworth) exploring the central hub, where they see two technicians in a booth with a robot Drogon from Park 4, a medieval fantasy park. In this booth, we hear Benioff say, "how the f*** are you going to get that to Costa Rica," suggesting Delos' financial difficulties mean they are having to sell some of their assets off to private buyers. Weiss replies, "in pieces, man," approaching the host version of Daenerys Targaryen's final dragon with a circular saw.
Although this seemed like a fun, throwaway reference from one HBO show to another, some fans on social media clearly wanted to see more of the Game of Thrones-inspired Park 4. For example, one tweeted: "Maeve riding Drogon to kill Dolores would be the ultimate crossover in tv history and future," while another tweeted: "So now there's a Chekov's dragon in #Westworld Who will get to ride it? Maeve or Dolores?"
Another fan speculated about more crossovers between HBO shows when they wrote, "with HBO doing in-network crossovers now (ie. Drogon on Westworld), Im surprised that it didnt turn out to be [coffee shop owner] Mocha Joe from #CurbYourEnthusiasm who left that cup of coffee on the table in Game of Thrones."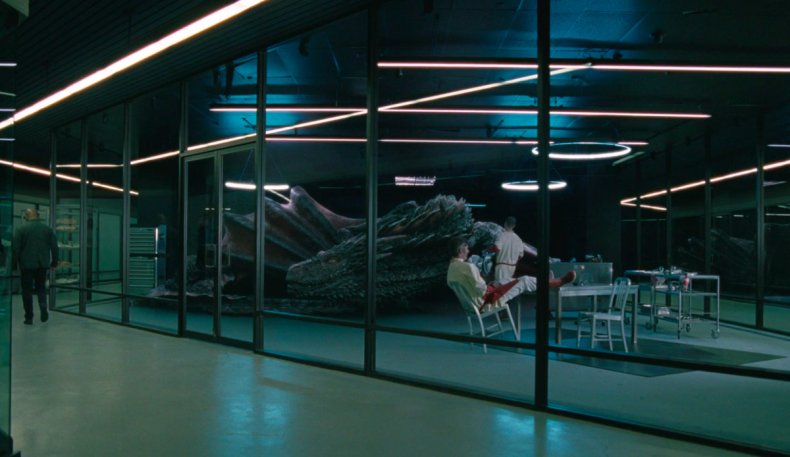 Other fans seemed unhappy that Westworld had reminded them of how disappointed they were by Season 8 of GoT. One wrote, "Damn. Missed opportunity. I wish Drogon would've eaten Benioff & Weiss," while another Twitter user offered the pithy, "Westworld should let sleeping dragons lie."
Other Twitter users realised that the mentions of Costa Rica might have also made the scene a Jurassic Park Easter egg, hinting that Drogon may soon be joining the tyrannosaurus rex and velociraptors of that prehistoric park.
One tweeted: "just realized that #Westworld was created by Michael Crichton (who created #JurrassicPark). Westworld just did the cameo / nod to #GOT where the "techs" were talking about selling Drogon's 'parts' to a 'start up in Costa Rica.' Jurassic Park took place 'off the coast of C.R.'"
In an article by Variety, Westworld showrunners Lisa Joy and Jonathan Nolan revealed exactly how those cameos came to pass. The married duo have been friends with the GoT showrunners since the first season of Westworld, so it was easy to persuade to make an appearance. Nolan said of this: "I pitched it to them, as sort of, 'How would you guys feel about this?' And they thought it was great fun."
They also revealed that Game of Thrones author George RR Martin had also pitched a crossover to them where there would be a full GoT park. Asked if there was a possibility that this would appear on the show, Nolan joked, "I guess that's definitely open to speculation," before confirming, "no, we couldn't."
Westworld airs Sundays on HBO.