Nobody ever stays dead for long in Westworld, but Evan Rachel Wood's Dolores appears to have reached the end of the road as the actor is now playing a new character in Season 4.
Wood portrays Christina, a character who shares very similar traits to Dolores—not including the fact that Wood plays both—but is, seemingly, her own person.
The actor told Newsweek that it was "bittersweet" to say goodbye to Dolores in Westworld, but that "wiping the slate clean" felt like an exciting endeavor.
'Westworld' Star Evan Rachel Wood Talks New 'Messier' Character Christina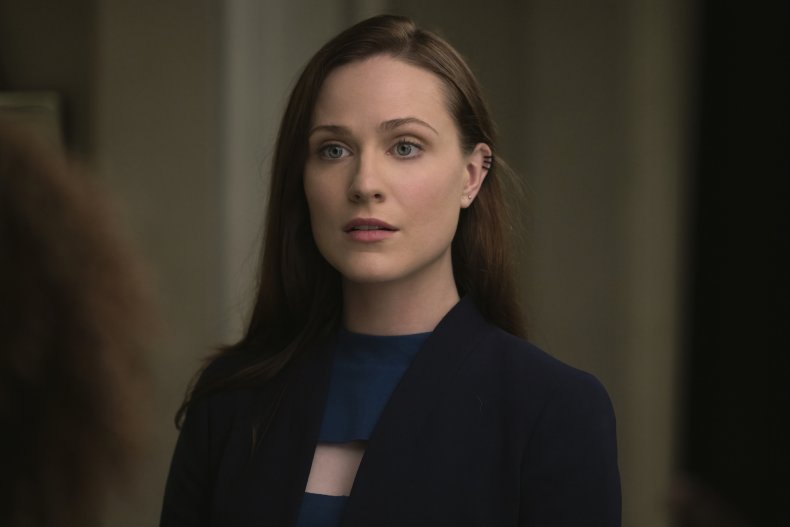 Christina is a writer living in the real world and, although she wakes up just like Dolores once did, she certainly seems human as her routine sees her go to work and come home, where she lives with friend Maya (Ariana DeBose), just like anyone else would.
Reflecting on taking on the new role, Wood told Newsweek: "It was bittersweet. In a way it's felt like I played a different character every season because Dolores keeps evolving, and we keep seeing different sides of her and her experiences are shaping her in different ways.
"But this really was wiping the slate clean, [a] completely new character, and so there was something exciting about that, to sort of play a much more human version of this character.
"And normally even my movements [as Dolores] are just so controlled and precise. So to be able to get a little messier, a little less perfect, that was fun to explore."
Wood added that she based some of Christina's mannerisms on the show's co-creator Lisa Joy, who joked in the same interview that it was because she used her hands a lot that Wood would mimic her.
Talking to Joy, Wood added: "It's truly when you are describing something that really means something to you and you're painting a picture for somebody else you do [move your hands]. That I've incorporated into the character."
Joy then chimed in: "You know, my favorite thing, I haven't told you this, Evan, yet, is that it's so funny because Evan is such a chameleon and she can dial herself in and out, you can always feel like a grain of something emotionally that's very real inside her performance.
"But this season, there's one other thing that is so Evan, and it's when [her] character laughs I hear [her]. It's like, 'There she is, there's my girl. She's laughing!' And it's so human and so vibrant, and it's so funny to hear because Dolores' laugh before is totally different."
Wood concurred, as she said: "Completely, yeah. Even the members of the crew were shocked to see me, my character, smiling and laughing, it was disarming."
Of course, this being Westworld, it doesn't seem likely that Christina is completely detached from Dolores, despite what Wood said of the character.
Wood's Dolores might have seemingly died after her memory was erased at the end of Season 3, but that doesn't mean she couldn't have returned somehow and Christina simply doesn't realize her true identity.
The fact that James Marsden is back in Westworld after his host character Teddy Flood went into The Sublime in Season 2 also suggests that there's more to Christina than meets the eye.
Westworld Season 4 airs Sundays at 9 p.m. ET on HBO, and episodes will be available to stream on HBO Max.