When Does 'Westworld' Season 2 Start? New Trailer Teases HBO Show's Return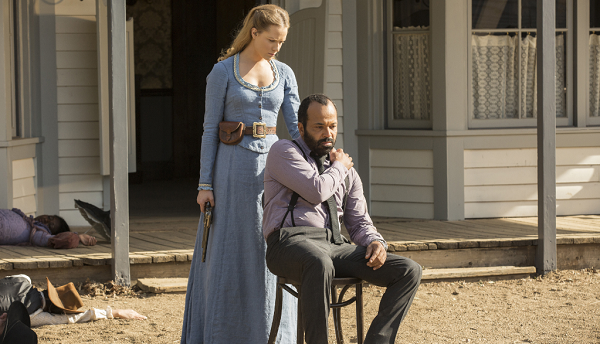 When Westworld returns for a second season, the hosts will be taking control of their world.
In a new trailer, HBO offered fans a first look at the show, which premieres April 22. In it, we see several Season 1 hosts—including Dolores (Evan Rachel Wood), Maeve (Thandie Newton) Bernard (Jeffery Wright) and Clementine (Angela Sarafyan)—as well as Ed Harris's Man in Black.
The trailer, which debuted during Super Bowl LII on Sunday, starts with Dolores delivering an inspirational voiceover, backed by Kanye West's "Runaway."
"Look at this world. This beautiful world. We built this world together. The world where dreams come true. A world where you can be free," she says as the screen pans across a sunny Westworld landscape.
"But this world is a lie," she goes on. "This world deserves to die. Because this is your world. We've lived by your rules long enough."
What follows is pure mayhem, with the hosts invading the theme park's office and virtual bulls, brought in by Maeve, charging at armed guards in slow motion, their guns no match for the AI animals or the virtual torch-bearing Native Americans.
Bernard's latest creation—a tall, faceless skeleton—will doubtless wreak unimaginable havoc against humanity. And who didn't see that coming, considering what Bernard was subjected to under Dr. Robert Ford (Anthony Hopkins) in Season 1.
The trailer wraps with Dolores leading an army of hosts, covered head-to-toe in black, as they gaze out at a vast landscape. "We can save this world," she says. "We can burn it to the ground and from the ashes build a new world. Our world." Humans not included.