Evan Rachel Wood on 'Less Murderous' 'Westworld' Reunion With James Marsden
Westworld Season 4 saw a sweet reunion in its fourth episode between Evan Rachel Wood and James Marsden.
The actors starred opposite each other in the HBO sci-fi drama in Seasons 1 and 2, where they played hosts Dolores Abernathy (Wood) and Teddy Flood (Marsden), who had romantic interests in each other, but were always torn apart by violence and death—mostly Teddy's.
The two characters are a little different to before, with both appearing to play new people (though both bear a remarkable resemblance to Dolores and Teddy).
Given they reunite under different circumstances, Wood spoke to Newsweek about how much she enjoyed their characters' "less murderous" meeting in Episode 4.
Evan Rachel Wood Talks About Reunion With James Marsden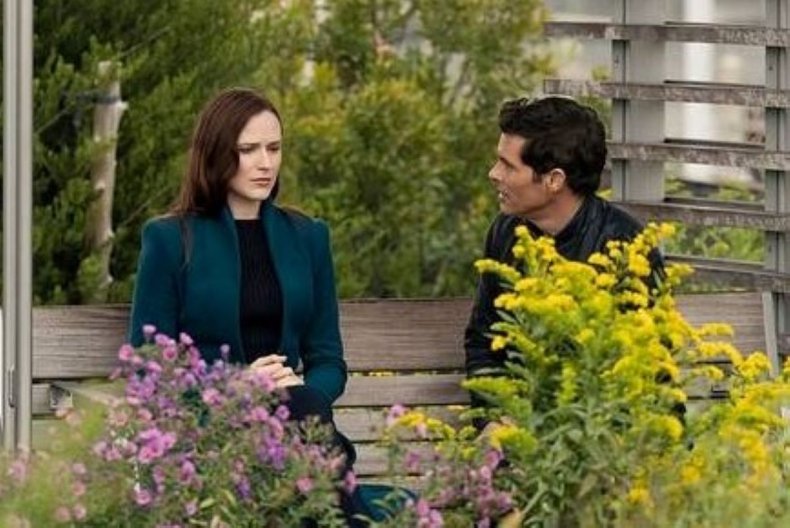 Marsden's as-yet-unnamed character first appeared in Season 4's first episode, where he was seen watching Wood's Christina as she stood at her balcony.
In Episode 4, Christina is taken by her roommate Maya (Ariana DeBose) to meet Marsden's character for a date. Christina and her new suitor are introduced and they spend the evening and take an immediate shine to each other.
Reflecting on their reunion, Wood said of working with Marsden again: "We just picked up right where we left off honestly, it was like no time had passed.
"And we all, I mean, that day was such a huge day on set, and everybody was so excited and so giddy because we've been working on this show for almost 10 years, and so the characters really are like old friends to all of us.
"And, so, to see two of these OGs reunite, and reunite in a way that's very sweet and less murderous, was fun for us."
It is currently unclear whether Wood and Marsden are actually portraying new characters as there is a strong argument that they are really Dolores and Teddy.
Firstly, the way that Christina encounters Marsden's character for the first time is reminiscent of how Dolores and Teddy always met in their Westworld loop.
This time, Christina drops her lipstick which rolls on the floor and is picked up by Marsden's character, who then says he was just trying to look chivalrous.
In Westworld, Dolores and Teddy went through much the similar routine except it was a can that she dropped and Teddy retrieves it for her before saying the same thing: "Don't mind me, I was just trying to look chivalrous."
It can't really be a coincidence that Marsden's character says the same thing to Christina that Teddy was programmed to say to Dolores.
He also claims that he "feels like he's known [Christina] lifetimes" and comments how his past dedication to his work as a bounty hunter made him feel like he was on a "train circling the smallest track," which is the exact job Teddy had and the way he used to travel into Westworld in his loop as a host.
Also, no one ever truly dies in Westworld. So, even though Marsden's Teddy died in Season 2 and his consciousness went into The Sublime it is entirely possible that he could have returned somehow in Season 4.
Wood's remarks also suggest that Christina and Marsden's characters are really Dolores and Teddy reborn as she refers to them as "two of these OGs" rather than calling them new characters.
The truth will no doubt be revealed as Season 4 continues to unfold.
Westworld Season 4 airs Sundays at 9 p.m. ET on HBO and episodes are also available to stream on HBO Max.