'Wet Hot American Summer' Prequel Creator and Cast Speak About Its Netflix Revival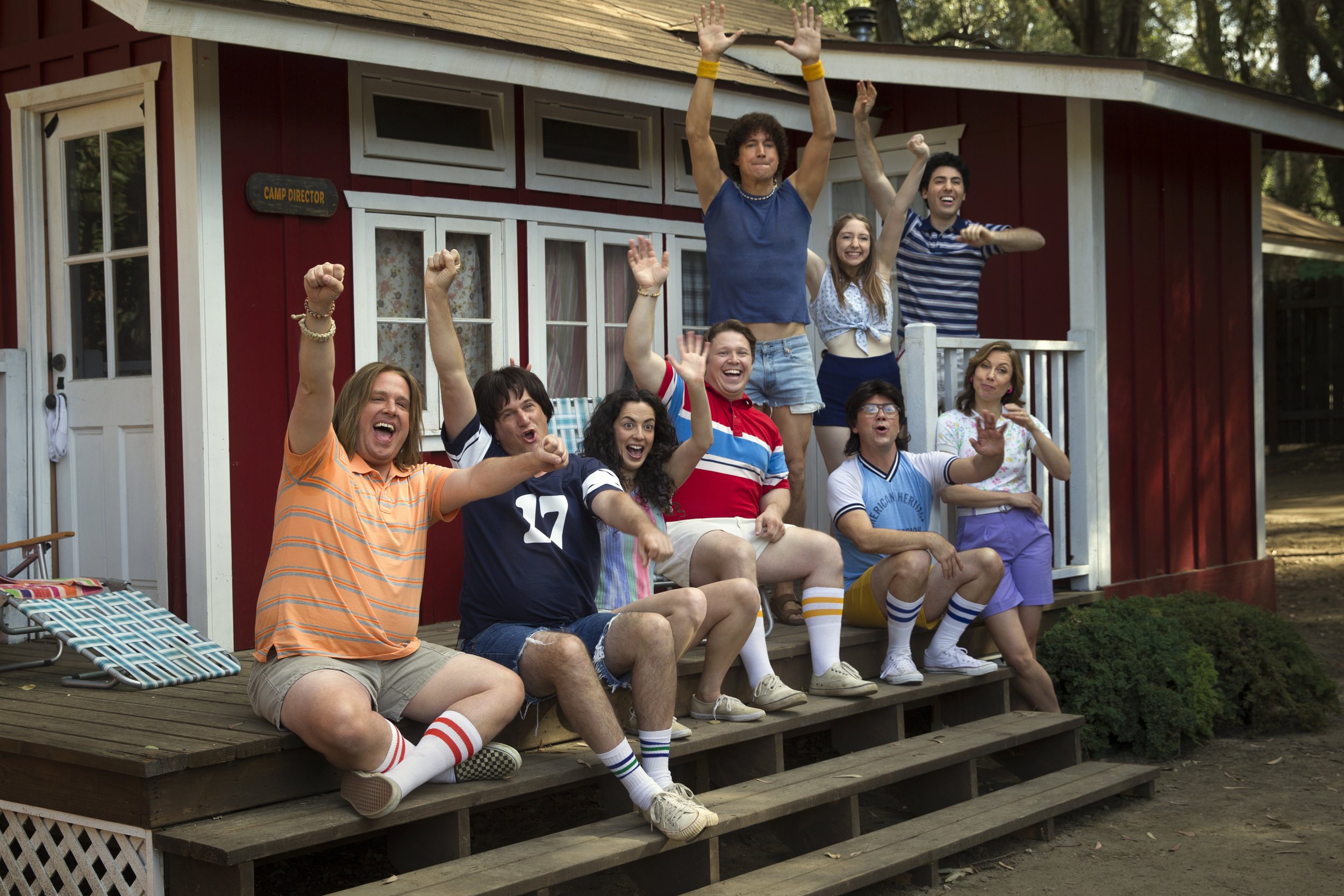 The counselors at Camp Firewood are gathered outside a cabin to hear announcements from the camp director when Andy, played by Paul Rudd, speeds into frame on a motorcycle. Instead of parking it, Andy—dressed in a denim jacket and jeans, with a red bandana hanging out the back pocket—jumps off the bike, sending it crashing. "I'm late," he mumbles unapologetically, and joins the group.
Gone is the "nice guy" Rudd of movies such as I Love You Man and They Came Together. Instead, Rudd plays a hormonal 16- or 17-year-old more concerned with wooing his co-counselor Katie than making sure kids don't drown or cleaning up his meals. Such behavior flies only at Camp Firewood, the setting of Wet Hot American Summer: First Day of Camp, an eight-episode series that hits Netflix on July 31 and a prequel to the 2001 cult film. The premiere episode also features Bradley Cooper and Amy Poehler performing a "floppy twins" duet dressed as Raggedy Ann dolls, John Slattery attempting a Willy Wonka–like somersault and a camp drop-off in a DeLorean.
The series does more than pick up where Wet Hot American Summer left off; it returns to before that film takes place, to the start of Summer '81 at Camp Firewood, a fictional, mostly Jewish sleepaway camp in Maine. The big joke is that the actors, many of whom are in their 40s, have all aged a decade and a half, but are playing younger. Whereas the film unfolded over the last day of camp, the series goes back to day one.
"You'll hear the origin story of just about every character from the original movie, and many of them are very, very different than what you might expect," says director David Wain, who also wrote the screenplay with Michael Showalter. "It's definitely the same tone and world and characters as the original movie, but it's also new."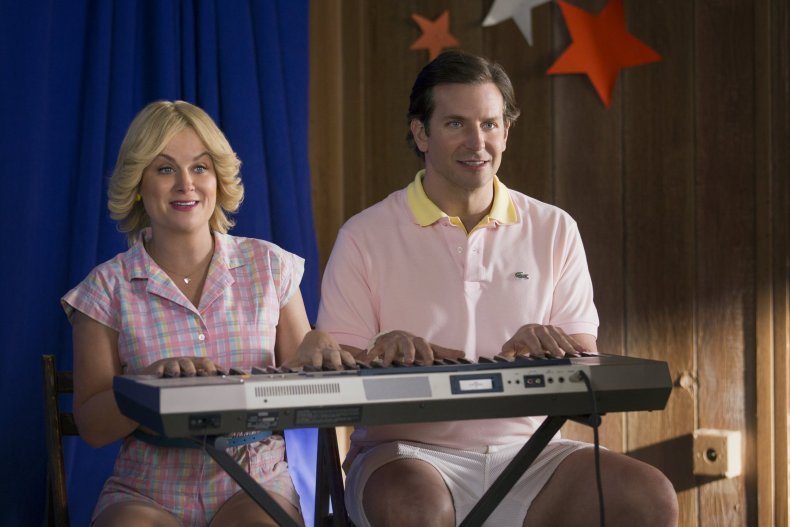 The original film didn't make much of a splash when it came out, and it still has just 31 percent on Rotten Tomatoes. In his review, Roger Ebert invoked the song "Hello Muddah, Hello Fadduh (A Letter From Camp)," reworking the lyrics. "I hate it something fierce," he wrote, adding that it was an "idiotic motion picture" and "cinematic torture." (Newsweek's review was more favorable.) The movie made less than $300,000 during its run in theaters, according to estimates.
Still, Wain and Showalter—who met as students at New York University and later created the comedy troupe The State, as well as an MTV show of the same name—weren't ready to leave Camp Firewood for good. "The movie was really based on the experiences that both me and Michael had at our respective summer camps, and there was just endless amounts of stuff there," Wain says. "Summer camp for us was just a rich, heightened, dramatic time…. I don't think you ever run out of stories to tell in that world, and of course we always just had great affection for those particular characters and those storylines and those actors."
In between other projects—including Stella, their comedy team with Michael Ian Black—Wain and Showalter began throwing around ideas for a Wet Hot revival. Meanwhile, audiences were finally discovering the film and starting to revere it as a cult classic. A Los Angeles gallery hosted a Wet Hot–inspired art show. An outdoor film series in Williamsburg, Brooklyn, has screened the film at least twice, drawing fans in denim cutoffs, sweatbands and Birkenstocks.
Rumors of a revival go back at least as far as 2011, to speculation in articles about the film's 10-year anniversary. Wain says he and Showalter "started honing in on this idea of doing not a sequel, but a prequel, as just something that would be fun; the untold story of the first day of camp."
Wain says he went to Netflix about two years ago, feeling that the new Wet Hot should be something between a movie and a traditional TV series. That was around the time that Netflix resurrected Arrested Development, which had also developed a loyal fan following, despite its cancellation. Since then, other Web streaming platforms have saved series no longer on traditional TV, including Yahoo Screen with Community and Hulu with The Mindy Project.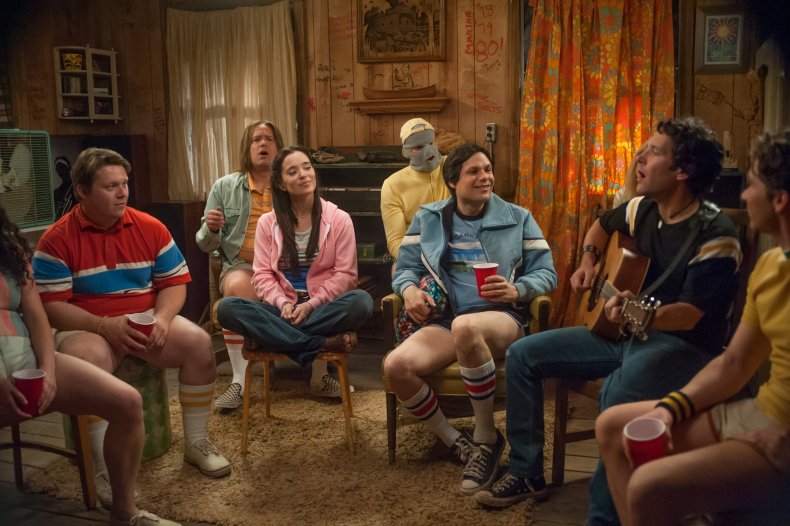 Perhaps it's a testament to Wain, Showalter and the magic of Wet Hot that the entire cast agreed to return for the new series, regardless of star power. Some cast members were already established in 2001, like Janeane Garofalo, David Hyde Pierce, Molly Shannon and Christopher Meloni. But so many more have since become household or near-household names: Bradley Cooper, Amy Poehler, Paul Rudd, Elizabeth Banks and Ken Marino. The creators also enlisted new actors, including Jason Schwartzman, John Slattery, Jon Hamm, Kristen Wiig, Chris Pine, Lake Bell, "Weird Al" Yankovic and one person whom Wain has declined to reveal.
"I have been a fan of all of these people basically since The State," says Schwartzman, adding that he would often buy Wet Hot American Summer on DVD as a gift for friends. When Wain offered him a part, he says, it was "more than I could even put my head around…the idea that these people who made something that was so near and dear to you years ago were all getting back together to make an extension of it, and they want you to be a part of it."
Schwartzman adds, "The drive to set every day? That was one of the best drives of my life, every day."
Production was different this time around. They had shot the original film over the course of a month at a real sleepaway camp in Honesdale, Pennsylvania, where the cast slept in bunks at the camp infirmary and partied with beer from the local Wal-Mart. It rained every day. For the series, however, they filmed on a set in Malibu, built to resemble the earlier camp. And unless the cast is sworn to secrecy, there wasn't as much partying this time around. "We were older, and our bodies weren't able to take the kind of substance abuse as much," jokes Joe Lo Truglio, who plays Neil and lived across the hall from Showalter at New York University. Plus, having Netflix foot the bill has its perks, he says. "This time around, craft service was a bit better. No bug juice."
Still, the atmosphere didn't change. "I was so incredibly amazed that everyone was able to get together and do it. It was a miracle that it actually came together. And so the vibe on set, it felt like we could really appreciate how rare something like this happening is," Lo Truglio says. "It was certainly a reunion of sorts. It's amazing what a wig and some glasses can do to a person."
"It was the same dumb humor, the same dumb people, the same short-shorts," says Black, who shares a memorable scene in the original movie with Cooper in a sports equipment shed.
Wain is a bigger name now too, having developed Childrens Hospital on Adult Swim and directed The Ten, Role Models, Wanderlust and They Came Together. "He's turned into a really good director, much to my surprise," Black deadpans.
Fans of the original movie will appreciate the series' classic absurdist humor and learning how characters such as Henry, Gene, Lindsay, Abby Bernstein, "the Beekeeper" and even the can of vegetables get to where they do on the last day of camp. Instead of building up to a talent show, as in the original film, the series works toward a counselor musical and party. And in place of impending Skylab doom, another external force threatens the camp. The series also features music from the original soundtrack, plus at least one new '80s-sounding song that is just as good as "Higher and Higher."
Times have changed in some ways. To promote the series, Netflix sent a school bus wrapped in Wet Hot branding and carrying Wet Hot trucker hats and Camp Firewood T-shirts to various cities, and it threw a Wet Hot-themed event with Gawker Media in Williamsburg. A trailer for the series has more than 3 million views on YouTube.
Black says he's also changed a lot since the original film. "I have a series of failed television shows under my belt now, some books, some movies. A lot changes in 15 years. I mean, thankfully, I'm still gorgeous."