Wet Leg's Singer Faints After Hearing Harry Styles' Cover of Song in Video
Wet Leg's singer Rhian Teasdale fainted after hearing Harry Styles cover her band's hit single.
Styles, promoting his latest album Harry's House, appeared on the popular BBC Radio 1 show Live Lounge. The format of the show features the top stars of today doing some of their own songs and then a cover of a tune by another artist. Styles' latest cover song was "Wet Dream" by the up-and-coming band Wet Leg, hailing from the Isle of Wight.
Styles' cover of the song has been seen on YouTube over a half-million times. But it's one person's reaction—namely Teasdale's—that's gone viral on TikTok, racking up 486,800 views.
In the clip posted by the band, a brief snippet of Styles singing the song plays. It then cuts to Teasdale in a distressed sweater just looking shocked and staring silently, until she pitches forward closing her eyes at the end of the clip.
Though it wasn't an actual fainting spell, just one for the camera, Wet Leg fans were ecstatic.
"'It's enough to make a girl blush,'" @milashkaaaa96 wrote, quoting a lyric from the song.
"Hey uuuhh, you good? Cause if I were you, I wouldn't be good," @iamcoggs wrote.
"YOU WON MUSIC CONGRATULATIONS," @esme_yeah wrote.
The band shared another Styles clip on Twitter, alongside a melting-face emoji as the sole caption.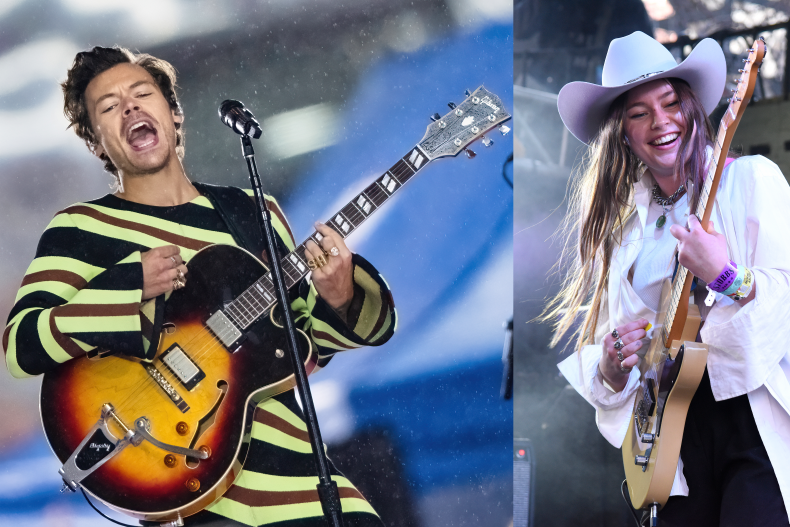 Though Teasdale may have been surprised by the "Wet Dream" cover, this isn't the only Wet Leg connection with Styles. Wet Leg is also scheduled to open for him on his 2023 tour of Australia and New Zealand, according to Variety.
However, some fans won't have to wait for the two to come together—both acts are playing the Big Weekend festival on Sunday, which will be held in Coventry, England at War Memorial Park. The festival will also be available via BBC's streaming platform iPlayer, however, that's only available to those in the U.K.
In addition to "Wet Dream," Styles also played Harry's House cuts "As It Was," "Boyfriends" and "Late Night Talking." It was his fourth solo appearance on the program, where he previously covered "The Chain" by Fleetwood Mac in 2017, "Wild Thoughts" by DJ Khaled in 2018, and in 2019, he covered two songs: Paul McCartney's "Wonderful Christmastime" and "Juice" by Lizzo.
"Wet Dream" was Wet Leg's second single after their smash debut "Chaise Longue," which reached No. 15 on the U.S. Billboard alternative charts and No. 13 on the U.K. indie charts compiled by the Official Charts Company. "Wet Dream" didn't do quite as well, hitting No. 37 on the U.K. indie chart, and No. 19 on Billboard's Japan Hot Overseas chart, though it was critically acclaimed.
The song is about one of Teasdale's ex-boyfriends.
"We broke up, and I would receive messages after the breakup, saying, 'Oh, I had a dream about you and we were married.' So it was like that. But mainly, it was describing that kind of character, that kind of person [who] will try to pick up girls by being like, 'Oh hey, do you know this band?' 'Oh hey, do you know this indie cult film?' They kind of use that as currency," Teasdale told Newsweek about the tune.
Newsweek reached out to Wet Leg for comment.