We've Abandoned Afghanistan's Religious Minorities | Opinion
A year ago this week, the United States began its complete withdrawal from Afghanistan after two decades of on-the-ground military intervention. Seared into our collective memory are heartrending images—like that of a man clinging to a U.S. military plane leaving Kabul and plummeting to his death shortly after take-off.
The Taliban quickly reimposed its extremist vision of Islam on the country and its religious minorities. Criminal punishments under the Taliban include flogging, stoning to death, and even crucifixion. When the U.S. was in Afghanistan, it provided some degree of safety to religious minorities in Kabul. But now, those minorities have been completely abandoned.
Since the U.S. withdrawal, the Taliban and ISIS-K have displaced or massacred hundreds of Hazara Shia, the country's largest minority, because of their religious beliefs. The vast majority of the country's other religious minorities have gone into hiding, fled, or been killed. Advocates estimate that the populations of Ahmadi Muslims, Sikhss and Baha'is number in the low hundreds. There are fewer than 50 Hindus left, if any. The country's last known Jew fled shortly after the withdrawal.
Christians made up a significant minority when the U.S. withdrew, at roughly 10,000, although that number has plummeted over the past year. Most are converts from Islam, considered by the Taliban to be apostate Muslims, and face almost certain death if discovered. I've seen text messages sent to Afghan Christians that ask, "Where are you, infidel?"
President Joe Biden and Department of Homeland Security Secretary Alejandro Mayorkas promised that they would move "swiftly" and "safely" to help "vulnerable Afghans." The U.S. has not delivered on this promise.
Human rights advocates warned about the horrors that awaited religious minorities. Even as the withdrawal was still occurring, news reports spread of Taliban soldiers going house to house searching for Christians to kill. The U.S. Commission on International Religious Freedom and hundreds of advocates pleaded with the administration to provide preferential P-2 refugee status for these religious minorities. But it did not listen.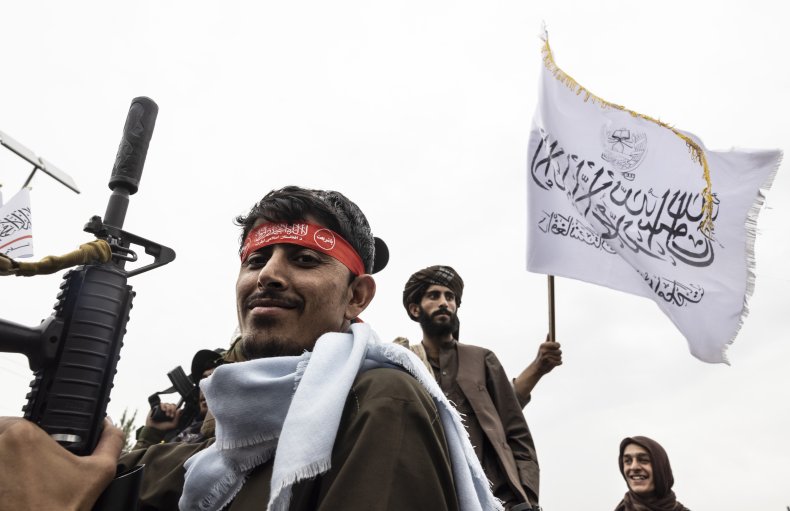 Instead, heroic private evacuation efforts brought thousands of religious minority refugees to the Emirates Humanitarian City (EHC) in Abu Dhabi. The evacuation organizations were assured that the refugees would be at EHC for no more than 90 days, in conformity with what the U.S. had told the UAE. Refugees believed they would be relocated to the U.S.
Yet most of the refugees in Abu Dhabi are still waiting to be processed. Their hopes for permanent resettlement to the U.S. are slim, as the refugee system is massively backlogged, and most applications denied. "Every day we're being told something different," said one young Afghan mother at EHC. "We can't go back, but we can't go forward."
Evacuation NGOs are now saying that the U.S. will be leaving EHC at the end of September. As many as 1,000 vetted religious minorities will be left behind with only the hope of being resettled in another country.
The disorganization of this system has national security implications. While religious minority refugees find themselves in an unending limbo, some senators are now asking the Department of Defense about whistleblower claims that up to 324 Afghans were admitted to the U.S. despite being tagged as known or potential national security threats. Why were these individuals able to make it to the U.S., while the most vulnerable are stuck overseas with little hope?
It isn't only the U.S. that has forgotten about Afghanistan's religious minorities. A recent United Nations report on the Afghanistan human rights situation ignores the genocidal conditions facing Ahmadis, Baha'is, Sikhs, Buddhists, Hindus, and Christians in the country. Instead of working to secure their rights, the international community is acting as though they already no longer exist.
August 22 is the U.N. International Day Commemorating the Victims of Acts of Violence Based on Religion or Belief. The silent stories of the persecuted religious minorities of Afghanistan must be told. We have before us irrefutable evidence of the human toll made worse by our broken promises, and it is long past time that we right this wrong.
Sean Nelson is an international human rights lawyer serving as Legal Counsel for Global Religious Freedom with ADF International. Follow him on Twitter @Sean_ADFIntl.
The views expressed in this article are the writer's own.