We've Had Vote-by-Mail in Oregon for Decades. It's Obviously the Best Way to Hold Elections Now | Opinion
The COVID-19 outbreak is fundamentally changing the way Americans live and work. Our nation faces an unprecedented challenge to protect the health and lives of millions. But in the face of such a fight, we cannot let our constitutional right to free and fair elections suffer as an expense. In order to flatten the curve, no aspect of our society will remain untouched, and that means we also need to change the way we vote.
In Wisconsin, we saw what happens when that fundamental right becomes a political football in the haze of a national crisis: confusion, lower participation and chaotic implementation.
When the foundation of our society is being rocked, we must ensure that the foundation of our democracy remains strong. Americans' greatest asset lies in the right to vote. One of our other great assets is ingenuity and adaptability, and when it comes to expanding vote-by-mail programs, that quality is on full display. Without it, American's voices would have no bearing whatsoever in our country's response to the crisis and the shape our economy takes in the wake of it.
Governors do not have easy decisions during this period of crisis and confusion. However, we do know our elections must continue, and there should be no question that vote-by-mail programs are the best way to hold them when social distancing is required to save lives.
As governors, one of our most important jobs is protecting voting rights and voting access, especially now. And the process for protecting that right should be consistent across the county. We don't need a Supreme Court decision every time a governor decides to protect voter's health.
Frankly, it's long past time for the country to implement mail-in voting nationwide. Vote-by-mail is proven as the most reliable and secure way for Americans to exercise their right to vote. We've had it in Oregon for decades, and we now have one of the highest voter participation rates in the country.
The system is simple. Ballots are sent directly to voters' addresses, with an included pamphlet of information on candidates and issues. With pre-paid postage, the ballot can be sent to elections officials at no charge. The results are easy to replicate, making recounts easy to conduct, and are hard to manipulate, reducing the risk of interference.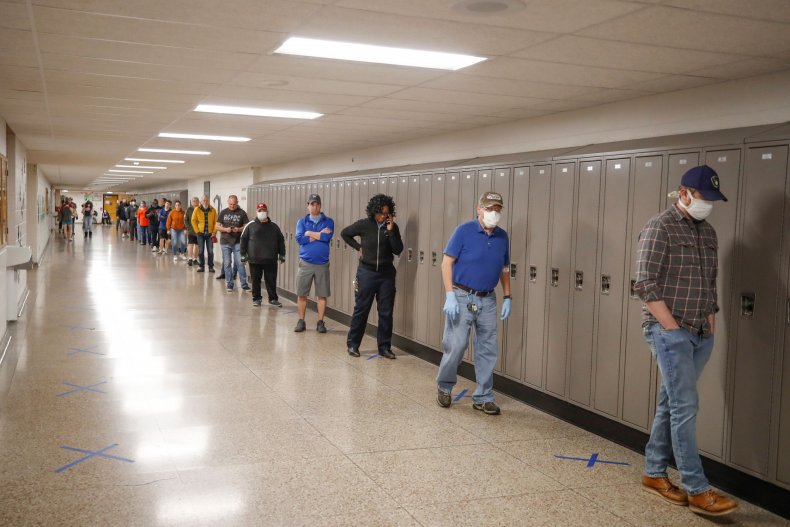 Vote-by-mail also increases voter participation in every state it currently exists as the primary form of voting. Casting a ballot is never easier or more informed than when Americans can study candidates and issues, and make their vote, from a location of their own choosing.
Vote-by-mail programs are modern, secure and also less expensive than in-person voting systems. The reduced costs of staffing polling locations and ballot counting systems will be even more important as the country's economy tumbles into an unexpected recession.
Our first priority as governors is responding to this health and economic crisis. However, there will be long-tail problems we need to start planning for while we stabilize our society. Whether states decide to postpone elections or not, the turmoil will continue if governments don't take decisive and consistent action. We must ensure that our elections remain fair and secure.
Kate Brown is the 38th and current governor of Oregon, serving since February 2015.
The views expressed in this article are the writer's own.