WGN America's New Drama 'Underground' Tackles Slavery With Surprisingly Modern Flourishes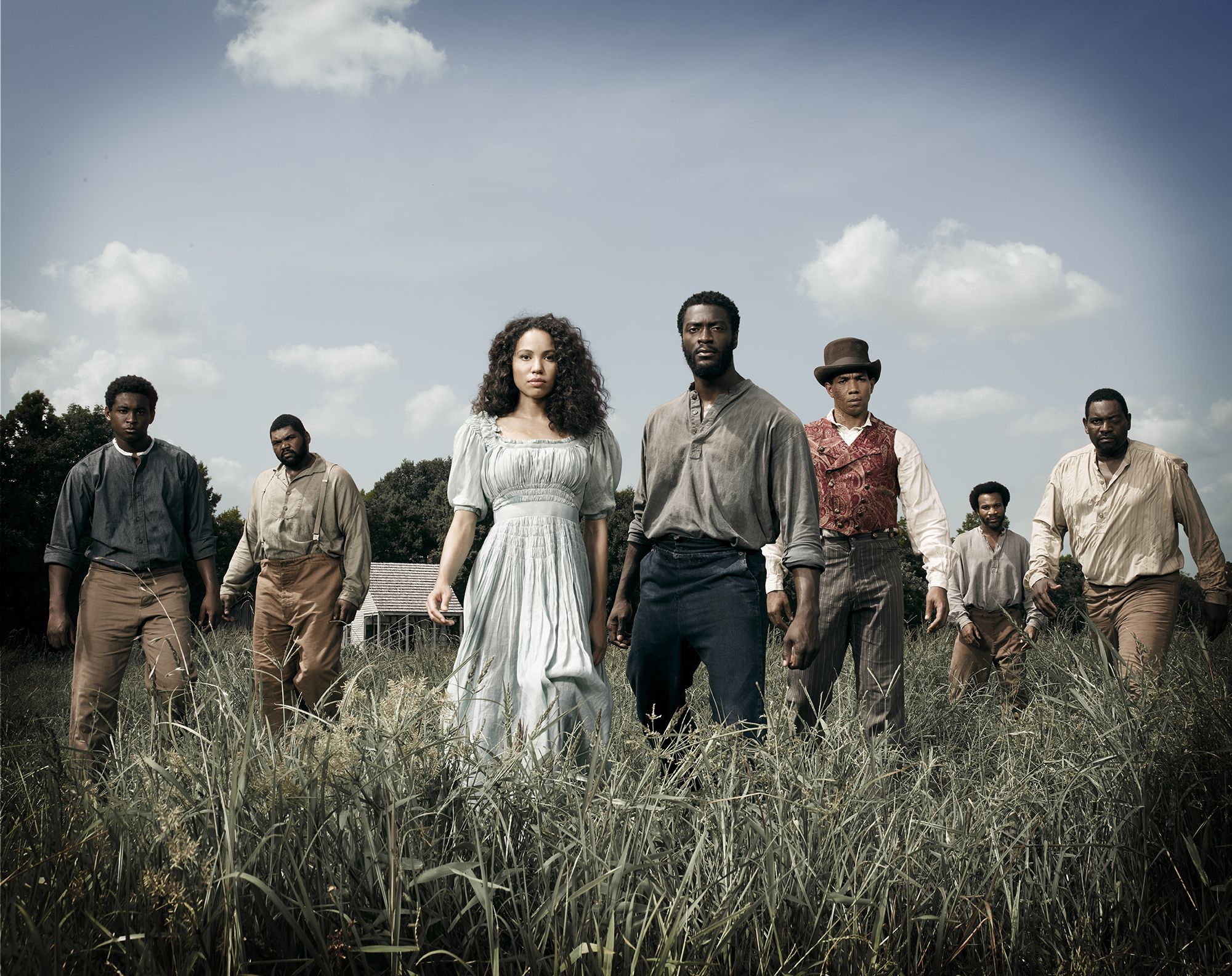 The first shot we get of WGN America's new show Underground is of a world turned upside down. Then the camera rights itself, and for the next 78 seconds, a riveting—and wordless—opening announces the show's intentions. A chase through the woods, focusing on a slave hell-bent on escape, would be gripping and intense even in total silence. But the soundtrack is a shocker—no fiddles or horns or other period instruments. Instead, the footsteps through the forest pound to the propulsive beat of Kanye West's "Black Skinhead," off of 2013's Yeezus, with the song's screams and rhythmic breathing brilliantly edited to heighten the adrenaline and fear.
"This is not your father's history lesson," executive producer Akiva Goldsman says.
"I've seen a range of slave dramas before, but I have never seen anything like this," adds John Legend, the Grammy- and Oscar-winning recording artist who is curating the show's music and serves as another executive producer. "If people under the most adverse conditions with the most stifling oppression can be so courageous, that is inspiring for everybody."
This opening scene also illuminates the contradictions in Underground, debuting Wednesday. The show is set in 1857, yet is clearly gesturing toward the present-day and means to stir up conversation about the weight of history on 2016 race relations. It is a prestige drama, yet it is also an action-adventure tale, as a group of slaves break free and head north. It strives for period realism, yet it features music by West, the Weeknd and lesser known artists like Great Wolf.
The series is also targeting younger viewers with its style and potential breakout stars, like Aldis Hodge (MC Ren in Straight Outta Compton) and Jurnee Smollett-Bell (Nicole in True Blood), yet it's on a new cable network no one has heard of in an age of cord cutters.
Most significant, Underground is a show about the most restricted class of people that focuses on the road they navigate to freedom, a show about slaves that is not about their victimization but their bravery and their willingness to risk their lives for a chance to really live.
"They are the quintessential American heroes, risking everything to fight for their freedom," Goldsman says of the slaves who headed north, adding that anyone who behaved that bravely at Normandy or Iwo Jima would "have had statues built for them."
Both Hodge and Smollett-Bell were skeptical about signing up for a new slave drama. But reading the script by creators Misha Green and Joe Pokaski (who met, fittingly, on Heroes) changed their minds.
"The people who ran and those who helped them changed the trajectory of our nation," Smollett-Bell says. "The systemic injustice is still in the fabric of our society, and if we don't deal with healing the wounds of the past, we can't live up to our future. This show will contribute to that dialogue."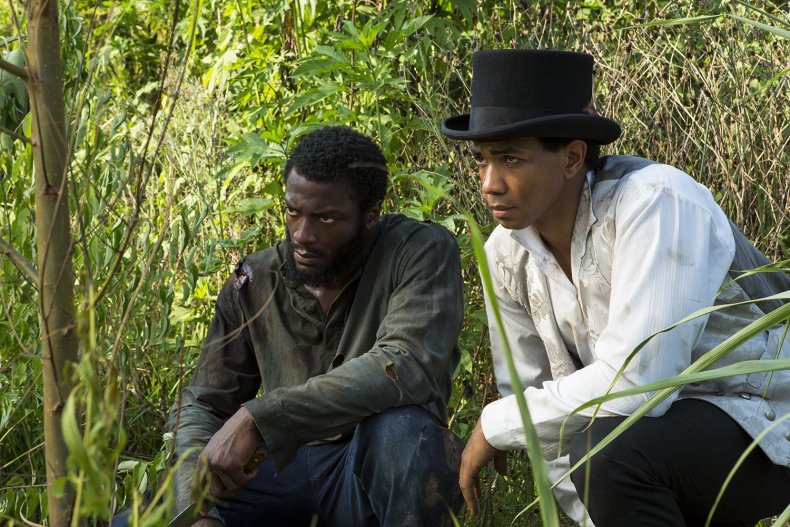 Hodge likens it to Straight Outta Compton, which had many doubters early on but proved to be "good entertainment with a lot of heart and substance." He says, "This series is a psychological action thriller with complex characters that attacks the issue of slavery without being about the victimization, because it focuses on the people."
He hopes audiences are inspired by the ethnic diversity of the abolitionist movement and the Underground Railroad—"The show celebrates the first integrated civil rights movement"—and says it is relevant to be producing a show now that shows the dark side of hate and bigotry, and how America is strengthened when different people join together.
Green and Pokaski extensively researched slave narratives, abolitionist writing and other period history to get the story right. While they created mostly fictional characters in a sprawling cast that includes the slaves, plantation owners, slave catchers and abolitionists, the details are largely real. "We found the truth was stronger than fiction," Pokaski says.
But they never wanted a bland docudrama. "From the get-go, we wanted to be bold: in the storytelling, in the visual style, with the music," Green says.
They found a receptive ear at WGN America, where CEO Peter Liguori is attempting to build a national cable channel in the model of FX or AMC. (The network has had some success, with Salem, a 17th-century drama, and Outsiders, set in Appalachia, which debuted in January. But Manhattan, about the Manhattan Project, was canceled due to low ratings.) Underground fit with the network's brand of "shows that explore American themes," Liguori says.
The network has grown from 65 million viewers to nearly 80 million and recently completed a crucial deal with Cablevision, giving it a boost in New York; it will give Underground a major marketing push, Liguori says. The series will have a lot of competition in May, when a Roots remake hits TV, but Dave Campanelli, director of national TV at Horizon Media, says that a miniseries is different and should not damage the series' chances.
Additionally, he says, the Black Lives Matter movement and Oscars controversy could help generate attention for Underground. "The timing works for them," he says.
Legend says the network's commitment made him a believer. He says, "No one was watching AMC before Mad Men and Breaking Bad. This show will attract people."
Hodge believes the judicious use of modern music is crucial in that effort. The traces of rap, rock and blues will "speak to today's audience," he says. "Our senses trigger memories and associations, and when you hear something familiar it connects your emotions to the scene and you recognize the similarities with today." (There is also period music and a period-sounding theme, "Heaven's Door," produced by Legend.)
The use of "Black Skinhead" in the original script caught Hodge's and Smollett-Bell's attention on their first read—Legend's too. He says people often put in songs as a "wish list" but can't get clearances. He was able to help in this case by calling on West, an old friend, to persuade him. "It was critical to set the tone," he says, adding that the modern music must "enhance what is on screen, not distract from it." (One Legend song, "Made to Love," will be used.)
Legend, who gives props to the music-supervising staff for "doing the heavy lifting," says he knew the first time he saw the character John Hawkes give an abolitionist speech after dragging a podium up the steps of the Supreme Court that "we should have some blues here, something that sounded like the White Stripes." (They chose Electric Owls' "Last to Know.") Ultimately, the show's success will hinge on its storytelling. Viewers see ordinary, even joyful moments for the slaves because, Green says, "it's important to remember that these people laughed and loved and were not just whipping posts."
But it does not shy away from the ugliness of slave life. Smollett-Bell says the scene in which her character is flogged trying to protect her brother was "one of the hardest things in my life," adding that afterward she could not stop shaking and crying.
"We didn't want to sugarcoat anything," Pokaski says, including the fact that most slaves who ran off were recaptured or killed, meaning not everyone is going to make it on Underground's journey either. "The audience wants it to be earned, and you find the most joy and the most triumph when you overcome obstacles," Green adds.
Green and Pokaski do take some liberty with the facts—there was a vicious female slave catcher who died before 1857, "but we gave her a reprieve," Pokaski says. And there's a scene where Christopher Meloni's character gives his son a "base ball" from the new game being played up north, but then pulls out a mitt too even though gloves (especially ones of that size) were years away.
Goldsman had no problem with that moment, since it was about character development, not taking a shortcut in plotting. "We are chasing the truth, not facts, he says, adding that "the story is true in terms of the practices of oppression."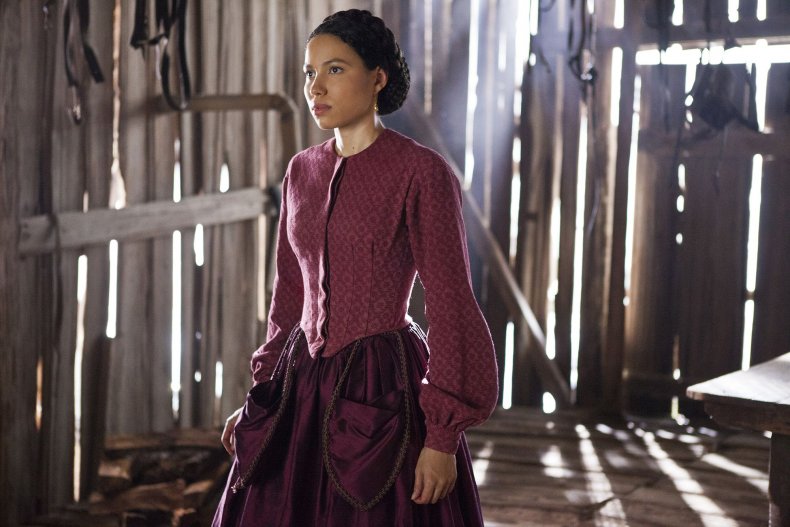 Indeed, Green says, scenes that seem impossible to modern eye—like a young black boy forced to sit and fan white women at a party—are based on research. "We want people to understand that this is real."
The first season features some real-life people as recurring characters, such as William Still (played by Chris Chalk), the son of former slaves who became "the Father of the Underground Railroad." And Goldsman says he expects that down the line Harriet Tubman will make an appearance. "Otherwise, you are avoiding history," he says.
Green and Pokaski won't name names, but they do have 56 pages of plans to keep the series going. "During the Civil War, the Underground Railroad became a spy network, so we could still have fresh stories for these characters years into the future, with desperate people still doing desperate things," Green says.
Goldsman says they aimed to create good show, but adds, "I'd be lying if I said contributing to the conversation about race doesn't matter to me. If it's just a drop in the bucket, I'll take it."
Smollett-Bell says Green and Pokaski have inspired and empowered the cast and crew by asking, How active is your activism? "These characters didn't have to run or to help others run, but they made our country better," she says. "Hopefully, we can find that same spirit today."