White House political director Brian Jack is the latest White House official to test positive for the coronavirus. Jack and two other aides tested positive for COVID-19 over the weekend, according to multiple reports.
Over a week ago, Jack attended an election night event at the White House, where most attendees did not wear masks. Since the indoor event, three other people who were in attendance have tested positive for the virus.
Of the several hundred guests who gathered in the East Room to watch election results, White House Chief of Staff Mark Meadows, Housing Secretary Ben Carson and President Donald Trump's senior legal adviser, David Bossie, have tested positive for COVID-19.
The news that Jack has tested positive comes two days after Carson and Bossie were diagnosed.
After experiencing COVID-19 symptoms, Carson's deputy chief of staff announced that the secretary tested positive Monday morning at Walter Reed National Military Medical Center.
Later that day, Bloomberg News reported Boisse had tested positive for COVID-19. Bossie is leading the president's legal team on a number of lawsuits challenging ballot counting in the November 3 election.
Meadows tested positive for the coronavirus the day after he attended the election night party. Since Meadows' diagnosis, at least 12 people in Trump's orbit have tested positive, according to ABC News.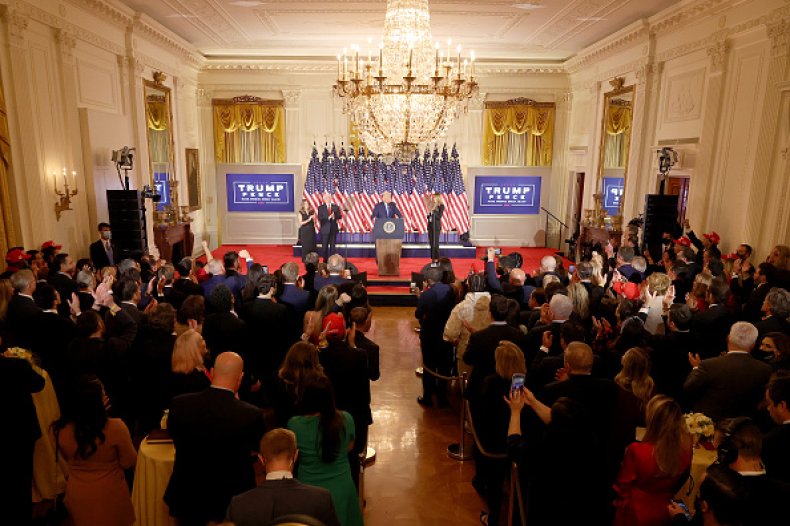 There has been speculation that the election night party may replicate an earlier White House event—the Supreme Court nomination of Judge Amy Coney Barrett—which was later deemed a coronavirus super spreader event.
The president himself contracted COVID-19 after attending the September event on the Rose Lawn.
First Lady Melania Trump, former New Jersey Governor Chris Christie, California Pastor Greg Laurie, University of Notre Dame President John Jenkins, White House press secretary Kayleigh McEnany, former counselor to Trump Kellyanne Conway, Utah Senator Mike Lee and North Carolina Senator Thom Tillis were also confirmed to contract the coronavirus after attending the Rose Lawn event.
Several cabinet officials were in attendance at the election night event, including Treasury Secretary Steven Mnuchin, Attorney General William Barr, Interior Secretary David Bernhardt and Health and Human Services Secretary Alex Azar, who was the only one photographed wearing a mask.
Following Jack's diagnosis, Bloomberg News reported that former Trump campaign aide Healy Baumagardner, who attended the election night party as a guest of Trump's personal attorney Rudy Giuliani, also tested positive for COVID-19.
The White House declined Newsweek's request for comment.
Update 11/11/20 4:54 p.m. ET This story was updated to include a second aide who tested positive for COVID-19 alongside Jack.