WH Press Secretary Jen Psaki Doesn't Give a 'Yes' or 'No' on Cuomo's Pandemic Leadership
White House Press Secretary Jen Psaki declined to speak for President Joe Biden, with respect to his current view of New York's embattled governor, on Sunday.
During a televised interview with ABC News' Jonathan Karl, which aired as one of the morning's This Week segments, Psaki discussed the Biden administration's approach to COVID-19 vaccinations and school reopening procedures amid the ongoing pandemic.
However, when Karl inquired about whether recent controversy surrounding Governor Andrew Cuomo's alleged mishandling of COVID-19 data has changed the president's opinion of New York's state leader, Psaki did not respond directly.
"Well, Jon, we work with Governor Cuomo, just like we work with governors across the country," the press secretary said, additionally noting that Cuomo serves as chair of the National Governors Association—and, therefore, "plays an important role in ensuring that we're coordinating closely and getting assistance out to people of his state, and to states across the country."
Psaki acknowledged that investigations into Cuomo's alleged effort to intentionally underreport COVID-19 deaths in New York's long-term care facilities are ongoing. While "appropriate" law enforcement agencies are tasked with determining potential next steps based on the outcomes of those injuries, the press secretary told Karl that White House relations with Cuomo will proceed as usual in the absence of direction to that end.
"We're going to continue to work with a range of governors including, of course, Governor Cuomo," Psaki added. "Because we think the people of New York, the people of states across the country, need assistance not just to get through the pandemic, but to get through this difficult economic time. And that's where our focus remains."
Psaki's remarks about the administration's intentions to continue partnering with Cuomo on national pandemic strategies came as tangential responses to Karl's original question, which specifically asked if Biden still considers Cuomo "the gold standard" for leadership during the COVID-19 outbreak.
The ABC News correspondent referenced Biden's Jimmy Kimmel Live appearance last April, in which the president praised Cuomo. New York was becoming the pandemic's global epicenter at the time, and its governor's thorough daily news briefings quickly gained widespread attention.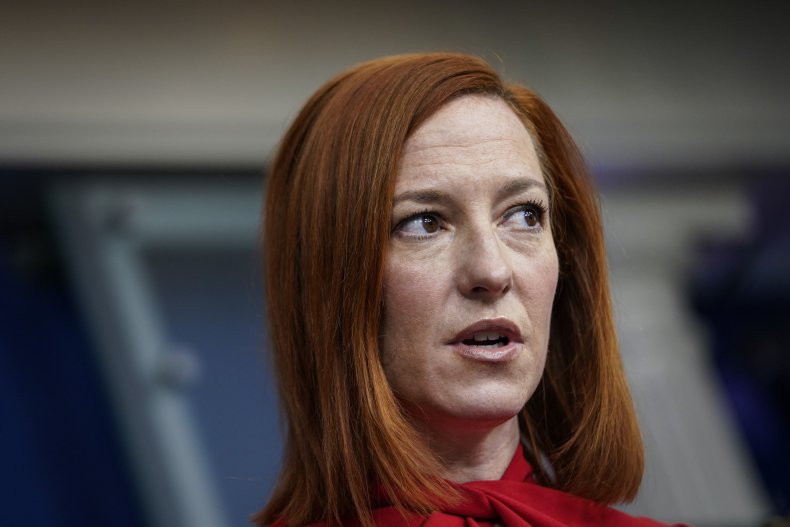 "Your governor in New York's done one hell of a job," Biden said. "I think he's sort of the gold standard."
After reviewing a clip from the president's late night interview, Karl pressed Psaki to offer insight into Biden's opinion of Cuomo at present with "just a 'yes' or 'no.'"
"It doesn't always have to be a 'yes' or 'no' answer, Jon. I think the president is focused on his goals, his objectives as president of the United States," she said. "And I'm not here to give new labels or names from the president. I'm here to communicate with you about what our focuses are, and what his objectives are as president."
Newsweek reached out to the White House for further comment, but did not receive a reply in time for publication.