WH Says 2 Child Tax Payments Could Come in February if Build Back Better Passes in January
The White House floated the possibility of two Child Tax Credit payments for families in February if the Build Back Better legislation can pass after the new year.
Press secretary Jen Psaki told reporters on Friday that it is President Joe Biden's plan to get the sweeping social safety net package moved forward early next year. The bill would extend the administration's expanded Child Tax Credit through 2022.
December's expanded Child Tax Credit payment will be the last if the Build Back Better act isn't passed by lawmakers.
"If we get it done in January, we've talked to Treasury officials and others about doing double payments in February as an option," Psaki said aboard Air Force One. "But the president wants to see this move forward, it's a priority for him as soon as Congress returns."
Biden's American Rescue Plan, which passed in March, expanded the Child Tax Credit from $2,000 to $3,600 for each child between the ages of 6 and 17, or $3,000 per child under the age of 6.
The benefit was dispersed among eligible households in two installments: monthly payments of $250 or $300 from July through December. The rest of the money will be sent to families after they file their taxes in 2022 as part of their total refund.
If Build Back Better doesn't make it to Biden's desk, the Child Tax Credit will shrink back to its previous $2,000 amount.
One petition calling on lawmakers to extend the benefit described them as making the difference between "begging" and "dignity." The online petition has garnered more than 60,000 signatures.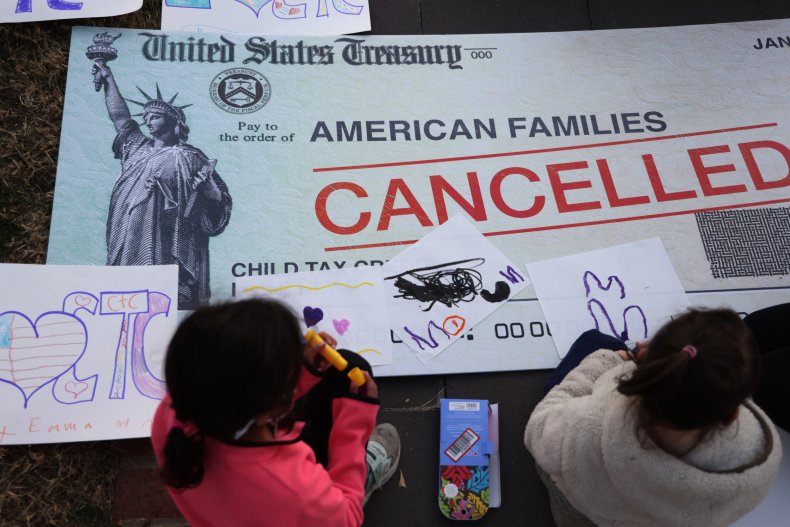 The odds of the Senate passing the $1.7 trillion Build Back Better bill, which was approved by the House of Representatives last month, before the end of the year is slim. Senate Majority Leader Chuck Schumer previously set a goal to pass the legislation before the Christmas holiday.
But one key holdout amid negotiations has been Democratic Senator Joe Manchin. It's been reported that Manchin has expressed concern about the expanded Child Tax Credit. On Wednesday, he told reporters that claims he wants to strip the Child Tax Credit expansions are "a lot of bad rumors."
Biden released a statement late Thursday that he and his team are having "ongoing discussions" with the West Virginia moderate.
"It takes time to finalize these agreements, prepare the legislative changes, and finish all the parliamentary and procedural steps needed to enable a Senate vote," Biden said. "We will advance this work together over the days and weeks ahead; Leader Schumer and I are determined to see the bill successfully on the floor as early as possible."