WH Trade Adviser Navarro Defends His Disagreement With Dr. Fauci Over Hydroxychloroquine: 'History Will Judge Who's Right on This Debate'
President Donald Trump's trade and manufacturing adviser, Peter Navarro, addressed reports that he and Dr. Anthony Fauci had argued over the use of hydroxychloroquine, defending his belief that the unproven drug could be a successful treatment against COVID-19, the disease caused by the coronavirus.
Navarro downplayed the disagreement in interviews with Fox News and CNN on Monday morning. Axios first reported, and then The New York Times confirmed, that Fauci, director of the National Institute of Allergy and Infectious Diseases and a key member of Trump's Coronavirus Task Force, had sparred with Navarro over promoting the drug's efficacy.
"I think history will judge who's right on this debate, but I'd bet on President Trump's intuition," Navarro said in a Monday interview on the Fox News morning show Fox & Friends.
Trump has repeatedly promoted the treatment for COVID-19, despite persistent concerns from some doctors and health experts who have noted that there is not enough scientific evidence to back the claims. At the same time, many doctors believe that it is worth trying the drug as a treatment, particularly when a patient's situation becomes dire and there are few other options.
Speaking to CNN on Monday morning as well, Navarro admitted that he is not a health professional but argued that, because of his academic credentials, he was qualified to analyze the results of the preliminary studies that have been conducted.
"I'm a social scientist. I have a Ph.D., and I understand how to read statistical studies," he said. Navarro also told CNN that debate over hydroxychloroquine within the Trump administration was healthy, while asserting that doctors throughout New York and other states had been administering the drug to COVID-19 patients.
Fauci has taken a much more cautious tone publicly whenever discussing the drug.
"We still need to do the definitive studies to determine whether any intervention, not just this one, is truly safe and effective," Fauci told Fox News during an April 3 interview. "But when you don't have that information, it's understandable why people might want to take something anyway, even with the slightest hint of being effective."
He reiterated this point in a Sunday interview on CBS News' Face the Nation.
"The data are really, just, at best, suggestive," Fauci said. "There have been cases that show there may be an effect, and there are others to show there's no effect. So I think in terms of science I don't think we could definitively say it works."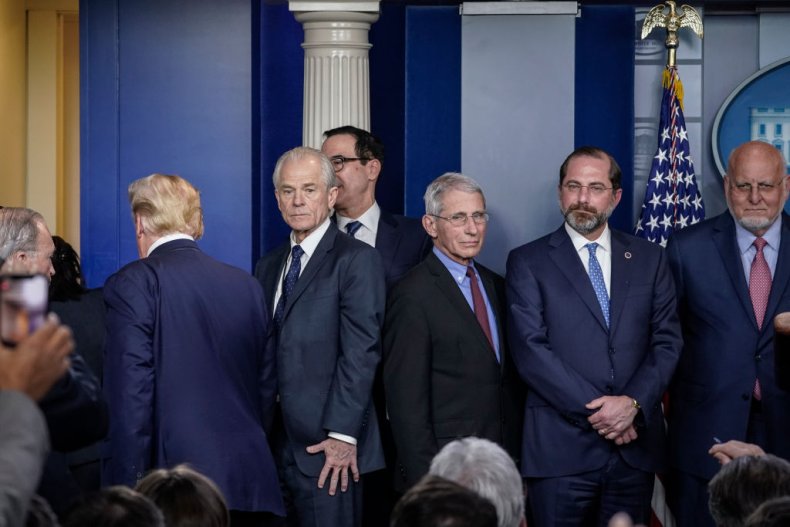 There have been anecdotal studies and observations from doctors that hydroxychloroquine, which is commonly used to treat and prevent malaria, could improve the condition of those suffering from COVID-19. However, the treatment's success has not been confirmed by rigorous scientific study or analysis.
On Sunday, Trump blocked Fauci from answering a reporter's question about hydroxychloroquine during the White House's daily press briefing on the pandemic.
"He's answered that question 15 times," Trump said, answering for Fauci. The president had used the briefing to again tout the unproven drug.
As of Monday morning, there were nearly 339,000 confirmed cases of coronavirus throughout the U.S., according to a Johns Hopkins University tracker. Of those, 9,683 people have died, and more than 17,700 have recovered.