'Whale Vomit' Chunk Slated to Sell for $11K at Auction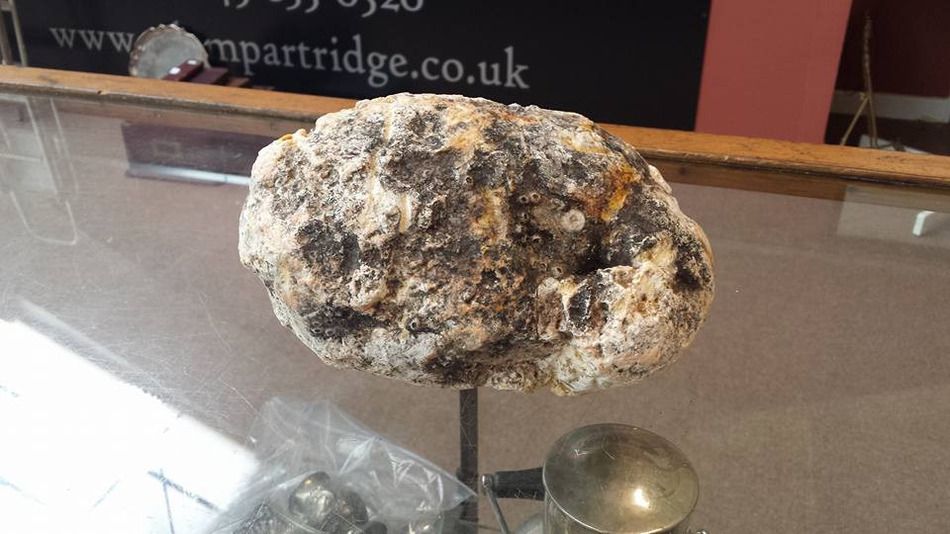 A dog walker on a North Wales beach recently happened across a smelly chunk of ambergris, also known as "whale vomit." This waxy, grayish material is produced in the bile ducts of sperm whales and helps them pass sharp objects like squid beaks through their intestines. Contrary to its popular name, it actually usually leaves the whale's body through feces, though it can less commonly be expelled through vomit.
Perhaps surprisingly, it has several properties that make it widely sought after. It has a unique odor, reminiscent of "scented cow dung," according to Bloomberg. (After floating in the ocean for years it picks up different odors, making it reminiscent of "tobacco, Brazil nuts, a fern copse, or the wood in old churches," Bloomberg noted.)
The dog walker recognized that the substance might be valuable and got in touch with an auctioneer, who estimates that the chunk, which weighs 2.2 pounds, could fetch nearly $11,000 at auction, according to Wales Online. Ambergris finds have made some lucky beachcombers rich. In 2011, 90 pounds of the substance were discovered on New Zealand's North Island, fetching the finders a rumored $400,000.
In case you're in the market for a bit of ambergris, this particularly piece goes on auction at Adam Partridge Auctioneers & Valuers in Macclesfield, England, on September 25.