A drug bust in New York City yielded 101 pounds (46 kilograms) of heroin, law enforcement officials announced Monday.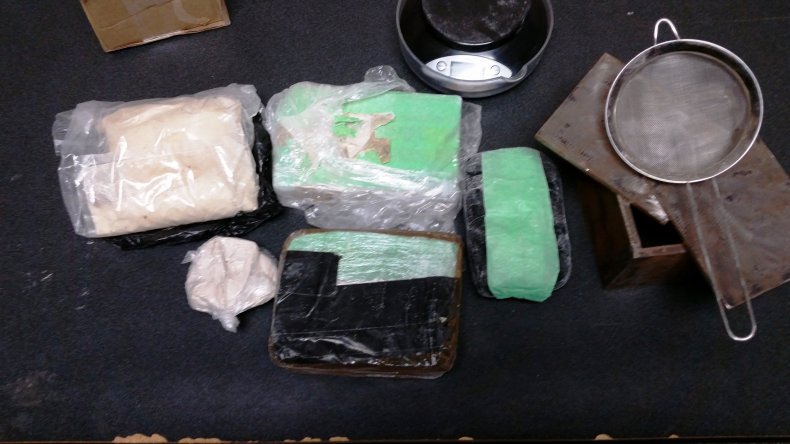 The Saturday seizure, described as "one of the largest" Drug Enforcement Administration heroin busts in New York, started at about 3:40 p.m. near 2830 Sedgewick Ave. in the Bronx borough, officials said. As part of an ongoing investigation, cops approached two men in a silver Jeep Cherokee parked in front of that address and started talking to them. After questioning the men, agents and officers searched the SUV and found 22 "brick-shaped packages of powder consistent with [48 pounds] of heroin."
Then, they searched an apartment at that address and found "two concealed compartments," in the floor of the bedroom and in a wall, in which were secreted 13 pounds and 31 pounds of heroin, respectively. The wall compartment also concealed $50,000 in cash. Authorities then searched a storage unit belonging to one of the men and discovered an additional nine pounds of heroin.
The task force leading the investigation was composed of Drug Enforcement Administation special agents, New York City Police Department detectives and New York State Police investigators.
"Heroin is like a monster in a horror movie, just when you think it is gone, it reemerges with a vengeance. This massive load of heroin was destined for NYC streets and is a reminder that heroin trafficking organizations are targeting NYC for retail distribution and transshipments throughout the Eastern Seaboard," James J. Hunt, acting special agent in charge of the U.S. Drug Enforcement Administration's New York Division, said in a press release.
Bridget G. Brennan, New York City's special narcotics prosecutor, said,"Reducing the supply of heroin is critical to reining in the scourge of addiction. Today's seizure will keep millions of packages of heroin from hitting the streets. I thank our law enforcement partners and investigators for their tireless efforts."
Brennan's office is prosecuting the suspects, Ramon Rivas and Jose Rodriguez, who each face charges of criminal possession of a controlled substance in the first degree and criminal possession of a controlled substance in the third degree. The suspects pleaded not guilty at arraignment Sunday. The attorney listed as representing Rivas did not immediately respond to requests for comment. Contact information for Rodriguez's attorney was not immediately available.
Correction: Officials' announcement on the heroin seizure stated that 141 pounds were seized; 101 pounds were seized.