What Are the NBA's New Social Justice Initiatives?
Following player boycotts of three NBA playoff games on Wednesday, the league has reportedly reached an agreement with the players union to continue the postseason, while giving athletes new avenues to express political and social justice messages. The deal also calls for the league to introduce new initiatives to further support communities of color and allow more access to voting.
As previously reported, Wisconsin's Milwaukee Bucks led the work stoppage by not showing up for warmups for their Wednesday game against the Orlando Magic. Their refusing to play was a response to the recent police shooting of Jacob Blake in Kenosha, Wisconsin, which has reportedly left him paralyzed from the waist down.
Following the Bucks' refusal to play, Orlando left the court, and the other teams set to play later that same day—the Houston Rockets and Oklahoma City Thunder, as well as the Los Angeles Lakers and Portland Trail Blazers—also stood in solidarity with their fellow players and refused to take the courts. (Every team participating in the NBA's postseason is currently playing in Orlando, Florida, at Walt Disney World's ESPN Wide World of Sport Complex, because of the ongoing coronavirus pandemic.)
The NBA and NBPA (National Basketball Players Association) released a joint statement on Friday announcing that the playoffs would resume on Saturday and outlined three commitments the league, teams and players will be making in the name of social justice.
The first point is the creation of a social justice coalition, which "will be focused on a broad range of issues, including access to voting, promoting civic engagement, and advocating for meaningful police and criminal justice reform."
The second point includes getting the arenas—those that are controlled by the NBA franchises themselves—where teams play to be set up as voting locations, where people can safely cast their ballots in the 2020 general election. This effort is meant to particularly service "communities vulnerable to COVID." The statement says that if deadlines have passed, that teams will work with local officials to "find another election related use for the facility, including but not limited to voter registration and ballot receiving boards."
The final point promises collaborations between the league, players and network partners "to create and include advertising spots in each NBA playoff game dedicated to promoting greater civic engagement in national and local elections and raising awareness around voter access and opportunity."
On Wednesday afternoon, the Bucks released a statement as a team after refusing to play. "The past four months have shed a light on the ongoing racial injustices faced in our African-American community," the statement reads. "Citizens around the country have used their voices and platforms to speak out against these wrongdoings. Over the last few days in our home state of Wisconsin, we have seen the horrendous video of Jacob Blake being shot in the back seven times by a police officer in Kenosha and the additional shooting of protesters. Despite the overwhelming plea for change, there has been no action. So our focus today cannot be on basketball."
The statement continues: "When we take the court and represent Milwaukee and Wisconsin, we are expected to play at a high level, give maximum effort and hold each other accountable. We hold ourselves to that standard, and in this moment, we are demanding the same from lawmakers and law enforcement. We are calling for justice for Jacob Blake and demand the officers be held accountable. For this to occur, it is imperative for the Wisconsin state legislators to reconvene after months of inaction and take the meaningful measures to address issues of police accountability, brutality and criminal justice reform. We encourage all citizens to educate themselves, take peaceful and responsible action and remember to vote on November 3."
Following a meeting between league representatives and players on Thursday, many NBA employees striked in a call for solidarity. In a letter to employees obtained by The Athletic on Friday, NBA commissioner Adam Silver said the meeting with players focused on what the league can do to "increase access to voting, promoting civic engagement, and advocating for police and criminal justice reform."
A number of NBA players have spoken out about racial injustice in recent days, calling on the league to step up its involvement. Lakers star LeBron James tweeted, "We demand change. Sick of it," and he also called on people to vote. Utah Jazz guard Donovan Mitchell and Cleveland Cavaliers center Kevin Love (the latter of whom is not participating in the postseason) also weighed in.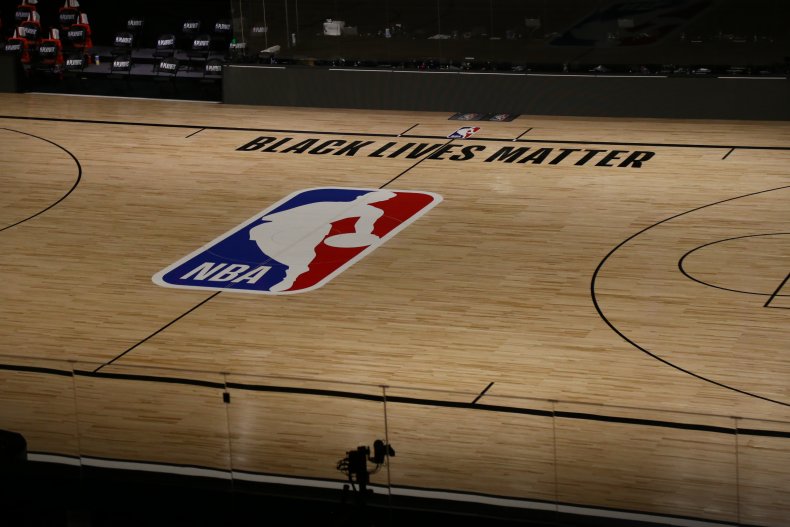 At the moment, it appears that the NBA's troubled 2019-2020 season—which was disrupted by the coronavirus pandemic but also plagued by the deaths of Lakes icon Kobe Bryant and former NBA commissioner David Stern—will continue. Playoff games are expected to tipoff on Saturday.