What is Alex Trebek's Net Worth? What 'Jeopardy!' Host Makes for One Season
Jeopardy! host Alex Trebek has been curating the famous game show for 35 years, and the wealth he has accumulated from the role is impressive. Trebek first started hosting the show in 1984, 20 years after Jeopardy! first premiered.
Trebek, with 35 years of Jeopardy! and over 50 years of hosting game shows under his belt, has a salary that is one to beat. He reportedly brings in $18 million per Jeopardy! Season, according to Celebrity Net Worth. His total net worth is expected to be $75 million, according to the site.
Some of his wealth may come from jobs before Jeopardy! Trebek, 79, started his game show hosting career in 1973 with NBC's Wizard of Odds and also appeared as the host of Double Dare, The New Battlestars and Super Jeopardy! according to the Internet Movie Database.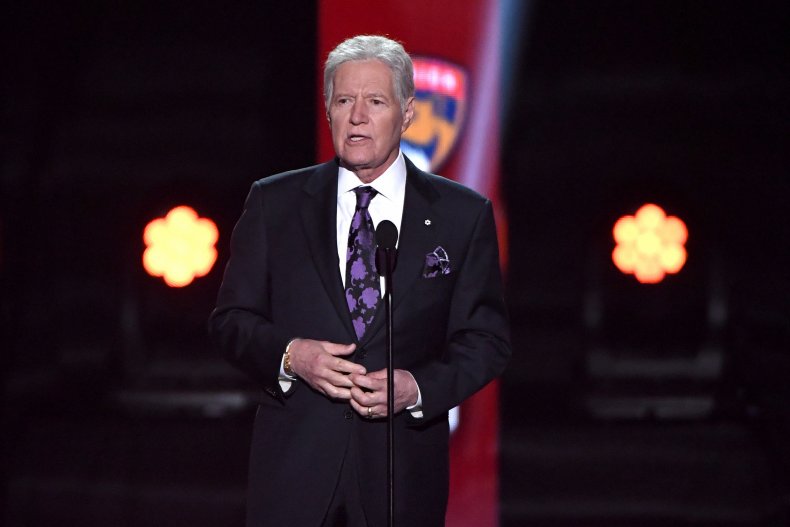 As the Tournament of Champions airs, Trebek's future on the show is considered uncertain by some. His contract extends through 2022, according to Business Insider. Trebek has spoken publicly about his battle with pancreatic cancer and shut rumors of his retirement down when he officially announced the prognosis in March 2019 in a video explanation stating he'd continue as the show's host.
He later spoke about his disease and his commitment to work through his treatment in a conversation with CTV News in October. "There are a lot of people out there who have cancers who continue to live their lives and go about their business and do it without recognition," Trebek said. "To be the inspiration to a lot of other people makes me feel good, but it does place a responsibility on me that I feel I'm not deserving of."
Trebek also explained what could make him leave the position. "I will keep doing [the show] as long as my skills do not diminish. And they have started to diminish," Trebek explained. "When I feel my skills have diminished to the point where I notice and am bothered by it because all the people around me are saying, 'No, it's OK!' But there will come a point when they're no longer able to say 'It's OK' ... We'll play it by ear and keep chunking along until we either win or lose."
The host has also spoken in-depth about his feelings on the diagnosis. "The thought of the pancreatic cancer does not frighten me. I'm not afraid of dying," he said. "One thing they're not going to say at my funeral as part of a eulogy: 'He was taken from us too soon.' I'm 79 years old. I have lived a good life, a full life and I'm nearing the end of that life. I know that. I'm not going to delude myself."
Although he has not formally announced his retirement, Trebek said he knows what he'll say when the time comes. "I've kind of, in my mind, rehearsed it already, and what I would do on that day is tell the director, 'Time the show down to leave me 30 seconds at the end,'" he told ABC.
This article has been updated to clarify that Trebek has been hosting game shows for over 50 years.