What Alexi McCammond's Tweets Said as Teen Vogue Editor Quits over Racist Remarks
Alexi McCammond has stepped down from her newly appointed position as editor of Teen Vogue after several Conde Nast staff members complained about offensive tweets that recently resurfaced. She was due to start as the editor-in-chief of Teen Vogue on March 24.
McCammond's tweets from 2011 first resurfaced in 2019, and the journalist apologized at the time, calling the tweets "deeply insensitive." However, when McCammond was appointed as editor earlier in March, her old tweets resurfaced again.
Screenshots of her tweets were shared by journalist Diana Tsui on Instagram. Tsui said: "Let's talk about Conde Nast HR and this questionable hire for Teen Vogue EIC.
"She had a series of racist tweets in 2011. Maybe we can give her some benefit of the doubt as these were done when she was still a student. But her 'apology,' which was only after people caught them in 2019, referred to them as deeply insensitive.
"They are not insensitive, they are racist."
Tsui included screenshots of McCammond's old tweets in her Instagram post. But what did McCammond say?
In 2011, when she was 17, McCammond tweeted "Outdone by [an] Asian #whatsnew," and "now googling how to not wake up with swollen, asian eyes..."
A third tweet said: "Give me a 2/10 on my chem [chemistry] problem, cross out all of my work and don't explain what I did wrong... thanks a lot stupid Asian T.A [teaching assistant] you're great," read another.
According to The New York Times, her old tweets also used slurs for gay people.
In response to the most recent backlash the tweets have faced, McCammond said: "I've apologized for my past racist and homophobic tweets and will reiterate that there's no excuse for perpetuating those awful stereotypes in any way."
McCammond is facing backlash for her resurfaced tweets at a time where Asian Americans have faced an increase in hate crimes amid the coronavirus pandemic.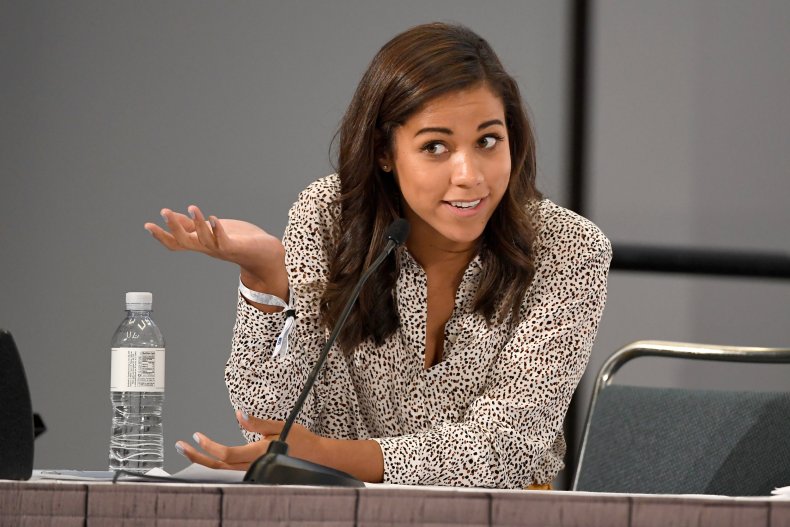 Fellow journalists have come to McCammond's defense, including Axios CEO Jim VandeHei who said: "You will always be part of the @axios family. @alexi admitted her mistakes, repented (years ago and again of late), and showed during her four years with us she was a strong woman with a big heart.
"She was a great colleague who often stood up for others. Sad outcome @TeenVogue."
Director of Urugyauan newspaper El País, Martin Aguirre, said: "Good! Something you wrote years ago, and from which you have given enough explanations and repented, shouldn't hunt you the rest of your life and forbid you of having a career. That's crazy!"