What Amal Clooney Talked About in Her First U.S. Network Television Interview (It's Not George)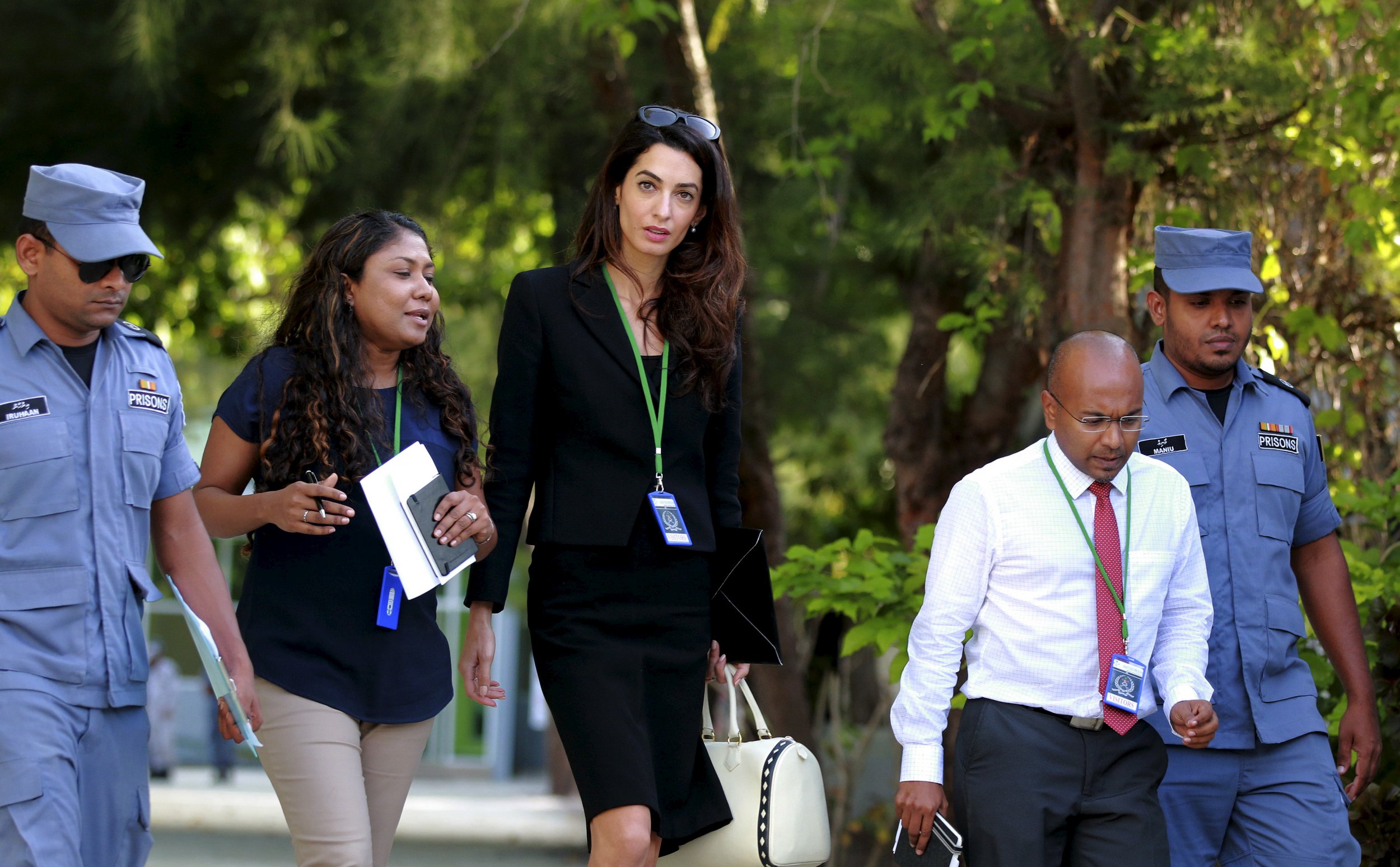 Amal Clooney has been married to one of Hollywood's favorite leading men for more than a year now, but she had more important things to discuss in an interview with NBC's Cynthia McFadden. The international human rights lawyer gave her first-ever American network television interview in a segment that aired Thursday on NBC Nightly News.
She was eager to talk about the fate of her client Mohamed Nasheed, the first democratically elected president of the Maldives, who was later ousted from his post in a coup and imprisoned for 13 years on a terrorism conviction, according to the segment. U.N. High Commissioner for Human Rights Zeid Ra'ad al-Hussein called Nasheed's trial "a rushed process that appears to contravene the Maldives' own laws and practices and international fair trial standards in a number of respects." Clooney called it a "sham."
"Democracy is dead in the Maldives," she said. "Literally, if there were an election now, there would be no one to run against the president. Every opposition leader is either behind bars or being pursued by the government through the courts."
Clooney traveled to the island nation in September to meet her client. "It meant a lot to me to meet Nasheed, who I had read about and considered a hero. I was inspired by his leadership on climate justice, his leadership on human rights," she told McFadden in the interview, as the segment cut to footage of Nasheed making a video, standing knee-deep in water and urging action to prevent rising sea levels. "I thought to myself, The world needs more Nasheeds," Clooney added.
The Nightly News segment followed her efforts this week in Washington, D.C., where she met with lawmakers like Senator John McCain (R-Ariz.) and other officials to discuss human rights in the Maldives and push for sanctions.
Fans of both George and Amal Clooney might remember Tina Fey's dig at the actor, who was honored with the Cecil B. DeMille lifetime-achievement award at last year's Golden Globes. Fey compared his lifetime achievements with those of his wife.
"George Clooney married Amal Alamuddin this year," said Fey, who was hosting the awards show alongside Amy Poehler. "Amal is a human rights lawyer who worked on the Enron case, was an adviser to Kofi Annan regarding Syria and was selected for a three-person U.N. commission investigating rules of war violations in the Gaza Strip. So tonight her husband is getting a lifetime-achievement award."
Though Clooney seemed to try to avoid mentioning her husband in the NBC interview—she said that "if there's more attention paid for whatever reason…then I think that's good"—McFadden and anchor Lester Holt addressed the subject head-on. The former replied with "Oh, you know the reason" and called Clooney a "reluctant celebrity" who nevertheless uses the spotlight to raise awareness about important work. Holt introduced the entire segment by talking about the "boost" the lawyer's work got when she married a star.
"I think there is a certain responsibility that comes with that," Clooney said. "I think I'm exercising it in an appropriate manner by continuing to do this kind of work."