It came and went without a fuss. The grand jury testimony from the Breonna Taylor case was released October 2, and the reaction from the media was a gaping yawn. Americans knew little more than we knew before—and not nearly enough about how the tragedy itself happened.
An innocent life was lost. Two cops were cleared of charges. And in the end, people retreated to their camps—left, right, black, brown, white and blue—and stuck to their narratives.
But there was something about this story that kept tugging at me. Why did Taylor's boyfriend, Kenneth Walker, shoot at the cops that night? And why was there so little fanfare when attempted murder charges against him were dismissed back in May? Why was he cleared so quickly? What really happened that night in Louisville, Kentucky?
I decided to listen to Walker's grand jury testimony to find out. And it was a hell of a story he told. A complicated story. And we know how much people, especially the media, like complicated stories.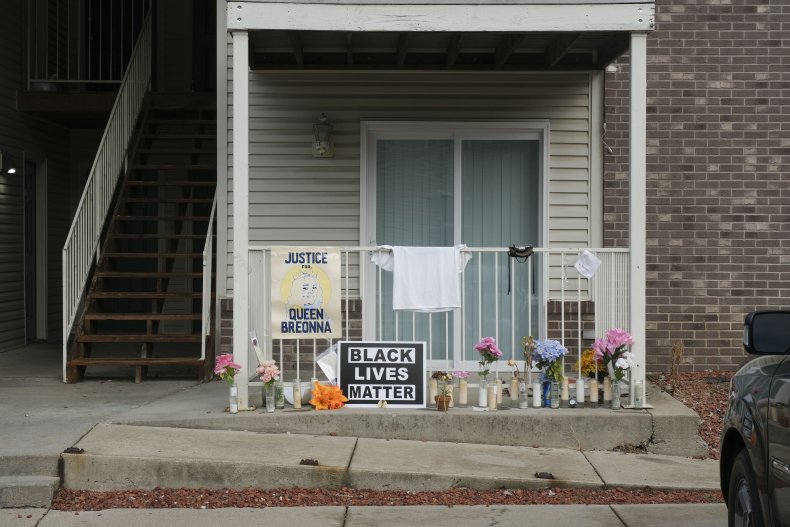 It was late at night on March 13, and Walker and Taylor were sleeping. She'd worked hard that day at the local hospital, and instead of a late date, the couple stayed at home and did what couples across America often do: streamed a movie in bed. The last words Walker remembered hearing Taylor say were "Turn off the TV."
Then came the late-night banging on the door. Loud, ominous banging that scared them both. Walker, who'd known Taylor for over seven years and had been dating her since 2016, testified that he thought it was an intruder at the door, but not any intruder. He thought it was Jamarcus Glover, Taylor's ex-boyfriend, whom she had begun dating not long after she began dating Walker.
Glover had a lengthy criminal record dating back to 2008 in his home state of Mississippi, where he served six years of a 17-year sentence for a drug felony. After his release, he moved to Kentucky, where he was convicted of another drug offense in 2014. More brushes with the law followed.
Taylor made the biggest mistake of her life when she began dating Glover back in 2016. Soon, she was pulled into his life of crime. In December 2016, Taylor rented a car for Glover and lent it to him. Not long after, a man was found dead in that car. He was executed gang-style.
"Inside the car were three baggies of drugs and Ms. Taylor's rental contract," a New York Times story reported. "The victim was the brother of an associate of Mr. Glover, who had been arrested alongside the drug dealer numerous times."
Investigators didn't believe Taylor had knowledge of that crime. "But they wondered whether she was involved in Mr. Glover's drug operation," the Times story said.
In the years to come, Taylor would come up with bail money—at least $7,500—for Glover and a friend on two occasions. In early 2020, Glover landed in jail, and he called Taylor. "His tone in the Jan. 3 call was demanding," the Times story noted. "He told her whom to contact to arrange his bail, and added that after he was released, he would 'come get me some rest in your bed,'" the story continued.
Taylor was not happy with the relationship with Glover, telling him that "when you around, I stress more because I just always be worried about you with the police."
That's why the cops were at Taylor's home that night. Not because they thought she was a dealer, or a bad girl—she was neither—but because she'd been dating a bad guy. And that bad guy spent time with her and listed her apartment as his home address with Chase Bank, where he had an account. Five "no-knock" warrants were signed by a judge that afternoon seeking evidence of drug trafficking by Glover and people affiliated and associated with him.
Though the media mostly overlooked Taylor's complicated and unfortunate relationship with Glover, and the larger context of those late-night raids, her new boyfriend didn't. He testified that he too thought it was the drug-dealing ex-boyfriend at that door.
"We've been on and off together, whatever, for like seven years," Walker told the grand jury about his relationship with Taylor. "So there was a guy that she was messing with, or whatever, throughout that time, you know. And he popped up over there once before, while I was there, like a couple months ago," Walker explained. "So that's what I thought was going on."
The night of the shooting, Walker testified, he and Taylor screamed as loud as they could, more than once: "Who is it?" The pounding got harder, and soon there was an extremely loud sound and the door was off the hinges. The would-be intruders were about to enter the home.
Walker admitted he fired the first shot. "So, boom, one shot," he testified. "Then all of a sudden there's a whole lot of shots," he continued. "I just hear her screaming."
That's why Walker wasn't charged. Because he was good guy and a licensed owner of a 9-millimeter Glock, and he thought the person trying to break into his girlfriend's apartment was a bad guy with a bad history. A bad guy his girlfriend was trying her best to leave.
That's why Walker fired that first shot: to defend himself and his girl. And that's why he was cleared of the attempted murder charge, because under Kentucky's stand-your-ground statute, citizens have the right to use deadly force against an intruder.
"I didn't mean to kill anybody," he testified. And Walker wasn't lying. He also told investigators that if he'd known it was the police at the door, he would have never fired that shot. And that he and Taylor had no reason to fear the cops.
That's why Walker wasn't charged. Because in America, people shouldn't get charged for crimes they don't commit.
The testimonies of Sergeant Jonathan Mattingly and Detective Myles Cosgrove of the Louisville Metro Police Department were equally compelling. The two officers said they knocked at the door repeatedly and identified themselves.
Mattingly testified that as soon as he pushed in the door and cleared the threshold, he saw silhouettes of a male and female figure near the end of a hallway, the man holding what seemed to be a gun in his hand, his arm stretched out in a firing position. Then came the first shot, which was fired by Taylor's boyfriend.
"As soon as the shot hit, I could feel the heat in my leg," Mattingly testified. "And so I just returned fire." He recalled firing at least four rounds. Cosgrove, who was behind him, also returned fire.
And that's why the two Louisville cops who shot Taylor were cleared: because, like Walker, they too thought they were shooting a bad guy. A bad guy who shot at them first. And under Kentucky law, there's a statute protecting cops who use deadly force in self-defense. Those two cops were doing their jobs, and when they were fired upon by a person they assumed was the drug dealer, they fired back.
The media played up two contradictory parts of the story. Walker testified he didn't hear the cops identify themselves but admitted that he might not have heard them. A neighbor did hear the cops identify themselves, according to that person's testimony, but only once. In addition, Walker testified that it wasn't his shot that struck the officer. Mattingly believed it was.
But neither of those factual disputes changes anything. The sad truth is that on that tragic night back in March, the rights of Walker and those of the cops collided in Taylor's apartment. Walker and those two cops who weren't charged did what reasonable people would have done—and were permitted to do by law.
A young woman's life was cut short, and the lives of all who loved her were permanently changed. But the cops' lives were permanently changed too. They must live with the fact that they shot and killed Taylor and will forever live with the accusation that they were racist murderers.
There were no winners in this story. And no criminals. Except the drug-dealing ex-boyfriend.
What should the world know about Taylor? Born to a 16-year-old single mom in Michigan, she never really knew her dad, who'd been in prison since she was 6 years old, convicted of killing a man over a crack cocaine sale.
Despite those circumstances, she was a hard worker and a joy to be around. When her family moved to Kentucky, she was full of hope. In a New York Times story about her life, one passage really stood out. It was an entry in her scrapbook during her senior year in high school: "Graduating this year on time is so important to me because I will be the first in my family to accomplish this," she wrote. "I want to be the one who finally breaks the cycle of my family's educational history. I want to be the one to finally make a difference."
She was on her way to doing that, having replaced the old bad boyfriend with a good new one. Walker was a hard worker, and the two were looking to the future, and owning a home together and starting a family. "Her family and friends are effusive about Walker, a former warehouse worker for Coca-Cola, describing him as 'good for her' and 'a man who treated her right,'" according to the Times. Tellingly, none of her friends would comment on Glover.
Positive Post-it notes were all around her apartment, and Taylor had started the new year with great expectations and an important personal accomplishment: She had saved up enough money from her job at the University of Louisville Health as an ER technician to buy a new Dodge Charger."2020 deff gonna be my year WATCH!" she tweeted.
By mid-February, Taylor had ended her relationship with Glover and was doing her best to be a positive role model for her sister, who was living with Taylor in her apartment, and her cousins.
In what would be one of her final, and saddest, tweets, Taylor wrote: "Gotta watch how you let men treat/deal with you especially when you got lil sisters/cousins looking up to ya!!"
Taylor leaves behind grieving family members and friends. "Breonna is like the family glue—even at 26 years old," her mom told Vanity Fair in August. "She has a personal relationship with everybody, even all my little cousins. They don't call each other cousins. They all call each other sisters and brothers."
Of all the people who knew Taylor, none was closer to her than her sister, Ju'Niyah Palmer. "She was my person," Palmer told The Washington Post. "And she's never coming back."
That's the complicated story America deserves to know about what happened on that tragic night in Louisville. Those who love Taylor deserve to have it known. The cops whose reputations were destroyed—and who will forever live with the consequences of their lawful actions—deserve it too.