'What Is American Food Like in Japan?': Woman's Taste Test Video Goes Viral
A woman shared her experience tasting food from an "American style" restaurant in Japan on TikTok where it went viral, amassing more than three million views.
In her video, TikTok user @jadealexisxo brought viewers along with her as she tried food from the restaurant, Sasebo Burgers.
"What is American food like in Japan?" her video caption read.
American cuisine is diverse—many dishes are the results of different cultures and different recipes.
"This country has established several dishes that many consider examples of an 'American' food tradition," a piece written for The Spruce Eats stated.
Some particular dishes, the article stated, are specifically known for being "American."
Many dishes originated from other countries and were brought to the United States by immigrants. These recipes have evolved over the years.
New England clambakes, Maryland crab cakes and Louisiana crab boils are a few seafood dishes that are also well-known American foods.
And, of course, the piece discussed the"All-American Cookout" as another component of American cuisine.
Cookouts will often feature hamburgers, hotdogs, barbecued ribs and grilled chicken.
@jadealexisxo shared video clips of the exterior and interior of the restaurant before she ordered her food, which included a burger. Shots of menu items, which included photos of the food, also appeared in the video.
Her food arrived at the table, complete with a small heart peeled into the burger bun.
"These are the cheese balls, this is the burger—there's always a little heart in it, it's so cute—and this is lemonade," @jadealexisxo said as she panned over her order.
@jadealexisxo shared her taste test in a second video, which was viewed more than 300,000 times.
Showing the camera a shot of what the burger looked like, she noted that the burger patty was thin, but said she's eaten at the restaurant before and enjoyed the food before digging in.
"The patty is super thin," @jadealexisxo said after taking a bite. "But it's pretty good. It definitely has that pork kind of taste I was expecting."
She moved onto the cheese balls, which she said were "really good."
"It's like a cheese curd, more more, like, melty," @jadealexisxo explained.
Although she seemed to have enjoyed the food, she was less of a fan of the lemonade and said it seemed like she was chewing bits of a lemon peel.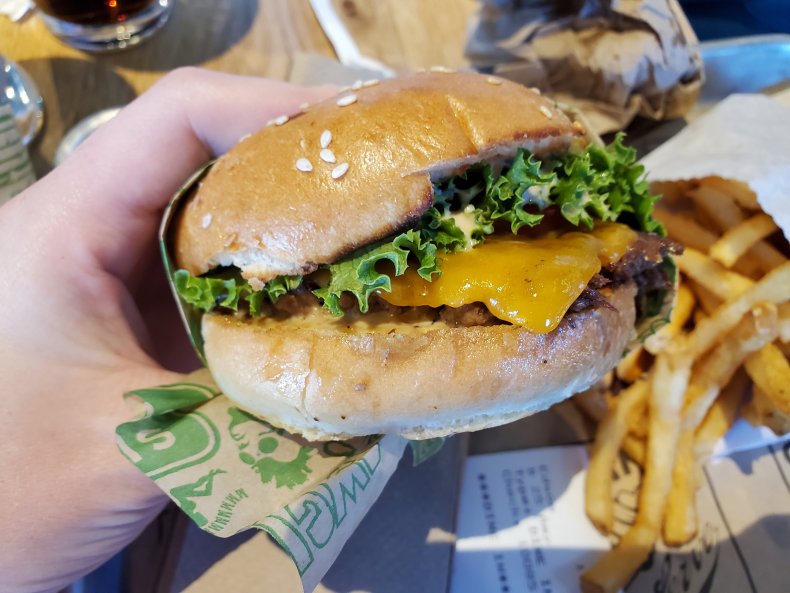 Commenters were interested in the taste test from the start, and many shared their opinions on the food they saw in the videos.
"Looks way better than american if [they] want it authentic they should add more processing," @leaguenerd05 wrote on @jadealexisxo's first video.
Another commenter recalled what they've seen while traveling.
"My biggest culture shock in Europe was seeing how much they advertised things as 'American' especially food," @bellakok22 commented. "I got a good laugh."
Viewers also commented on the thin burger patty, while others appreciated the small heart on the bun.
"It looks like cartoon food," wrote @user2787336124.
"The fact the food is so pretty lol," @autumn_lashaye commented. "Like I'd take so many photos of my food.
Newsweek reached out to @jadealexisxo for further comment but did not hear back in time for publication.