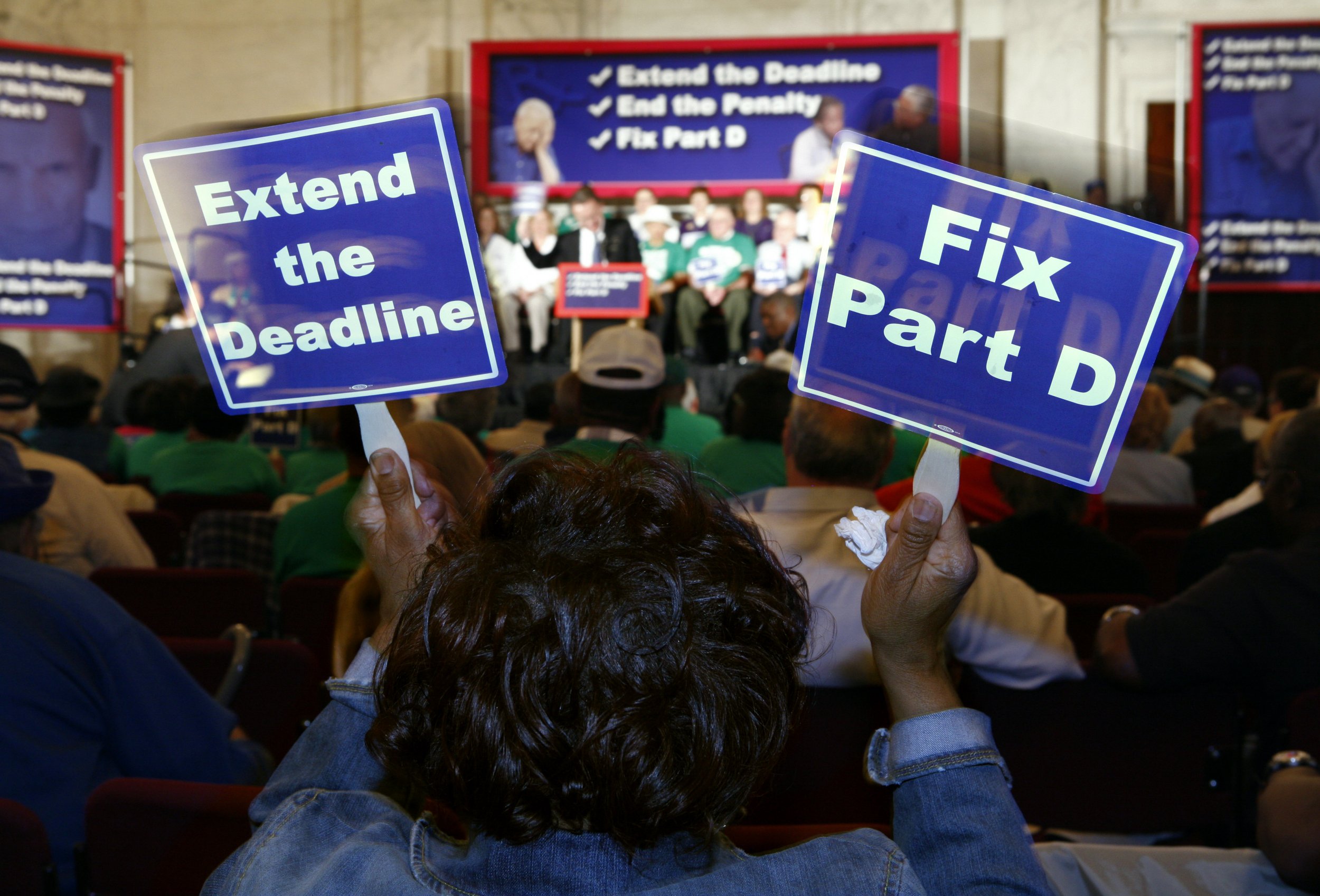 America's seniors ought to wish Medicare a happy 50th birthday. Continued improvements to the federal health care insurance program cut the Medicare patient mortality rate 16 percent—the equivalent of 300,000 deaths per year—from 1999 to 2013.
A large part of the decreased mortality is due to Medicare "Part D," which offers prescription drug coverage to 37 million seniors. In an effort to cut costs, some lawmakers want to retire the model that has enabled Part D to achieve a 90 percent satisfaction rating and come in $350 billion under budget.
Altering Part D would be a disaster for seniors, and would snatch defeat from the jaws of victory in the fight against America's biggest killer: chronic disease. Congress should strengthen Part D—not cripple it.
Chronic disease is a pervasive national problem. More than 90 percent of older Americans have a chronic condition and over 70 percent have at least two. Part D helps seniors manage chronic afflictions by making cutting-edge medicines affordable. Without the program, over half of seniors report that they'd be "likely to cut back or stop taking medicine altogether."
Fortunately, this access doesn't come at budget-busting prices. Monthly premiums for the program in 2016 are expected to be an affordable $32.50—the cost of premiums has barely risen over the last five years.
By helping seniors manage their chronic conditions, Part D stops illness from spiraling out of control. That avoids costly hospitalizations and nursing home stays and lowers total Medicare spending by $12 billion annually, according to a JAMA study. Access to medications due to Part D have resulted in 200,000 Medicare patients living at least one year longer.
Part D accounts for just 14 percent of Medicare's budget but is responsible for 75 percent of Medicare's projected savings over the next decade.
One secret to Part D's affordability is a "noninterference" clause, which bars the government from negotiating price discounts on medications. Those negotiations are left to private insurers and drug companies.
In an effort to slash spending, though, some lawmakers want to revoke the noninterference clause and give Washington the power to implement artificially low drug prices.
That could have dangerous consequences for patient health. If government negotiators set prices too low, pharmaceutical companies could be left off drug formularies, denying seniors access to many medicines.
Worse, artificially low prices could deprive drug companies of future funds to invest in the risky, expensive research that leads to better treatments and cures. In short, government-led negotiations in Part D would stall the pipeline of innovative new drugs.
That pipeline is exceptionally promising—thanks largely to Part D, which expanded the number of seniors with prescription drug insurance and thus made drug development more financially viable. Before Part D was implemented in 2006, there were 18 Alzheimer's drugs in development. Now there are 82. The number of diabetes drugs in development jumped from 34 to 142, and 29 arthritis drugs in the pipeline became 92.
New drugs—and increased access to them—save lives. According to a research paper produced by the Federal Reserve Bank of San Francisco, "Estimates suggest that between 19,000 and 27,000 more individuals were alive in mid-2007 because of the Part D implementation in 2006."
The program has expanded considerably since then, saving thousands more lives annually.
To ensure Medicare enjoys another successful half century, lawmakers must keep the drug benefit as strong as it is today.
Kenneth Thorpe is chairman of the Partnership to Fight Chronic Disease. He currently serves as the Robert W. Woodruff professor and chair of the Department of Health Policy & Management, in the Rollins School of Public Health of Emory University, Atlanta.