What Is AntiFa? Anti-Fascism Protesters and White Power Groups Were Battling Long Before Charlottesville
James Alex Fields Jr. drove his car into a crowd of anti-fascism protesters Saturday in Charlottesville, Virginia, killing an anti-racism activist and injuring 19 people. Fields, 20, had expressed his support for far-right ideologies since at least middle school, The New York Times reported. Yet somehow critics on the far-right spent the weekend blaming the mayhem not on the white power groups who gathered to protest the removal of a Confederate statue, but rather on the counter-protesters who showed up to express discontent with the nation's largest gathering of neo-Nazis and Ku Klux Klan supporters in decades.
Groups such as Anti-Racist Action, Showing Up for Racial Justice and Black Lives Matter arrived in Charlottesville in force against the crowds of white neo-Nazis waving Confederate flags at the "Unite the Right" event. "The crash followed violent conflicts between far-right demonstrators, Antifascist (AntiFa) protesters, and police that resulted in tear gas canisters detonating in the streets amid scores of arrests and hospitalizations," the Southern Poverty Law Center said of Fields' attack in Virginia.
The incident marked the latest display of violence from Americans concerned about the potential spread of modern fascism under the Trump White House. It's unclear who or how many people are organizing the AntiFa movement. The secretive U.S. effort has been traced to militant leftist movements in Germany, Italy and Spain before World War II. Since the rise of President Donald Trump, who has openly attracted neo-Nazi supporters, Anti-Fa protesters have been linked to violent protests against the far-right. During Trump's inauguration, for example, police arrested more than 200 people after protesters dressed in black smashed local windows, set some cars on fire and attacked law enforcement officials on the streets of Washington, D.C.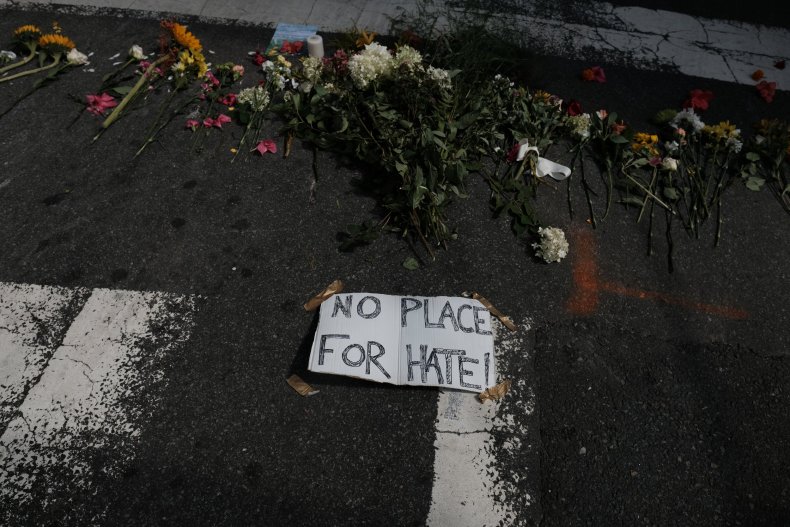 The conservative leaning National Review warned its readers about AntiFa protesters in June in an article titled, "The Roots of Left-Wing Violence." "Antifa are not satisfied with labeling people fascists; they want them to bleed on that account," the article posits.
The neo-Nazi website Daily Stormer has begun collecting so-called AntiFa violence under articles such as "Street Footage of Antifa Attacking Journalists" and "Antifa Leader Celebrates OJ Simpson Release, Says He'll be Killing More White People!" "Antifa are violent cowards," the site declares.
The mainstream media has slowly been chronicling the rise of the AntiFa movement. In April, Mother Jones published an article titled, "I Went Behind the Front Lines With the Far-Right Agitators Who Invaded Berkeley." It captured this scene at a rally in California:
There are perhaps a few hundred protesters in total, with the right appearing to slightly outnumber the left. At the front line between Trump supporters and antifa, there is a white man in a Spartan helmet with a red, white, and blue crest. He is wearing a GoPro on his chest, American flag shorts, and a Trump flag on his back, like a cape. "I ain't no fascist!" he shouts across the line at an antifa protester. A woman next to him, in a pink MAGA hat with an American flag painted on her cheek, shouts at the antifa man, "You're a fucking piece-of-shit terrorist! That's what you guys are: fascist terrorists!" "Suck a dick!" the Spartan shouts to the antifa man. "I love sucking dick!" the antifa man shouts back.
In its upcoming September issue, The Atlantic followed AntiFa protesters in Portland, Oregon rallying against fascism and Nazis. The article asks the reader: "If you believe the president of the United States is leading a racist, fascist movement that threatens the rights, if not the lives, of vulnerable minorities, how far are you willing to go to stop it?" It describes the AntiFa movement as violent.
"Since antifa is heavily composed of anarchists, its activists place little faith in the state, which they consider complicit in fascism and racism. They prefer direct action: They pressure venues to deny white supremacists space to meet. They pressure employers to fire them and landlords to evict them. And when people they deem racists and fascists manage to assemble, antifa's partisans try to break up their gatherings, including by force," The Atlantic writes.
The president may have been speaking to supporters calling on mainstream politicians to condemn the AntiFa movement with his controversial remarks over the weekend on the car attack. Trump declined in the aftermath of the Charlottesville violence to denounce white power groups, instead alluding to the AntiFa movement in a statement condemning anyone who showed up looking for a fight in Virginia.
"We condemn in the strongest possible terms this egregious display of hatred, bigotry and violence on many sides — on many sides," Trump said during a press conference.