What Are Gepard Panzers? German Anti-Aircraft Tanks Sent to Ukraine
Germany has pledged more Gepard anti-aircraft tanks to Kyiv as Ukraine looks to fend off sustained drone attacks from Iranian-made unmanned aerial vehicles.
On February 8, Andriy Yermak, the head of Ukrainian President Volodymyr Zelensky's office, said Ukraine had secured a new tranche of military aid from Germany, including more Gepards.
Berlin will send an additional two Gepard, or "Cheetah," anti-aircraft guns, along with 6,000 rounds of ammunition, Yermak wrote on Telegram.
In an updated tally as of Sunday, the German government has delivered 32 Gepard air defense systems to Ukraine, up from the previous figure of 30.
A further five Gepards are "in planning," according to the German government website.
The Gepard is an armored, all-weather self-propelled anti-aircraft gun developed back in the 1960s. Made by defense manufacturer Krauss Maffei-Wegmann (KMW), Gepards have been supplied to countries such as Germany, Belgium, Romania and the Netherlands.
Intended mostly for air defense, the anti-aircraft guns can also be directed at ground targets.
The tracked Gepard, carrying three crew members, can reach a maximum speed of 40mph and has a range of 340 miles. It has independent target tracking and surveillance radars, and comes with "cutting-edge training and simulation equipment," according to KMW.
Fitted with two 35mm machine guns, the Gepard's "high off-road mobility and rapid swivelling of the turret enable the extremely short reaction times needed to engage aerial threats." The Gepard shares a chassis with the Leopard 1 main battle tank.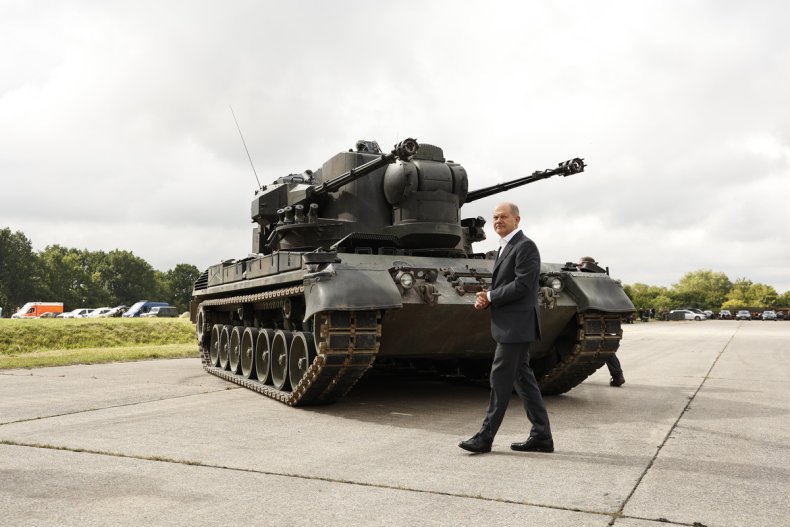 Not just effective against combat aircraft, attack helicopters, missiles and rockets, it can "also dependably combat drones," according to the manufacturer.
In late April 2022, Berlin committed to sending around 50 Gepards to Ukraine, in a move that was considered the first "heavy weaponry" shipment sent to Kyiv from Germany. The first tranche of Gepards arrived in Ukraine back in July.
Defense Secretary Lloyd Austin called the move a "major decision" that would "provide real capability for Ukraine."
Shortly after the announcement, Switzerland vetoed German requests to re-export Swiss-made ammunition for the Gepards. The Swiss State Secretariat for Economic Affairs cited "neutrality" for the decision.
On December 2, it was reported that Germany was preparing to send an additional seven Gepards to Ukraine, with the tranche arriving on the front lines by spring 2023. According to German newspaper Der Spiegel, the seven Gepards were undergoing refurbishment before heading to Ukraine.
New German defense minister, Boris Pistorius, was quoted by German newspaper the Westdeutsche Allgemeine Zeitung as saying in January that the "number one priority is air defense, air defense, air defense."
Pistorius, during a surprise visit to Kyiv earlier this month, reportedly told German public broadcaster ZDF that Germany was committed to supporting Ukraine's air defense capabilities.
Cited by German paper Frankfurter Allgemeine Zeitung, Pistorius said: "The Cheetah plays a very central role here in air defense, especially in cities and in critical infrastructure."
"In addition to the 30 Cheetahs already delivered, we delivered two more in January, with five more to come," he said.
On November 3, Ukrainian diplomat Olexander Scherba hailed the Gepards as "excellent."
"[They] could be the game-changer in Ukraine's fight against Iranian drones," he wrote on Twitter. "Wish we had more of them."
The Gepards have become known for their ability to shoot down Iranian-made Shahed-131 and 136 "kamikaze" drones.
Glen Grant, a senior defense expert at the Baltic Security Foundation, called the short-range Gepard a "world-class piece of equipment."
But he previously told Newsweek that the Gepard's ability to shoot down drones "depends entirely upon it being in the right place."
"It's a tactical weapon, it's not a strategic weapon," Grant said, adding: "It's meant to be something that follows ground troops."
"You've actually got to place it in the right place and that means having an understanding of where the enemy is going to fly its drones from and to because it can easily be out of range," he added.
Dr Michael Knights of the Washington Foundation previously told Newsweek that the Gepard is a far cheaper alternative for Ukraine and NATO than the likes of interceptor missiles.