What Are Ghost Guns? Senate Dems Introduce Bill Regulating Untraceable 3D-Printed Weapons
A group of Democratic senators introduced a bill on Thursday that would make it more difficult for people to make untraceable homemade firearms, also known as "ghost guns."
The Untraceable Firearms Act of 2020 would regulate parts and materials commonly used to make the untraceable guns at home. A similar bill was proposed in 2018 by Sen. Richard Blumenthal (D-Conn.), who is leading a group of 15 senators co-sponsoring a renewed push that comes as the COVID-19 pandemic has inspired panic buying and an overall increased demand for guns, including ghost guns.
"This pandemic is spurring a deeply disturbing demand in untraceable weapons," Blumenthal said in a statement obtained by Newsweek."Congress must act urgently to stop these homemade 'ghost guns' before they spur the next horrifying wave of gun violence."
"Anyone with access to the internet can order a gun-making kit or use 3D-printing technology to build their own assault weapon, pistol, or shotgun, circumventing identification, licensing, and background check requirements," continued Blumenthal. "My legislation would close loopholes and prevent this public safety emergency in the making."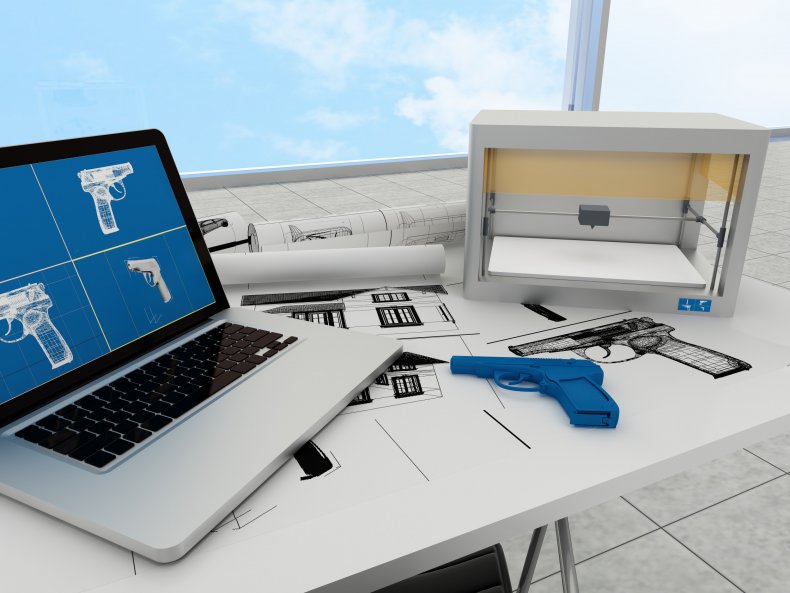 Ghost guns are often made with 3D printers or using gun-making kits, along with essential parts like receivers, which can be altered and assembled by people at home. Loopholes currently allow people who normally would not pass a background check to build potentially deadly weapons that do not include serial numbers that help law enforcement track down weapons involved in crimes.
Under the new legislation, the parts would be reclassified as firearms and sellers would be forced to include serial numbers. People who buy the components would also be subject to the same background checks as those who buy completed firearms. In addition, the bill would ban guns that are modified to pass through metal detectors.
Senator Kamala Harris (D-Calif.), one of the bill's co-sponsors, insisted that people should be prevented from producing more ghost guns since the weapons are only made to sidestep safety regulations and law enforcement.
"So-called ghost guns exist to evade detection and background checks," said Harris. "They should not be on the market—this is common sense. This legislation would help keep our communities safe and ensure that gun sellers are licensed and are performing background checks as required by law."
In addition to the senators, the law is also being supported by several gun control advocacy groups including Giffords, a group named after co-founder Gabrielle Giffords, a former U.S. representative who was severely injured after being shot along with 18 others during an assassination attempt in 2011.
Giffords Executive Director Peter Ambler said that the legislation could help improve public safety by taking weapons out of the hands of potentially dangerous people.
"Ghost guns are an existential threat to public safety," Ambler said. "These do-it-yourself guns are untraceable, making it easier for people who should not own a firearm to obtain one and more difficult for law enforcement officials to do their jobs."
"Senator Blumenthal's Untraceable Firearms Act will reverse this, ensuring that ghost guns are regulated in the same way as traditionally manufactured guns," he added.