What are the Midterms and Why Are the Election Results So Important for America and Donald Trump?
It's arguably one of the most partisan and polarized times in modern American politics. The man at the country's helm is vehemently opposed by Democrats, and even by some in his own party, while his loyal base shows up in droves across the country to hear his populist, anti-establishment message of "draining the swamp," seemingly believing the president no matter what.
Congress is no exception to that polarization of American politics. In fact, analysis after analysis in recent years show the congressional divide between the country's two political parties only continues to grow.
Amid all of that comes midterm elections that may, if anything, be even more divisive, and more important to the direction of the country and the two main political parties, than the 2016 presidential race.
Since this year is a midterm election, it's no surprise that Democrats are projected to take control of the House of Representatives. A president's party typically loses congressional seats in an off-year election. But perhaps the Democrats' biggest motivating factor is not who is on the ticket, but who is not on the ticket: Donald Trump.
What are the Midterms?
Most notably, the midterms will decide the control of Congress and whether Democrats can regain some control in Washington, even if they cannot hope to retake the White House until 2020.
The most attainable goal for Democrats is to retake the House of Representatives. To do that, the party will need to gain 23 seats in order to get the 218 seats required to hold a majority in the 435-seat chamber.
In the Senate, Democrats need just two pickups in order to garner an effective majority—together with two independents who caucus with Democrats. While that may appear eminently attainable given Trump's lowly approval ratings, the electoral map has not shined brightly on Democrats in 2018.
Thirty-five seats are up for grabs in the midterms, with Democrats holding 26 and Republicans just nine. That means Democrats need to win 28 races to take control of the Senate, while Republicans need just nine. What's more, 10 Democratic incumbents are running in states that Trump won in 2016, while just one Republican is in a state claimed by Hillary Clinton.
Polls, projections and history all say that Democrats are poised to gain congressional seats, likely enough to take control of the House. The most probable outcome Tuesday night is that Democrats, while retaking the House, will remain as the minority in the Senate.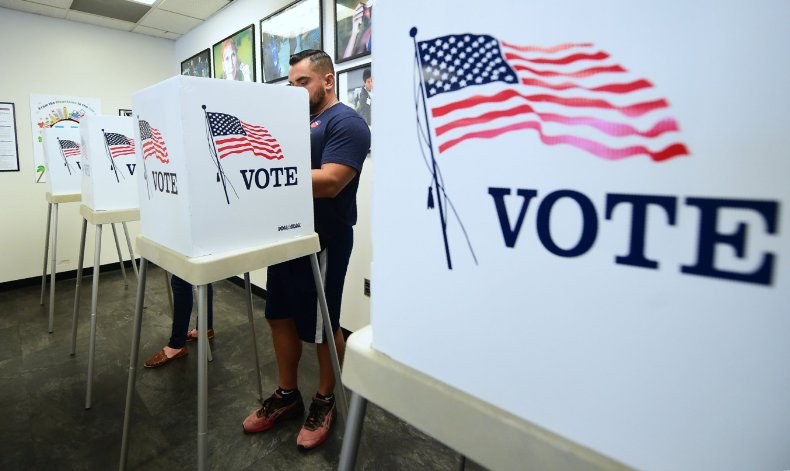 What Victory Would Mean for Democrats
The party has big plans should they regain control, some of which include an unknown number of congressional investigations into controversial Trump administration policies and Supreme Court Justice Brett Kavanaugh. Democrats have even said they plan to obtain the president's tax returns using a little-known law.
Having control of just one chamber could still offer Democrats the ability to have any number of effects on the Trump presidency, his agenda and the entire Republican Party's agenda. House Democrats would be able to block most, if not all, of the legislation put forward by the president and his party. Some Democrats would say the obstruction is par for the course given that House Republicans opposed much, if not all, of the legislation Democrats put forward under former President Barack Obama.
Lawmakers have already promised numerous congressional investigations into many of the president's controversial actions, in addition to some of those taken by Republicans.
An internal spreadsheet obtained by Axios in August that was being circulated amongst Capitol Hill Republicans listed all of the possible investigations Democrats would likely conduct, should they take the House. The list was reportedly based on House Democrats' formal requests for subpoenas and testimonies of various Trump administration officials, totaling more than 100 possible investigations.
Some of those possible topics, according to Axios, included inquiries into events like the firing of former FBI Director James Comey, the government's response to Hurricane Maria victims in Puerto Rico, and Russian election meddling, and policies like the travel ban on several Muslim-majority countries, Trump's businesses complying with the Constitution's Emoluments Clause and the use of personal emails by White House staffers.
Trump's recent actions taken in response to Central American asylum-seekers trekking toward the U.S.-Mexico border, dubbed the "migrant caravan," would likely cause Democrats to issue a congressional investigation. The president last week ordered the Pentagon to send thousands of troops to the southern border weeks ahead of the asylum-seekers' arrival, one that many senior-level Pentagon officials believe is politically motivated and a waste of money, according to multiple Pentagon sources with knowledge of the directive who spoke to Newsweek.
A group of House Democrats on the Homeland Security Committee told Newsweek last month they were prepared to open a congressional investigation into DHS Secretary Kirstjen Nielsen and the Trump administration's handling of its "zero-tolerance" policy that separated thousands of migrant families who illegally crossed the southern border. Some even called for Nielsen's resignation over the policy that resulted in lawsuits, outcry from lawmakers and hundreds of families who still remain separated as of today.
Before Kavanaugh was even confirmed as a Supreme Court justice nominee, House Judiciary Committee Democrats in September were gearing up for their own investigation—and possible impeachment—of Kavanaugh, should they take the House. The congressional investigation is something the majority of Americans have indicated they would support, based on an ABC News poll.
Attempting to keep it somewhat quiet at first, Democrats admitted in September they had discovered an obscure law that would allow them to legally obtain Trump's tax returns from the Treasury Department without the president's permission. Some Democrats said they would consider releasing parts of the records to the public in order to answer questions over possible conflicts of interest or questionable business deals.
What Victory Would Mean for Republicans
Simply, Republicans managing to hold the Senate and the House would allow them and the president at least another two years of unobstructed power to pass conservative-themed legislation. Likely high on the agenda would be finally achieving the goal of repealing Obamacare.
But victory Tuesday could also have a significant internal impact on the party.
On top of the increasing partisanship, some Reagan-era conservatives seem to have remained ideologically steady while their party has continued to move further to the right among the Tea Party and Trump eras. That continued shift to the right by the GOP has caused prominent Republicans like Steve Schmidt, John McCain's former presidential campaign manager, former GOP Congressman David Jolly, and local Republicans to denounce the party. Even ex-Trump lawyer Michael Cohen has since left the party, appearing to endorse the Florida Democratic gubernatorial candidate Andrew Gillum on Friday.
Yet should Republicans prevent a much-discussed "blue wave," Trump's takeover of the party will be cemented even further.