What Are Santa Ana Winds? Strong Gusts Increase Threat to Firefighters Battling California Wildfires
California firefighters are racing against the clock to extinguish fires before the arrival of strong Santa Ana winds that could cause flames to spread.
As firefighters work to contain at least 10 blazes across California, winds as strong as 80 miles per hour were expected to blow across parts of the state Tuesday evening. The gusts, known as the Santa Ana winds, are a phenomenon that occurs when strong, hot winds travel from inland desert regions to Southern California.
For those who are battling the Getty fire in Southern California, Santa Ana winds could spell trouble. Los Angeles Fire Department Assistant Chief Jaime Moore told KTTV on Tuesday morning the upcoming winds could be unlike anything Los Angeles has seen in years.
"When that wind comes, if we don't get all these hot spots knocked down we're going to have embers cast one to two miles downrange," Moore said.
According to The Weather Channel, Santa Ana winds occur when California's mountains squeeze and heat cold air from Nevada's Great Basin, causing it to accelerate. To paint an even simpler picture, The Weather Channel encouraged people to think of Santa Ana winds as when a person partially covers the nozzle of a garden hose. Just as water travels out of a hose faster when its squeezed, so does wind through mountains.
When the circumference of a blaze is smaller, it is easier to fight it. But if embers are carried away from the initial blaze, they could spark additional fires, meaning agencies have to allocate resources to multiple blazes instead of throwing everything at fighting one flame.
In Los Angeles, where firefighters are battling the Getty fire, the Santa Ana winds are expected to arrive Tuesday evening and peak on Wednesday and Thursday. The National Weather Service (NWS) expected gusts on Wednesday and Thursday to reach 70 miles per hour in Los Angeles and Ventura Counties. In the mountain areas of Los Angeles and Santa Monica, those wind gust speeds could be up to 80 miles per hour.
Given the low humidity and extreme wind conditions, the NWS issued a Red Flag warning for most of Los Angeles and Ventura counties from 11 p.m. PDT on Tuesday through 6 p.m. Thursday. Red Flag warnings are used to indicate that weather conditions prone to fueling fires are expected.
"If fire ignition occurs, conditions will be favorable for extreme fire behavior, long range spotting, and very rapid fire spread which would threaten life and property," the NWS said.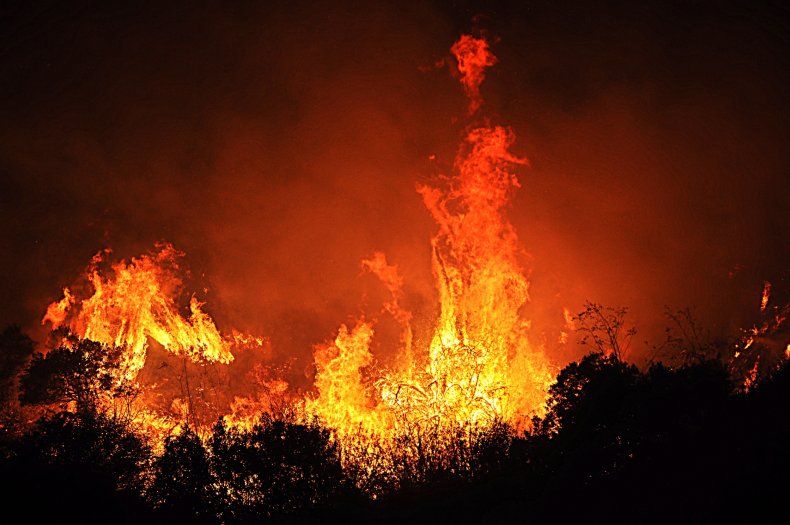 Santa Ana winds tend to peak in October, according to AccuWeather, but occur anytime from late to early spring. Named for the Santa Ana Canyon, the Weather Channel explained they're caused when a high-pressure cold front pushes air from the Great Basin into low-pressure areas in Southern California.
As air descends in altitude, it's compressed and heated to temperatures as high as 100 degrees Fahrenheit. Air is squeezed as it moves through California's coastal mountains and once it's out of the canyons, it can have gust speeds up to 70 miles per hour. Along with high speeds, Santa Ana winds are also extremely dry, making for the perfect fuel for wildfires.
With the threat of the wind event looming, officials explained controlling the Getty fire, which destroyed eight homes and damaged six on Monday, was a race against time.
Moore told KTTV that some firefighters who responded to the initial spark around 1:30 a.m. Monday were still working on Tuesday morning. Firefighters ignored the need to rest to "take advantage" of favorable weather conditions, including double-digit relative humidity, while they had them.
During a news conference on Monday, Los Angeles Mayor Eric Garcetti said it was critical that progress was made before Wednesday when Santa Ana winds were expected to be the strongest. From noon Monday until Tuesday morning, firefighters were able to keep the Getty fire to 618 acres.
Similarly to firefighting efforts in Southern California, favorable weather conditions in Sonoma County proved advantageous to the firefighters battling the Kincade Fire. As of Thursday morning, the fire, which burned more than 74,000 acres and destroyed 123 structures, was 15 percent contained, according to the California Department of Forestry and Fire Protection (Cal Fire).
However, conditions were expected to take a turn for the worse with wind gusts reaching up to 65 miles per hour in the mountains of the North Bay area, according to the NWS. Just as was the case in Southern California, high winds and low humidity were expected to create "critical fire weather conditions."