What Are Tulsi Gabbard's Prospects After Defeat in Iowa Caucuses?
Democratic candidate for president, Rep. Tulsi Gabbard of Hawaii did not gain any delegates during the Iowa caucuses. Despite the defeat, Gabbard is not out, and is preparing for the next nomination contest, the New Hampshire primary.
Gabbard is currently fundraising for the February 11 New Hampshire primary. Her campaign hopes to raise $1.5 million in advance of the election. The campaign's goal was $1 million by the end of January. This goal was met, according to a Saturday tweet by the candidate.
"We made our ambitious $1M goal for January & with your help we can make $1.5M by NH election day and stay competitive in the final stretch! This is your hard-earned money and our hard-won movement. We are here because of you. Thank you," Gabbard wrote.
Gabbard has not yet reached the qualification threshold for February's debate, which will be held on the seventh, four days prior to the New Hampshire primary election. As of this writing, seven candidates—former Vice President Joe Biden, Sens. Bernie Sanders of Vermont, Elizabeth Warren of Massachusetts and Amy Klobuchar of Minnesota, former South Bend, Indiana Mayor Pete Buttigieg and businessman Andrew Yang and Tom Steyer—have qualified for that debate.
To qualify, candidates must have contributions from at least 225,000 unique donors and either two polls showing 7 percent or more in New Hampshire, Nevada and South Carolina or four polls showing 5 percent or more in those early-nominating states or nationally. So far, Gabbard has not met the donor threshold, and has only two state or national polls showing at least 5 percent.
Only three—Biden, Sanders and Warren—have yet qualified for the February 19 debate. This debate drops the donor requirement, but boosts the polling requirements to two polls at 12 percent or more in Nevada or South Carolina, or four polls at 10 percent or more in those states or nationally. As of yet, Gabbard has no qualifying polls for this debate.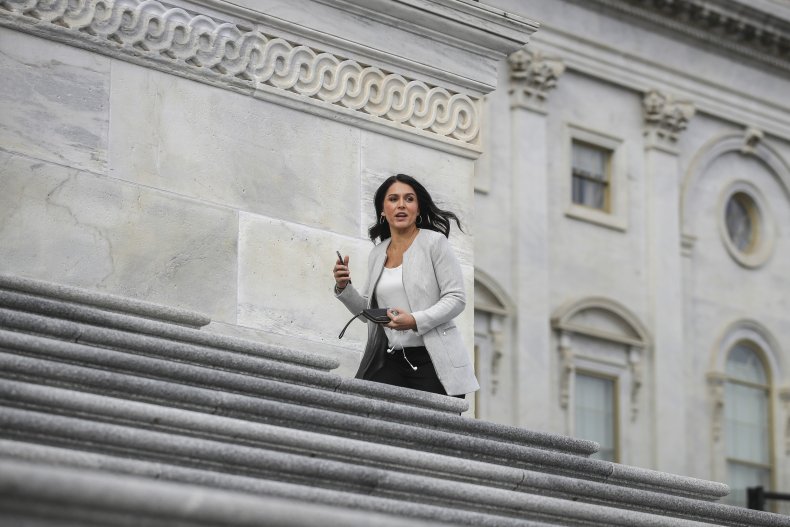 Both the Iowa caucuses and the New Hampshire primary are seen as do-or-die moments for many second-tier candidates. Should Gabbard not do well in the New Hampshire election, it's possible she will suspend her campaign and endorse another candidate.
New Hampshire went heavily for Sanders in 2016, granting the candidate 60 percent of the vote, over former Secretary of State—and eventual Democratic nominee in the general election—Hillary Clinton, who earned 38 percent. Given that Sanders is running in 2020, and that some polls show him as the frontrunner in the Democratic race, it's likely the state will go for Sanders again.
That said, that could be good news for Gabbard, who is seen as part of the progressive wing of the Democratic Party. Gabbard endorsed Sanders in 2016, and was even designated Sanders' running mate for any write-in votes in California during that election.
Newsweek reached out to Gabbard's campaign for comment, but did not hear back by publication time.