What Is an Atmospheric River? The Weather Phenomenon Behind Recent Catastrophic Mudslides
Parts of the Pacific Northwest and Canada have experienced torrential rainfall in recent days, leading to massive mudslides and flooding. Tens of thousands of people have lost power, cars have been swept off of highways, and all major roads going out of Vancouver were shut down at a point.
What has been the underlying cause behind the severe weather? Weather experts say an atmospheric river is to blame.
Washington Governor Jay Inslee on Monday night declared a severe weather state of emergency in 14 Western Washington counties. He also said the state's Emergency Management Division, with help from the state National Guard, would coordinate the response to the weather events.
Those events occurred after an atmospheric river reached a level 5, which is the highest level, according to the Weather Channel.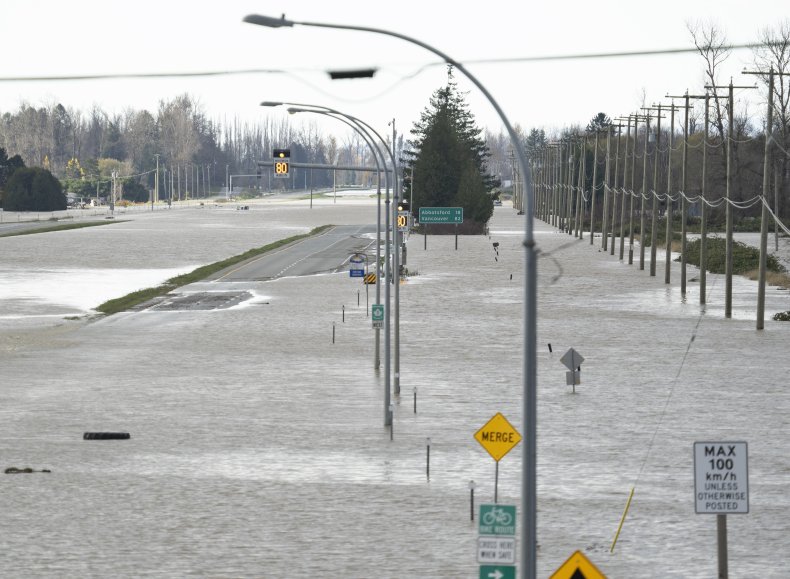 As the name suggests, atmospheric rivers can be thought of as rivers in the sky. More accurately, they are long ribbons of water vapor in the atmosphere that extend thousands of miles from the tropics and subtropics to the poles. The National Oceanic and Atmospheric Administration (NOAA) said these columns of water vapor ribbons "move with the weather, carrying an amount of water vapor roughly equivalent to the average flow of water at the mouth of the Mississippi River."
The NOAA also said atmospheric rivers come in "many shapes and sizes" that often appear as clouds to the human eye. One of the most well-known atmospheric rivers is the strong "Pineapple Express," which carries moisture from the tropics near Hawaii over to the Western coast of the U.S.
Atmospheric rivers that hold large amounts of water vapor and carry strong winds can "create extreme rainfall and floods, often by stalling over watersheds vulnerable to flooding," according to the NOAA.
One study from 2017 found atmospheric rivers are responsible for up to 65 percent of the extreme rain and snow events in the western part of the U.S. Another study, published in Geophysical Research Letters in 2018, said climate change is causing atmospheric rivers to become bigger and more dangerous.
Not all atmospheric rivers are dangerous, though. In fact, most are beneficial and are responsible for replenishing water sources. They can be responsible for bringing up to half of California's annual precipitation in just 10 to 15 days, according to the University of California.
However, the strong atmospheric river that has hit the Pacific Northwest and regions of Canada across British Columbia has been extremely destructive. Multiple areas of Washington faced evacuations, and more than 158,000 customers in western parts of the state reported they were without power on Monday, according to the Associated Press.
Flood warnings also remained in effect for several counties into Tuesday, and many schools had to be closed as a result.