What Is the Battle of Chosin Reservoir? Most Returned Remains Come From One Infamous Korean War Clash
The remains of dozens of American soldiers who died in the Korean War were returned to U.S. shores this week, as the apparent thaw between North Korean-U.S. relations continued.
Fifty-five transfer cases carried on two Air Force planes touched down in Hawaii Wednesday, August 1. Identification efforts have now begun in order to determine whose remains were returned. About 7,700 American service members were still listed as missing from the 1950-1953 conflict, and the remains of only 340 troops have been returned since 1990.
According to Pentagon officials, the 55 boxes may well contain the remains of troops killed at the iconic Battle of Chosin Reservoir. The brutal battle took place in the freezing winter of 1950. About 6,000 Americans were killed or went missing in the face of an overwhelming Chinese assault.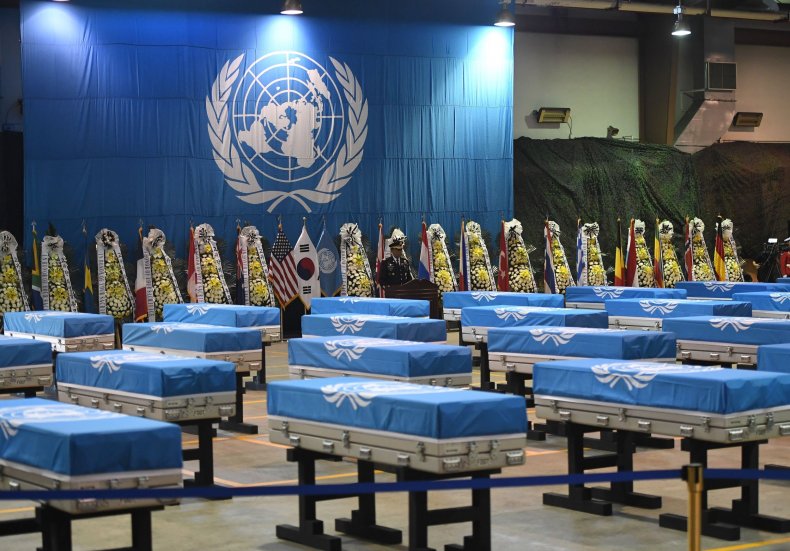 It was one of the first major engagements involving Chinese troops during the conflict. Beijing entered the war on the North Korean side when the U.S.-led United Nations force looked close to securing a total victory, which would have reunited Korea and seen Western troops stationed on the Chinese border.
U.S. troops were eventually forced into a bloody fighting retreat from "Frozen Chosin," harassed by Chinese attacks all the way to the coast, where they could be evacuated. That battle dispelled Western hopes of a total victory, and set the stage for two and a half more years of difficult fighting before the two sides agreed to a ceasefire.
Dr. John Byrd is a forensic anthropologist who was part of the team that went to Wonsan in North Korea to bring the remains back. North Korean officials said the remains were found in the village of Sin Hung-ri, on the eastern side of the reservoir, Byrd told reporters Thursday, where American Army units were positioned. U.S. Marines took up positions on the west side.
The 55 cases also contained American military equipment, including boots, canteens, buttons and buckles, Byrd said. He did not yet know how many individual sets of remains had been received, but tests are underway to establish further details. One set of remains came with a dog tag, and the family of that soldier has been notified.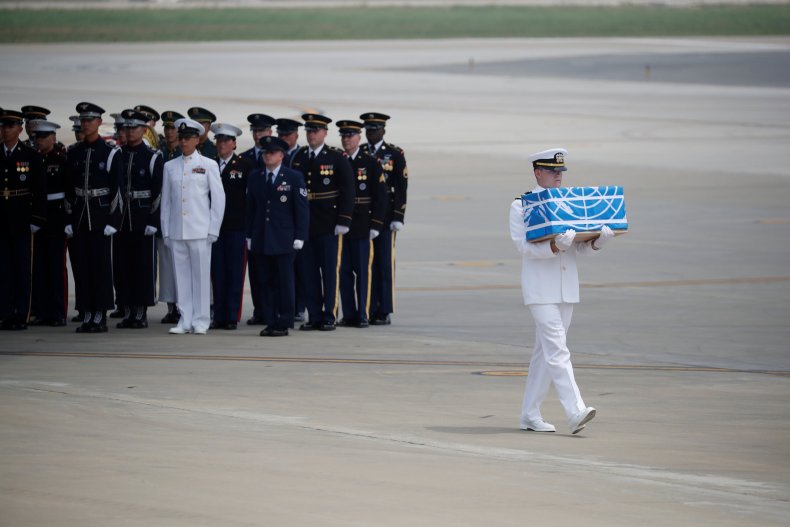 Military authorities will refer to existing records to try and identify the repatriated troops. Defense POW/MIA Accounting Agency Director Kelly McKeague said, "Where we have compelling DNA matches, identifications could come quickly. Authorities have relative DNA information for 92 percent of those missing in Korea, which could speed up identification of the remains significantly. But others could take years to find a match."
Byrd noted "there's no way to tell" how many more sets of remains were still in North Korea, but McKeague said he was "guardedly optimistic" that more would be forthcoming.
McKeague noted there were more than 82,000 missing American servicepeople worldwide, of which the Pentagon believed around 34,000 were recoverable. "The numbers are daunting," he said, but the work to recover them will continue.