What Beaches Are Open on Labor Day? Here's What to Know Before You Go
Labor Day Weekend is considered the unofficial end of summer for many. Depending on social distancing guidelines, folks can celebrate with intimate barbecues, pool parties, and a day at the beach. Many are encouraged to avoid indoor celebrations, so heading to the shore may feel like the best option.
Even though it can be safer than being inside with a crowd, here's what some beaches want their visitors to know for their Monday trip.
In New York City, beaches will be open, but you must wear a mask if you travel to a beach via public transportation. At places like Orchard Beach or Coney Island, face coverings are needed unless you are in the water, and social distancing is mandatory.
Delaware and Ocean City require a face mask while on the towns' boardwalks, Delmarva Now reported. However, you can temporarily remove your mask to eat or drink while on the boardwalk. On the beach, even though face masks aren't required, they are recommended and social distancing is a must.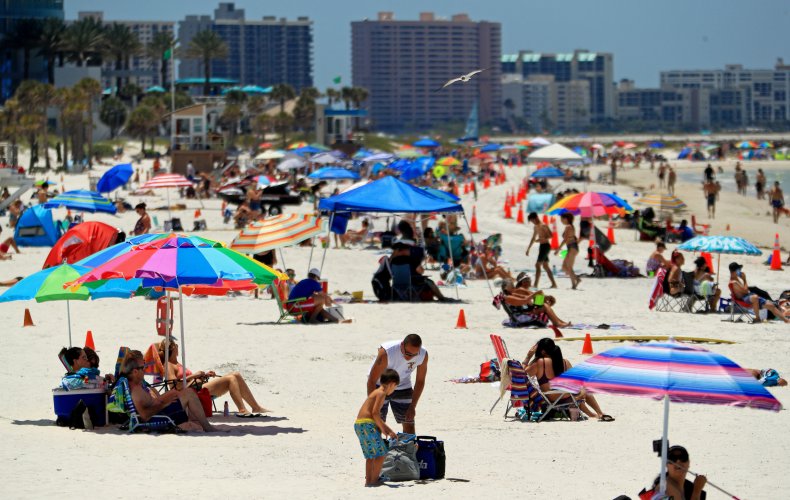 On the west coast in Los Angeles County, beaches will be open, but there are several restrictions in place beachgoers should know about. Face masks are required at all times when you're not in the water and around other people. Beach goers are also not allowed to play volleyball. If the beaches become too crowded, they may be forced to close.
"If they get too crowded, we may be forced to close them," Nicole Mooradian, a spokesperson for the Los Angeles County Department of Beaches and Harbors, said via Spectrum News 1. "The decision is ultimately up to the Department of Public Health." Folks are also not encouraged to spend time with people from outside their household in order to curb the spread of the virus.
In the San Francisco Bay Area, several counties are closing their beaches to discourage crowds from gathering, SF Gate reported. Beaches in Monterey County, Santa Cruz County, and Pacifica will be closed, meanwhile beaches in San Francisco and Sonoma will be open.
South Carolina is also preparing for a busy Labor Day, especially amid the anticipated heat wave, as per News 19. In Hilton Head, folks seemed to be following social distancing guidelines. However, they should be mindful of the mandatory mask mandate for stores, restaurants, and any indoor commercial establishments.
At Myrtle Beach, masks are not required at the beach, but they are required if you cannot maintain proper social distance outside. Charleston's Spokesperson Jack O'Toole wants people to keep up the hard work at keeping new case growth low. "With Labor Day approaching, we're asking our citizens to stay focused on the three W's -- wash your hands, watch your distance and, please, wear a mask." he said in a statement.
In Florida, most beaches will be open for the holiday, USA Today reported. Certain counties have rules for how many people should gather. In Palm Beach County, folks are discouraged from gathering in large crowds. In Gulf County, groups of more than 50 people are prohibited. In Florida's Monroe County, Founders Park is open to Islamorada residents and homeowners only, in order to limit the crowds.
Overall, if you do choose to go to the beach, make sure you practice the social distancing guidelines in place. And bring a mask, just in case, even if it's not mandated.