What Bernie Sanders Has Said about a New Stimulus Package
Bernie Sanders called on the Senate to pass a "real stimulus package" providing $2,000 a month to working class households and $600 per week for the unemployed as COVID-19 cases continued to rise across the U.S.
The Vermont senator said the next stimulus package would also have to offer "Medicare to all" as Americans supposedly faced "economic devastation" in the face of a growing wave of COVID-19 infections.
"The pandemic is surging, and tens of millions of Americans are facing economic devastation," Sanders tweeted on Thursday night. "The Senate needs to pass a real stimulus package NOW that provides $2,000 a month to the working class, $600 a week to the unemployed and expands Medicare to all."
The independent senator previously called the Republican Senate Majority Leader Mitch McConnell "pathetic" as both GOP and Democratic lawmakers failed to strike a deal on another stimulus package, long after the first round of individual checks were sent.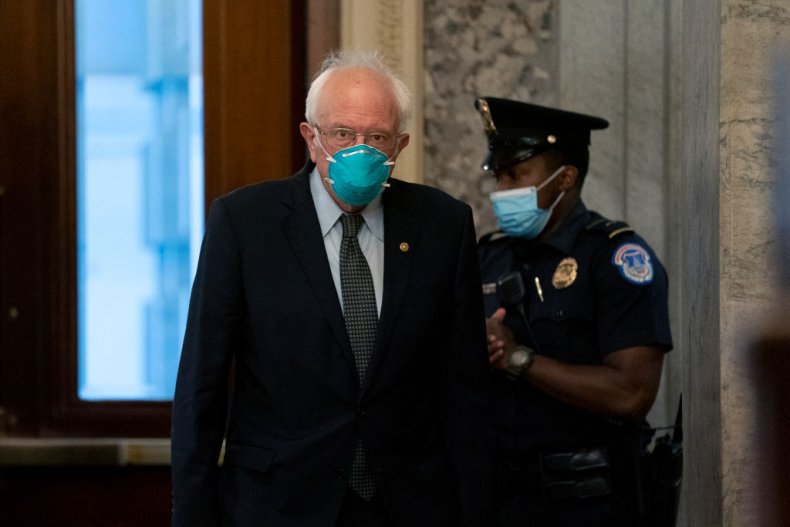 "A new Democratic Senate will, immediately, pass a major stimulus bill that restores the $600 a week unemployment supplement and other benefits that workers desperately need," he said on October 21, a little more than a week before the election.
As the Senate met to confirm the appointment of Supreme Court Justice Amy Coney Barrett ahead of Election Day, Sanders called for attention to instead be diverted to passing more COVID-19 relief for struggling Americans.
"What we should be voting on instead is a major COVID-19 stimulus package to protect the working people of this country, who, by the tens of millions, have lost their jobs. They're struggling right now to pay their rent, get health insurance, and put food on the table to feed their kids," he said.
"That is the issue we should be dealing with right now, and I am committed to ensuring that the next U.S. Senate, under Democratic leadership, will make a major COVID-19 stimulus bill the first order of priority."
At the time of writing, Democrats could gain effective control of the Senate if they beat the Republican incumbent Sens. Kelly Loeffler and David Perdue in January's Georgia upper chamber runoff contests. The first Senate runoff poll puts the GOP incumbents ahead by slim margins.
But, should the Democratic challengers win those races, the Senate will be split 50-50, leaving Vice President-elect Kamala Harris with the deciding vote assuming there are no Democratic defections.
Sen. Sanders issued his latest call for a further COVID-19 stimulus package as the Centers for Disease Control and Prevention reported more than 143,000 new COVID-19 cases on Wednesday, the highest number of fresh infections recorded in a single day.
The graphic below, provided by Statista, shows the number of people hospitalized with COVID-19 in America.