A COVID-19 variant that's highly transmissible, but only causes mild cold symptoms would be the "best-case scenario," according to Dr. Anthony Fauci, director of the National Institute of Allergy and Infectious Diseases (NIAID).
It's likely the Omicron variant is more transmissible than Delta, according to Fauci, but researchers need to continue studying the variant to determine if it's as deadly. If it predominantly causes mild disease, Omicron could be the "best-case scenario" because it could break Delta's hold as the dominant strain without fueling surges in hospitalizations and deaths.
"It would certainly help end the pandemic," Dr. William Schaffner, a professor of preventive medicine and infectious diseases at Vanderbilt University Medical Center, said. "It would relieve the COVID-related stress on the health care system and we wouldn't have to create an entirely new vaccine. It would really change things."
Delta's known to cause more severe disease than other variants and combined with its increased transmissibility, it's almost a perfect storm for posing a significant threat to people. The variant is so highly transmissible that it's overtaken three previous variants of concern, which account for less than two percent of cases worldwide, as the dominant variant. It also so significantly hindered two variants' abilities to spread that they were dropped from the World Health Organization's list of variants of interest.
After a brief period in the spring, where it appeared the pandemic was waning, Delta fueled massive surges in cases and hospitalizations nationwide, causing some hospitals to have to ration care and ICU beds to run in short supply.
If Omicron could overtake Delta without causing the same surge in hospitalizations and deaths, Fauci told the Agence France-Presse on Tuesday it would be the "best-case scenario."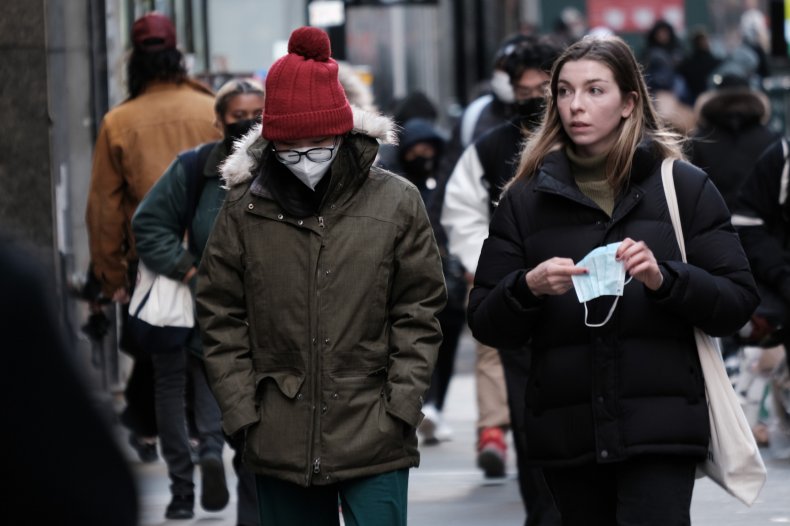 The "worst-case scenario," according to Fauci, would be that Omicron is not only highly transmissible but also causes severe disease. This would lead to another wave of infections that may not be "blunted by the vaccine or by people's prior infections."
COVID-19 isn't the first virus the world has had to learn to live with and Schaffner noted before the current pandemic, there were four major strains of coronaviruses that periodically infected people and caused minor colds. While colds are an "annoyance" and come with a certain financial impact if a person has to buy medicines to alleviate symptoms or take time off work, Schaffner said we "tolerate" them "easily."
"If we could have a COVID variant that creates mild colds or something a bit more serious but not serious enough to put you in the hospital most of the time, of course, that would change our whole perception of the COVID story," Schaffner said.
However, not everyone was as optimistic about a highly transmissible but mild disease variant changing the course of the pandemic.
Daniel Havlichek, former chief of the College of Human Medicine's Infectious Diseases Division at Michigan State University, told Newsweek that it's "too early" to support the belief that it would be a preferable variant to Delta given the "harsh reality" the world has seen with COVID-19. He noted that if Omicron, hypothetically, was only one-tenth as likely to kill someone but spread 10 times as much, the number of deaths in absolute numbers could be the same.
"I suspect that, like influenza, there will be mutations in the future that make it more or less contagious and more or less lethal. This will be chapter Omicron in the book," Havlichek said.
Omicron was first identified in South Africa on November 24 and the WHO quickly deemed it a variant of concern because its mutations are associated with reduced effectiveness of vaccines and increased transmissibility.
While cases in South Africa have predominantly been mild, Fauci noted to the AFP that they've mostly involved people who are younger and tend to already have a reduced risk of hospitalization. So, it could be weeks before experts understand the true impact of Omicron on the people it infects in South Africa and even longer to know the global impact.
Many of the Omicron cases identified in the United States involve people who were vaccinated and vaccine manufacturers are working on adjusting the formula to specifically target Omicron. So far, cases in vaccinated people in the United States have largely been mild, with symptoms resolving themselves without medical intervention.
Even if a highly transmissible variant were to only make illness milder in people who are vaccinated, Schaffner said it still could "change things" with regard to the pandemic. Having it circulate in the community could contribute to herd immunity and higher risk people can keep getting vaccinated.
"We could go back to a pretty normal existence if that were the major concern," Schaffner said. "You would always worry about fragile people because there's no virus that's going to never cause illness in people but we could then concentrate on immunocompromised people, people with underlying illnesses, older persons and make special attempts to protect those people."
Schaffner, like Fauci, noted that cases in South Africa skewed on the younger side, so it's possible we are "getting our hopes up" that Omicron won't be as deadly as Delta. But, if Schaffner had to pick a "pony" to find under his Christmas tree, it would be an Omicron variant that spreads widely to suppress Delta but only creates mild disease, giving people a degree of protection without overwhelming hospitals.
About the writer
Jenni Fink is a senior editor at Newsweek, based in New York. She leads the National News team, reporting on politics and domestic issues. As a writer, she has covered domestic politics and spearheaded the Campus Culture vertical. Jenni joined Newsweek in 2018 from Independent Journal Review and has worked as a fiction author, publishing her first novel Sentenced to Life in 2015. She is a graduate of the University of Arizona. Language: English. You can get in touch with Jenni by emailing j.fink@newsweek.com.