What the Biden Administration Can Do if Hurricane Ian Causes Price Gouging
President Joe Biden warned oil companies that his administration will take action if they use Hurricane Ian as excuse to raise prices at the pump. However, it's not yet clear what Biden's plans are for cracking down on potential price gouging.
Biden, speaking at the White House Conference on Hunger, Nutrition, and Health on Wednesday, said Hurricane Ian will cause only a small disruption to oil production and that he will not tolerate energy companies profiting off the natural disaster. Biden's remarks come as gas prices have fallen, boosting the president's political prospects. However, the federal government has limited tools to directly address price gouging and states are expected to protect consumers as the storm continues to travel up the coast.
"Do not—let me repeat, do not—do not use this as an excuse to raise gasoline prices or gouge the American people," Biden said in a warning to the oil and gas industry.
Biden said that the storm has only affected the daily production of about 190,000 barrels of oil, which he said is less than 2 percent of the country's daily production.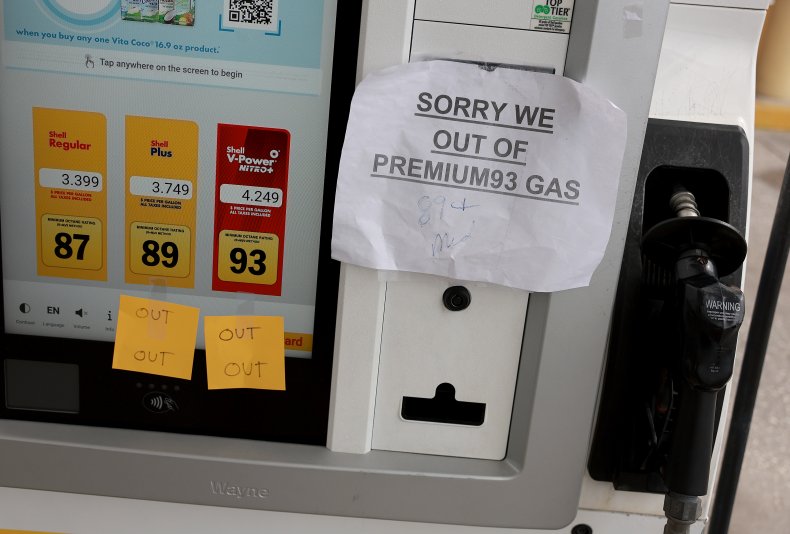 "This small, temporary storm impact on oil production provides no excuse—no excuse—for price increases at the pump. None," Biden continued. "If gas companies try to use this storm to raise prices at the pump, I will ask officials to look into whether price gouging is going on."
Biden did not specify what actions would be taken by his administration in response to reports of price gouging. Newsweek reached out to the White House for comment.
"It's unlikely that a hurricane is going to bring any kind of massive price gouging, so it will be limited to certain localities," Duncan Levin, a former federal prosecutor turned defense lawyer, told Newsweek in an interview.
Levin said that he expects any price gouging to be handled at the state level and that the federal government will only get involved if the issue becomes widespread.
Florida Attorney General Ashley Moody on Saturday announced an expansion to the state's Price Gouging Hotline as Ian intensified. Governor Ron DeSantis' earlier declaration of a state of emergency triggered bans on excessive price hikes for food, water, hotels, gas and other essentials. Offenders could see penalties between $1,000 and $25,000.
North Carolina Attorney General Josh Stein also announced on Wednesday that his state's price gouging law is in effect in anticipation of Ian.
As gas prices soared to record highs earlier this year, the House passed a bill in May that would give Biden that authority to prohibit companies from seeking "excessive" or exploitative price hikes on gasoline and home energy. The legislation remains stalled in the Senate.
A Congressional Research Service report from April found that while there is no federal law aimed at price gouging or at retail gasoline sales, anti-trust laws to prohibit anti-competitive practices could cause retailers to be prosecuted for colluding to keep fuel prices high.
Levin said that price gouging has historically been an issue during natural disasters and during the COVID pandemic when personal protective equipment, hand sanitizer and other necessities became more difficult to find. In response, the Department of Justice (DOJ) in March 2020 formed a task force and directed U.S. attorneys to pursue "bad actors" who hoarded "vital medical items."
As Hurricane Ian prepares to make landfall with Florida, Levin said the announcement from state and federal authorities that action will be taken on price gouging should be a deterrent.
"It puts companies on notice that this is nothing that will be tolerated," he said.
Carl Tobias, Williams Chair in Law at the University of Richmond School of Law, told Newsweek in an email that if oil companies choose to ignore Biden's warning, he could threaten to open a probe into their pricing or increase releases from the Strategic Petroleum Reserve.
"A probe would be costly for companies in terms of reputation and the resources that they would devote to defending against a probe," Tobias said, adding that it could potentially lead to prosecution.
The American Petroleum Institute (API) responded to Biden's remarks with a statement to Newsweek saying it was committed to "keeping the energy market well-supplied and delivering fuels where they are needed most while ensuring the safety of our workforce."
"Gasoline prices are determined by market forces – not individual companies - and claims that the price at the pump is anything but a function of supply and demand are false," the API said.
Update 09/28/22, 7:40 p.m. ET: This article was updated with additional information and background.