President Joe Biden's sweeping vaccination and testing mandate is likely to include even employees who work remotely, as long as they're employed by a business that has at least 100 employees.
On Thursday, Biden announced that private companies with at least 100 employees will have to require their employees to be vaccinated or submit to weekly testing. The president's latest effort to increase vaccination rates and slow the spread of COVID-19 has come under intense scrutiny and is seen by some as an overreach by the federal government.
Final details of the plan's scope and implementation have been left up to the Occupational Safety and Health Administration, and a White House spokesperson told Newsweek he wouldn't get ahead of the Emergency Temporary Standard that OSHA is developing. He said the best way to think about which employees will be subject to the requirement is if they work at a company with 100 or more employees.
Asked whether it was safe to assume remote workers would be included in the vaccine and testing requirements, the spokesperson said it's a reasonable assumption that every employee of a qualifying company would be subject to the mandate. However, the final details are being left up to OSHA, so it's possible remote workers could be exempt.
The Department of Labor and OSHA's emergency rule is expected to affect 80 million workers, according to Biden.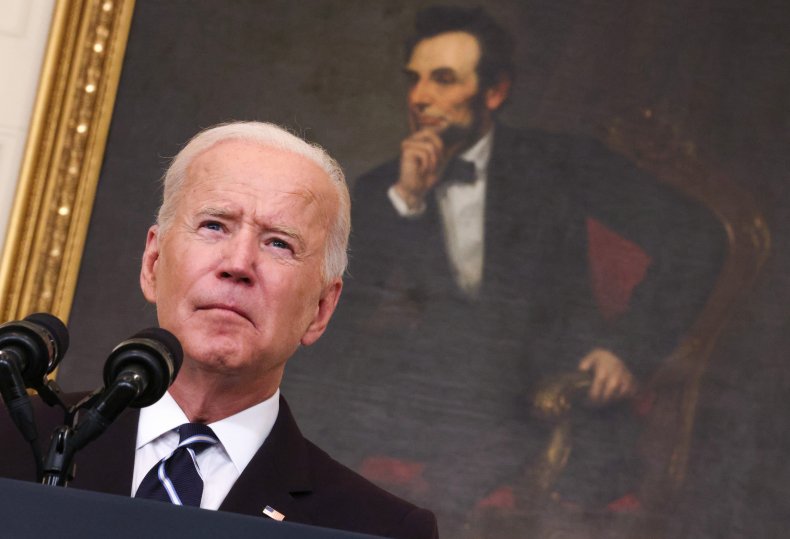 He said Thursday that raising the vaccination rate and expanding testing will give America its best chances at "turning the tide on COVID-19." Less than 70 percent of American adults are fully vaccinated against the disease, the minimum threshold experts believe is needed to reach herd immunity.
Vaccines have proved to be safe and effective in multiple clinical trials and real-world scenarios. Although breakthrough cases have happened, where vaccinated individuals contract the virus, the bulk of hospitalizations and deaths involve people who haven't gotten a shot. This, according to experts, shows that the vaccines are doing their job and are crucial to helping keep hospitals from being overwhelmed with patients.
Hospitals across the country have seen a dangerous influx in patients since the Delta variant took hold in the United States, and it's caused them to make difficult choices. Some have had to turn patients away or treat them in makeshift areas. In Idaho, hospitals are rationing care because of severe staffing and bed shortages.
Vaccines have been available to all American adults free of charge for months, but millions of people remain hesitant to get inoculated. On Thursday, Biden criticized those who won't get the shot, noting that the 25 percent of Americans who haven't received even one dose of a vaccine can "cause a lot of damage."
Some unvaccinated people were concerned about getting the vaccine when they were under an Emergency Use Authorization, which allows them to be administered without approval from the Food and Drug Administration. While the hope was that the FDA's approval of the Pfizer vaccine would increase the number of vaccinations, that approval has failed to significantly move the needle, and officials warned it could give businesses the confidence to implement requirements of their own.
In announcing the new requirements for businesses, Biden noted that many companies have already implemented similar measures, including United Airlines, Disney, Tyson Foods and Fox News. The White House noted that Tyson saw a nearly 30 percent increase in vaccinations after announcing its requirement. At United Airlines, about 50 percent of its workers who were unvaccinated took the initiative to get the shot after it announced its vaccine requirement, according to Biden.