What is Blackwater? Cherokee County Sheriff Linked to Infamous Security Firm—Report
A sheriff investigating shootings at Atlanta-area massage parlors has been linked to Blackwater, the infamous security firm whose contractors massacred Iraqi civilians in 2007.
Cherokee County's Frank Reynolds' reported ties to Blackwater have emerged during the high profile case in which a white gunman has been charged with killing eight people, including six Asian women.
Reynolds' possible links with Blackwater were first outlined by The Daily Beast. Any such connection has not been independently verified by Newsweek, which has contacted Reynolds for comment.
What was Blackwater?
The private military company was founded by former Navy SEAL Erik Prince in 1997. It gained notoriety a decade later after a group of the firm's contractors killed more than a dozen Iraqi civilians in a massacre in Baghdad's Nisour Square on September 16, 2007.
The killings prompted international outrage over the use of private security in war zones.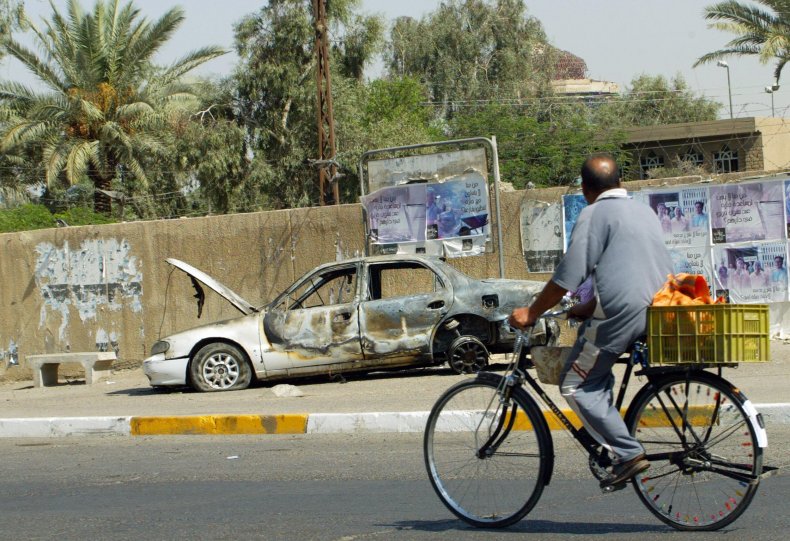 Four Blackwater security contractors were later convicted in a U.S. federal courts over the killings and handed lengthy sentences.
Prosecutors said at the time that Blackwater contractors had launched an unprovoked attack on an unarmed crowd using sniper fire, machine guns and grenade launchers.
Defense lawyers argued the group returned fire after insurgents ambushed them.
But while announcing the indictment issued by a federal grand jury in 2008, Jeffrey Taylor, then the U.S. attorney for the District of Columbia, said that "none of the victims of this shooting were armed," and that "none of them was an insurgent."
Then, in one of his final acts as president, Donald Trump pardoned the men—Nicholas Slatten, Paul Slough, Evan Liberty and Dustin Heard—a move that prompted an outcry. A lawyer who represented the family of a child killed in the massacre told Newsweek that Trump had "pardoned a child murderer."
Blackwater is now known as Academi.
How has Reynolds been linked?
Reynolds' page on the sheriff's office website lists prior experience with the Department of State between 2005 and 2008 using the abbreviations "WPPS HTP, IC BWUSA"—an apparent reference to Worldwide Personal Protective Services, the contract the federal government awarded to Blackwater in 2005.
His biography on his campaign page mentions he worked as an independent contractor in Iraq, but does not list his employer.
He was "selected to join the Department of State's High-Threat Protection Program (World-Wide Personal Protection)" in 2005, where his mission "was to provide diplomatic security and close personal protection for representatives of the United States government in the reconstruction of Iraq," the biography said.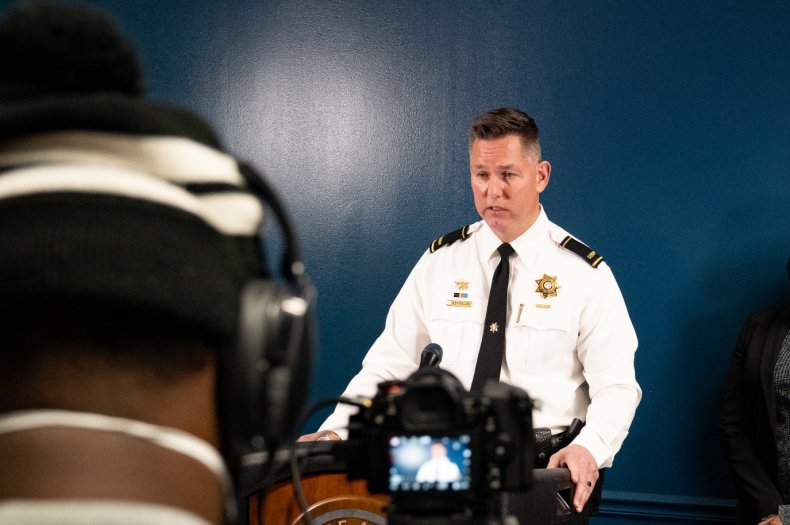 Reynolds returned to the U.S. in 2008 "with a renewed appreciation of the United States Constitution and what it means to be an American," it added.
According to The Daily Beast, a supporter of Reynolds shared a photo of his security clearance while he was campaigning to be elected sheriff.
The image named Reynolds and showed a contract number that corresponded to the Department of State's contract with Blackwater in 2005.
There is no suggestion that Reynolds was involved in the 2007 shootings in Iraq.