What Is a 'Bomb Cyclone'? West Coast Weather Phenomenon Explained
Residents in the West Coast region, primarily Washington and Oregon, will be experiencing some intense storms over the coming days. Federal weather forecasters have predicted heavy rain in some places, which could cause problems for areas still recovering from fires.
A tweet from The National Weather Service Prediction Service read: "A series of storm systems will impact the West Coast through at least next Tuesday bringing heavy rain totals, worrisome for burn scars, and high elevation mountain snow.
"The heaviest precipitation looks to come in two waves, one Thursday and another Sunday into Monday."
Newsweek breaks down what a bomb cyclone means, and how it could affect the West Coast.
What Is a Bomb Cyclone?
According to the National Weather Service, a bomb cyclone is the result of what is known by meteorologists as bombogenesis.
Bombogenesis takes place when a midlatitude cyclone becomes more intense very quickly, usually over a 24-hour period. This intensity builds due to rapidly dropping atmospheric pressure.
The drop in pressure can cause cold and warm air to collide, for example when a mass of strong, cold wind collides with the air over warm ocean water.
When these winds rotate quickly around the low-pressure area, this creates what is known as a bomb cyclone.
A midlatitude bomb cyclone can cause many weather events, such as storms and heavy rain. A tropical cyclone, on the other hand, which is also known as a hurricane, mainly produces heavy winds.
Bomb cyclones can play out like a normal storm, and don't result in the strong winds of a hurricane.
How Heavy Rain Affects Burn Scars
The heavy rain associated with a bomb cyclone could cause some real problems in areas that have suffered from wildfires.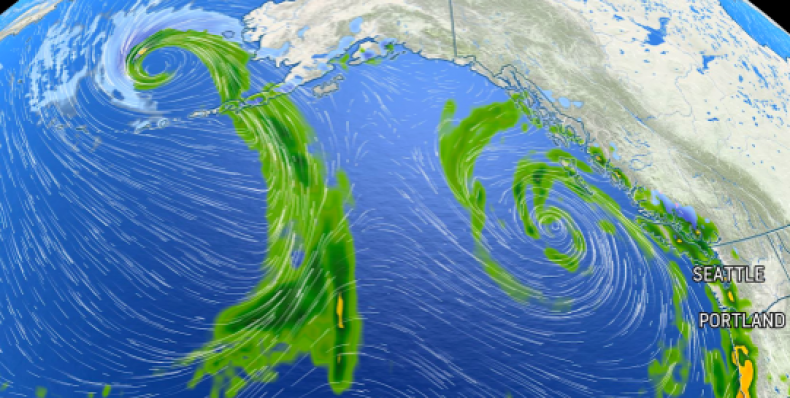 This is due to the way in which fires scar the ground in these areas, meaning they are at a higher risk of flash flooding and debris flow.
In the case of debris flow, according to the Western and Central Wyoming Weather Forecast Office, this mostly affects areas set downhill, as the heavy rain can cause huge amounts of erosion due to the instability of the ground. Ash, silt and even burned vegetation can flow downhill, causing huge damage.
As well as this, flash flooding can occur when fire on the ground causes a hardened layer to form over the top of the soil. While water can usually be absorbed into the soil, this layer would cause flooding to occur within moments of rain.
At the moment, such warnings have not been issued, however the Federal Emergency Management Agency suggests in any winter storm to make sure you are stocked up on supplies such as non-perishable food items and salt for walkways in case snow comes, as well as gasoline for cars.
The agency also warns people to wrap up warm if venturing outside during a storm, wearing appropriate waterproof clothing as required.