What is the Boogaloo Movement? Far-Right Extremists are Showing Up at Protests
In the midst of civil unrest and violent protests that have taken place in nearly all of America's urban centers in recent weeks, a new extremist group is beginning to emerge, that the Anti-Defamation League refers to as the Boogaloo.
Although it sounds more like a punchline to a joke, the Boogaloo, also known as the Boogaloo Bois or the Boogaloo Movement, has its roots from the 1984 film Breakin' 2: Electric Boogaloo.
As early as 2018, the Boogaloo has become a catchphrase loosely based on an ultra-right-wing or "alt-right" extremists, as well as militia groups, anarchists, or in some cases white supremacist groups, according to the Anti-Defamation League.
However, others associate the phrase with Internet fringe groups who refer to the Boogaloo as the coming of a second American Civil War.
"One of the things that help us not to think of them as a group, but to think of them as more of this nascent movement that pulls from a lot of different movements...each group, while they have similarities, they also have their own version of this," Alex Friedfeld, an investigative researcher with the Anti-Defamation League told Newsweek.
Thus the Boogaloos, Friedfeld said, could range from the run-of-the-mill anti-government types to white supremacist groups bent on igniting a race war in the hopes of creating a white ethnostate.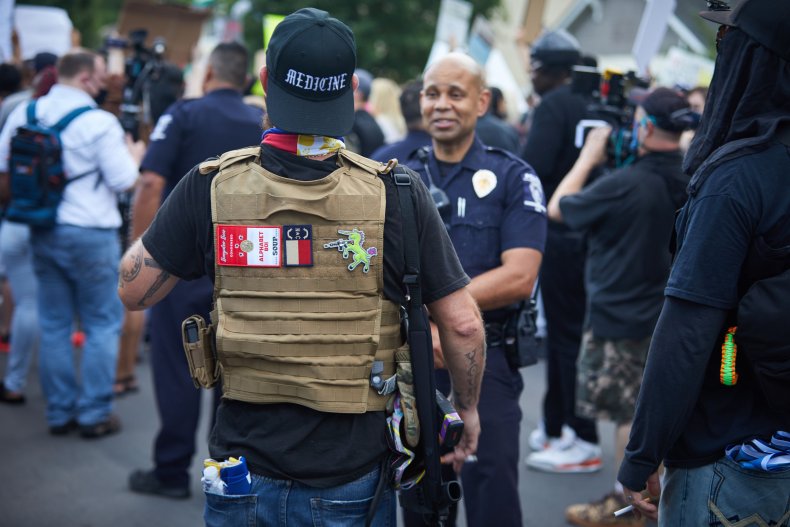 Friedfeld said many of the Boogaloos showed up at state capitol in April and May, to protests stay-at-home orders and lockdown orders imposed for the COVID-19 pandemic and called for uprisings.
Protests demanding justice for George Floyd, an unarmed black man who died in Minneapolis Police custody on May 25, many peaceful protests in urban centers have spiraled out of control to become violent protests and riots.
President Donald Trump blamed Antifa for inciting violence at the protests, and ordered police to crack down on the agitators. Antifa is a loosely defined left-wing movement which takes its name from a shortening of "anti-fascist," and is not one organization, but a network comprised of different groups that oppose neo-Nazis, fascism and white supremacy.
On Thursday, Attorney General William Barr said federal authorities had evidence to suggest that Antifa and other groups foreign and domestic were instigating violence at otherwise peaceful protests.
"Such senseless acts of anarchy are not exercises of First Amendment rights; they are crimes designed to terrify fellow citizens and intimidate communities," Barr said in a statement.
Several members of the Boogaloos drove from North Carolina to Minneapolis after one of their members alerted the group that he'd been sprayed by police with pepper spray during one of the protests, according to a CNN report.
On May 30, three white men who identify themselves as the Boogaloos allegedly tried to incite violence and were detained on domestic terrorism charges during a protest in Las Vegas, the Business Insider reported.
The three men were identified as Stephen Parshall, 35, Andrew Lynam Jr., 23, and William Loomis, 40. All three served in the military, and are each being held on $1 million bond at the Clark County Detention Center.
All three men face federal charges of conspiracy to damage and destroy by using fire and explosives, and possession of an unregistered firearm.
The Boogaloos have been known to show up at protests carrying semiautomatic rifles and wearing Hawaiian shirts and have recently taken part in demonstrations in Philadelphia, Denver, Minneapolis, Las Vegas, Dallas, Atlanta, and Salt Lake City, according to a Washington Post report.
"When they do that; when they show up at these protests armed with AR-15's and other guns, it sends a message of intimidation to lawmakers," Friedfeld said.
The hawaiian shirts are a reference to a soundalike of "Boogaloo"—"Big Luau." Others have adopted igloo images to identify themselves, based on another soundalike, "Big Igloo."