What Does 'Breeding Concept' Mean? White House Won't Explain Trump's Tweet
White House Press Secretary Sarah Sanders did everything she could to avoid answering questions about the meaning of the phrase "breeding concept" which President Donald Trump tweeted last week in relation to so-called sanctuary cities.
White House reporters pressed Sanders on Monday to obtain clarity about the president's words. "Was he making a derogatory term about Latinos in California—that they breed a lot or that they're prone to breeding? Was he talking about—" CNN reporter Jim Acosta asked, Sanders interrupting him before he could make another guess.
"No, he's talking about the problem itself growing and getting bigger," Sanders responded.
"What does it mean though?" Acosta continued, with Sanders denying a response. "Sorry, I've answered a couple," she said.
But Acosta wasn't the only reporter wanting to better understand the tweet Trump wrote on April 18 about his anti-immigration crusade against sanctuary cities, local jurisdictions that won't cooperate with federal authorities to deport immigrants living there without legal permission.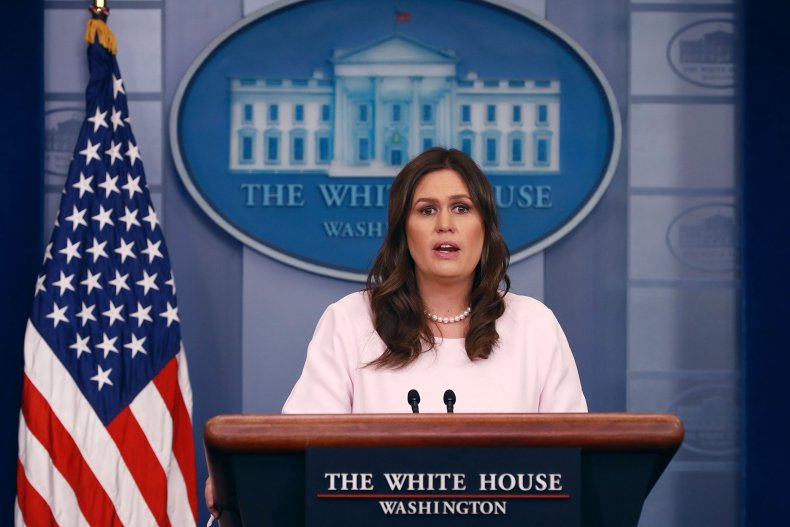 "There is a Revolution going on in California. Soooo many Sanctuary areas want OUT of this ridiculous, crime infested & breeding concept. Jerry Brown is trying to back out of the National Guard at the Border, but the people of the State are not happy. Want Security & Safety NOW!" Trump wrote, regurgitating stereotypes over crime rates in immigrant areas that the FBI research, as well as other studies, have refuted with data.
The president's tweet was criticized by some for dehumanizing immigrants with the use of the "breeding concept" phrase which, as CNN's Z. Byron Wolf noted, is a staple of racist rhetoric that uses a term generally associated with animal reproduction to stir up irrational fears over the presence of minorities in an area.
Democrat Congressman Eric Swalwell of California called it "more racist rhetoric around immigrants" in an interview with CNN. Actor John Cusack went as far as calling it "Nazi talk."
White House correspondent for the American Urban Radio Networks, April Ryan, followed up on Acosta's question. "But what does 'breeding' mean? What does 'breeding' mean to this President? Because when you think of breeding, you think of animals breeding—populating."
Sanders then got personal: "I'm not going to begin to think what you think—Certainly, I think that it can mean a lot of things to a lot of people. But the President is talking about a growing problem. And I addressed that with Jim, and I don't have anything else to add."
But just when she thought she would get away with it, Brian Karem—Sentinel Newspapers executive editor, Playboy White House correspondent and political analyst at CNN—asked her again to clarify: "To be specific, he's not talking about people having babies, yes?"
Sanders then gave up on trying to answer for Trump and said she'd have "to ask him to dig into that deeper" and "to be more specific."