What Brett Favre Said About Aaron Rodgers' Future With Green Bay Packers
Brett Favre has downplayed speculations Aaron Rodgers may look for a way out of Green Bay after the Packers lost to the Tampa Bay Buccaneers in the NFC Championship Game on Sunday.
The two-time MVP brought his own future into question after the Packers fell at the last hurdle before the Super Bowl for the second consecutive season, losing 31-26 against Tampa Bay at Lambeau Field.
"A lot of guys' futures that are uncertain, myself included," he said in his press conference following the loss, his fourth in five NFC Championship Games.
"That's what's sad about it, most, getting this far. Obviously, it's going to be an end to it at some point, whether we make it past this one or not, but just the uncertainty is tough and the finality of it all."
Speaking on SiriusXM NFL Radio, however, Favre suggested Rodgers' comments stemmed from the frustration of losing to the Bucs, as opposed to any intent to pave his way out of Green Bay.
"I wouldn't pay much attention to it," Favre, who Rodgers replaced as the Packers starting quarterback, said.
"I think frustration, disappointment, hurt, pain, all were in that soundbite. Look, there's no way the Packers would do anything to jeopardize losing Aaron [Rodgers], unless Aaron just chooses to retire, which I would be shocked."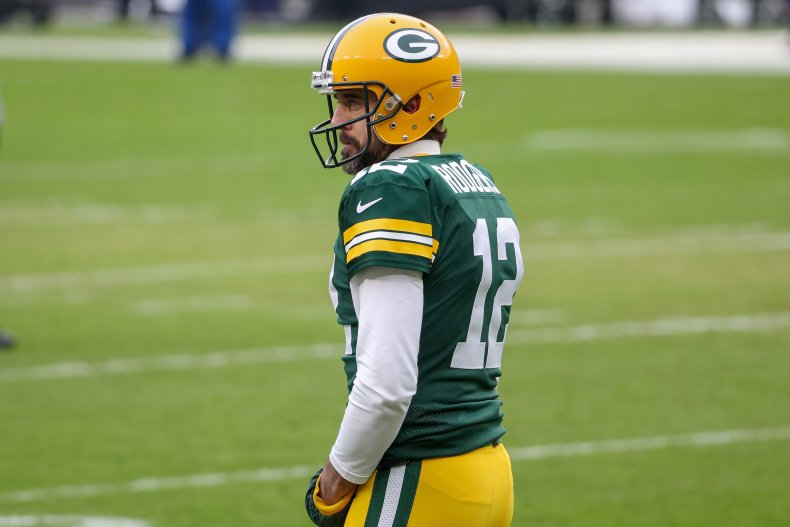 The Packers reportedly angered Rodgers by trading up to select Utah State quarterback Jordan Love in last year's draft, but Rodgers responded with an MVP-worthy season, leading the league in touchdowns and ranking second in completion percentage and passer rating and fourth in passing yards as the Packers clinched the No. 1 seed in the NFC.
In two years under head coach Matt LaFleur, the Packers have gone 26-6 in the regular season but have twice fallen in the NFC Championship Game. Last season, Rodgers credited LaFleur with making football "fun again" after the Mike McCarthy era in Green Bay came to a disappointing end.
On Sunday, however, the Packers quarterback appeared to question his head coach's play-calling, after LaFleur opted to settle for a field goal with 2:03 left in the game and the Packers down 31-23 and facing a fourth-and-goal from the Bucs' eight-yard line.
"It wasn't my decision," Rodgers said when asked of the decision after the game. "I understand the thinking— above two minutes, with all of our timeouts. But it wasn't my decision."
For his part, LaFleur made clear he wanted the two-time MVP back next season, describing the quarterback as the "heart and soul of the football team."
Favre echoed the stance, suggesting it would be a major surprise if Rodgers and the Packers were to part way after a season in which the 37-year-old was almost flawless.
"The guy's playing better now than he's ever played, and without him, you certainly wouldn't have been even close to where you were [Sunday]," he explained.
"And I think the same will go for next year, and really the next few years, if he chooses to play. I wouldn't pay much attention to what he said. I've been there. It's so—I mean, it hurts. It's painful. The last thing you want to do is think about next year, because you just had a major disappointment."
Rodgers will become a free agent in the 2024 season and, as per figures from Over The Cap, the Packers would save $22.6 million if they were to cut Rodgers before the 2022 season and $25.3 million before 2023. Should Green Bay decide to move on from its quarterback this offseason, however, it would only translate to a $5.5 million increase in cap space.
Rodgers has repeatedly stated his desire to play into his 40s but in May last year admitted finishing his career with the Packers "may not be a reality at this point".
Only a few weeks earlier, Favre had himself suggested Rodgers may leave Green Bay.
"I think he'll play somewhere else," Favre told the Rich Eisen Show on NBC Sports Network at the end of April.
The three-time MVP knows a thing or two about being replaced by a younger signal-caller. He was 37 when the Packers drafted Rodgers as his heir apparent in 2005 and while the latter sat for his first three seasons in the NFL, he eventually got the starting job when the Packers traded Favre to the New York Jets.